07/01/2019
Sustainable Supermarket Refrigeration Systems Becoming the Norm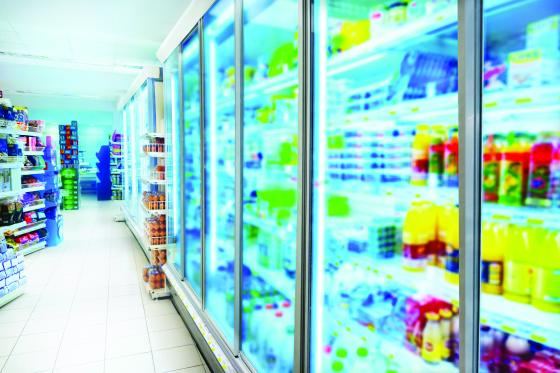 Refrigeration is one of the supermarket systems ranking highest in terms of energy use, and suppliers and retailers are working constantly to lessen its impact on the environment. It's good business in so many ways.
"Food Lion has been committed to zero-ODP [ozone-depleting potential] and low-GWP [global-warming potential] refrigerants for several years," says Wayne Rosa, director of maintenance for the Salisbury, N.C.-based Ahold Delhaize USA banner. "We have also undergone a multiyear program retrofitting older R-22 systems with zero-ODP and low-GWP refrigerants."
Additionally, Food Lion has committed to test alternative refrigeration systems in some of its stores in Virginia and the Carolinas, Rosa notes.
Food Lion worked closely with manufacturers to design new technology and also coordinates with them to provide training in the installation process for both contractors and the grocer's internal technicians, Rosa explains.
"Our intent is to learn as much as we can from these emerging technologies," he says. "As governmental compliance requirements change, we can build on our experience with these technologies and make informed decisions for our organization."
Future refrigeration systems will need to be designed with a natural refrigerant that has no impact on the environment, Rosa asserts. Refrigerants like carbon dioxide will continue to gain popularity as they become more mainstream and the service community better understands the technology.
Key Takeaways
Natural refrigerants like carbon dioxide will continue to gain popularity as they become more mainstream and the service community better understands the technology.
Evolving refrigeration technology has led to such advances as the world's first Zero Net Energy grocery store, a Bay Area Whole Foods Market location.
With the emergence of a variety of system options, however, the industry has yet to reach consensus on what the standard technology will be.
Achieving Zero Net Energy
Collin Coker, VP of sales and marketing at Houston-based Viking Cold Solutions, notes that the company's Thermal Energy Storage (TES) came from a need for improved energy efficiency and food protection in the low-temperature cold chain.
Coker recounts how, in 2017, Viking completed its first walk-in freezer installation with an international grocery chain in Fremont, Calif.
"Total freezer energy consumption was reduced 18 percent, and during the 13-hour window with peak energy prices, run time was reduced 60 percent," he says. "Today, the company's TES technology is installed in cold-storage warehouses, supermarkets, restaurants and food-processing facilities throughout the United States, Mexico, the Caribbean and Australia."
TES technology pairs phase-change material (PCM) with intelligent controls and 24/7 remote monitoring, notification and reporting software, which, according to Coker, increases refrigeration efficiency by an average of 26 percent, improves temperature stability to better protect food quality, and provides the flexibility to safely cycle off refrigeration for up to 13 hours per day.
Coker explains that TES acts like a battery for refrigeration systems by storing thermal energy in the form of cold for future use. During periods with lower-priced energy, a facility's existing refrigeration system freezes the PCM. During higher-priced hours, refrigeration is cycled off while the PCM absorbs up to 85 percent of all heat infiltration in the freezer and consolidates it directly in the refrigeration air flow for more efficient removal.
"Notifications by email, call or text are sent when parameter limits are not met, in order to minimize maintenance costs, avoid costly problems and extend equipment life," says Coker.
As part of a four-year, $3.6 million project funded by the California Energy Commission, Viking installed a TES system inside an existing Whole Foods Market in the Noe Valley section of San Francisco, making the location the world's first Zero Net Energy (ZNE) grocery store.
"The program's efficiency goal is 40 to 60 percent reduction in the store's energy-use intensity (EUI), and will act as a valuable blueprint for supermarkets around the world to implement technologies to achieve net zero," Coker says. "Our cloud-based customer portal also provides a real-time view and historical archive of all data collected for every customer location and every freezer."
'The Way of the Future'
Emerson Commercial and Residential Solutions defines "sustainable" as environmentally responsible, financially viable from a total-cost-of-ownership perspective, and energy efficient from a total equivalent warming impact (TEWI) that includes both direct and indirect carbon emissions, according to Andre Patenaude, director of food retail marketing and growth strategy for cold chain at the St. Louis-based company.
"In the last decade, Emerson has introduced a variety of Copeland Scroll and hermetic compressors qualified for use with lower GWP synthetic and natural refrigerants," notes Patenaude. "We take a full-system approach to sustainable refrigeration solutions that includes condensing units, valves and controls."
At Emerson, sustainability is evaluated within the context of other key equipment selection criteria and is a key component of a broader approach that Patenaude explains is referred to as the six S's of refrigeration:
Simple: Minimize complexities with systems that are easy to understand and diagnose.
Serviceable: Facilitate ease of service and maintenance by ensuring technician familiarity and the availability of parts and refrigerants.
Secure: Help maintain customer, employee and technician safety; help customers and operators preserve food quality/safety; and integrate information technology capabilities for operational and data security.
Stable: Help ensure that systems are capable of maintaining consistent temperatures, delivering predictable performance and working according to design specifications.
Smart: Recognize that electronic controls, system connectivity and integration with facility management services via loT (the Internet of Things) are becoming more important.
Sustainable: Realize that lower-GWP refrigeration strategies, long-term economic viability and reducing energy consumption make up a sustainable refrigeration strategy.
Recent Emerson innovations in sustainable refrigeration include integrated display-case architecture, which uses one or more R-290 compressors and supporting system components within a case and removes exhaust heat through a shared water loop, as well as carbon dioxide compressors, valves and controls for small to large application requirements; R-290 compressors and stand-alone condensing units; and modular refrigeration units for cold-storage applications that offer a variety of carbon dioxide and ammonia configurations.
"We don't think there's any doubt that sustainable refrigeration is the way of the future," affirms Patenaude.
We take a full-system approach to sustainable refrigeration solutions that includes condensing units, valves and controls.
—Andre Patenaude, Emerson Commercial and Residential Solutions
The Rise of HFOs and CO2
Honeywell Fluorine Products and Stationary Refrigerants, in Morris Plains, N.J., has produced refrigerants for use in products designed by original equipment manufacturers for decades. Chris LaPietra, the company's VP and GM, says that in the past decade, it began informing and educating supermarket system providers to migrate toward distributed-refrigeration systems with hydrofluoroolefin [HFO] technology.
HFOs are non-ozone-depleting and don't contribute to climate change. Many are nonflammable. Distributed-refrigeration systems, when combined with Honeywell lower-GWP refrigerants such as R-448A and R-450, provide a more sustainable approach than traditional centralized DX (direct expansion) systems. These systems provide reduced refrigerant charge, lower leak rates, higher efficiency due to less refrigerant-line heat gain, and higher efficiency due to better load matching, according to La Pietra.
Honeywell's Solstice N40 (R-448A) is billed as the supermarket industry's most commonly used, lowest-GWP nonflammable refrigerant to replace R-404A. It's used in more than 20,000 installations around the world and reduces energy consumption by up to 15 percent, according to LaPietra, who observes:
"Based on HFO technology, Solstice N40 provides at least 3 percent lower energy consumption in low-temperature applications, and 5 to 15 percent lower energy consumption in medium-temperature applications, compared with legacy HFC [hydrofluorocarbon] refrigerants like R-404A. Solstice N40 can be used in new installations, as well as in installed systems that use high-global-warming refrigerants."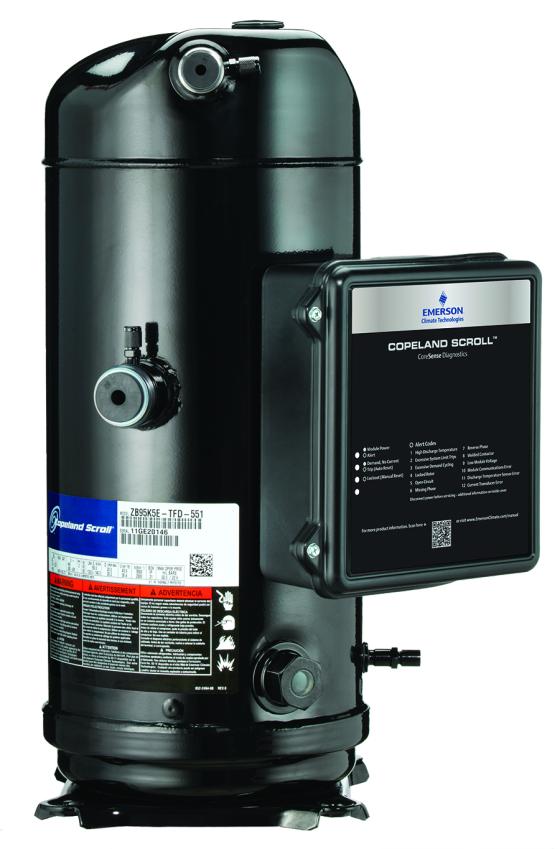 While Carrier has no commercial refrigeration business in North America, it boasts of being the European leader in natural-refrigeration carbon dioxide system installations.
"The company's research on CO2 refrigerant R744 began during the 1990s," notes Aline Lucas, communications director at Carrier Commercial Refrigeration Europe, in Rueil-Malmaison, France. "In 2004, Carrier installed its first transcritical CO2 system in a Swiss hypermarket. The technology was thoroughly tested and commercially introduced as CO2OLtec in 2009."
Carrier offers a comprehensive portfolio of next-generation products comprising refrigerated cabinets, freezers, counters, systems and controls that maximize merchandising opportunities while reducing energy consumption, operating costs and environmental impact.
"For example," adds Lucas, "our CO2OLtec system improves energy efficiency up to 10 percent and reduces the carbon footprint by 50 percent, compared to an R404A-based system."
Carrier Commercial Refrigeration's latest innovation is the advanced CO2OLtec Evo transcritical carbon dioxide system, whose new, adjustable modulating ejector increases system energy efficiency with more than 30 percent annual energy reduction (AEC) versus a standard transcritical system, making carbon dioxide systems a viable alternative in warmer climates, as well as providing heat reclaim advantages in colder and milder climates.
The system's use of carbon dioxide, which is a safe, non-ozone-depleting gas with a global-warming potential of 1, allows no additional global-warming impact from potential refrigeration leaks, since these systems use carbon dioxide repurposed from outdoor air, explains Lucas.
Emerging Tech
Bryan Beitler is VP and chief engineer at Brea, Calif.-based CoolSys, a firm of contractors and consulting engineers, which services and maintains many "natural" refrigeration systems around the country, dating back six to eight years to some of the first systems of this type.
"Europe has accelerated their HFC-phaseout process, and is years ahead of the U.S. in this regard," observes Beitler, who's also president and CEO of the North American Sustainable Refrigeration Council (NASRC).
We are nearing the point where the oldest natural systems will need to be remodeled, and it will be interesting to note how flexible these systems will be to adapt to the retailers' needs during a variety of remodel types.
A variety of system options have emerged as the technology has grown from its initial configurations, he says, which is an important consideration for retailers that are considering switching, as they must decide if the current technology is a final configuration for the long run.
As for the future, "I'm not sure that the industry has reached consensus on what the standard is going to be," admits Beitler. "Between transcritical, ejector systems, NH3 over CO2 cascade, propane and micro-distributed, and hybrid gas coolers, the jury is still out. We are nearing the point where the oldest natural systems will need to be remodeled, and it will be interesting to note how flexible these systems will be to adapt to the retailers' needs during a variety of remodel types."
He further notes: "The legacy systems with chemical refrigerants are also a big opportunity to upgrade; however, a reasonable cost solution is yet to be perfected. Use of the lowest-GWP chemical refrigerant available is a starting point."
These are all factors to weigh as grocers embark on their own sustainable-refrigeration journeys.