Storewide Cross-Merchandising Helps Grocers Continue to Grow Deli Sales
Get great content like this right in your inbox.
Subscribe
The traditional supermarket deli has gone through an evolution in recent years, as retailers complement their traditional deli counters with experiments involving in-store restaurant concepts, globally inspired hot and cold food bars, crafted soups, and signature sandwiches. Add the newest craze of meal kits to the mix, and you have a deli department that looks decidedly different from a few decades ago.
With more consumers feeling time-starved and looking for daily meal inspiration, it looks as if grocers will continue to find new ways to reach their shoppers in an effort to boost sales — and they're going all over the store to do it.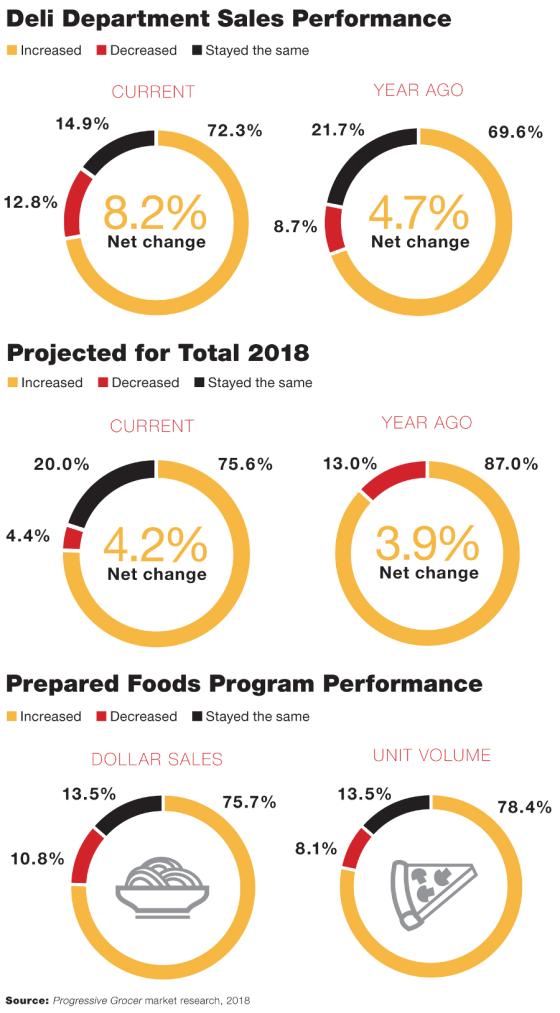 Progressive Grocer's 2018 Retail Deli Review, our exclusive annual survey of grocery retail executives, store managers and deli department leaders, finds that three-fourths of respondents are now cross-merchandising the deli to drive sales throughout their stores.
From the more common tie-ins — fresh bread from the bakery, salads in produce and specialty cheeses — to more out-of-the-box ideas (one respondent says that his store promotes dried meats with melons, while another places prepared salads in the meat department), retailers are getting more creative in how they engage their shoppers.
As one savvy store manager notes, "All areas of our store are cross-merchandised with deli."
Their efforts seem to be paying off, as deli sales have continued to grow over the past year. Seventy-two percent of respondents say that their overall deli sales, including prepared foods, grew in 2017 — that's 2 percent more than those who cited sales growth in 2016. Larger operators (those with more than 10 stores) have fared particularly well, with 81 percent reporting an increase in sales. Of those retailers who reported an increase, the average sales gain was 8.2 percent.
In total, deli department sales now account for almost 15 percent of all supermarket sales, according to the survey, with independent operators (those with 10 or fewer stores) seeing their average total sales closer to 10 percent.
Looking ahead, three-fourths of respondents expect sales to increase next year, while about 20 percent think that sales will stay roughly the same.

Which factors have been most influential in securing strong everyday deli sales? Retailers cite engaged associates (65.5 percent), signature items (48.3 percent), advertising/promotions (41.4 percent), and active sampling/events (just under 40 percent) as the primary contributors. Other factors a little further down the list include product samples, merchandising/experience, in-store specials and social media special offers.
Profit Uptick
When it comes to profits, retailers are also seeing dollar signs — which is good news, considering the competitive retail climate they're operating in and the persistent challenge of two hard-to-ignore profit drainers: labor and shrink. An impressive 67.7 percent of survey respondents say that their profits were up in 2017 (87.5 percent of chain store representatives cite profit increases). In last year's report, just 58 percent said they'd seen their profits rise. While only about half of independent operators responding to this year's survey saw an increase, 38 percent say that their profits have largely stayed the same, suggesting that they may be having a harder time keeping up.
Retailers' average deli gross margin was 43.9 percent, with labor accounting for almost 20 percent of sales, and shrink coming in at a more manageable 5.6 percent of sales.
Delving deeper into the survey data, prepared foods have remained a shining star among deli categories. Three-fourths of respondents say that their prepared food program increased in dollar sales and unit volume in 2017, while about one-fourth of independent operators say that they saw no change in performance.
Seventy percent of respondents say that they dedicated more selling space to fresh prepared foods in 2017. Moreover, half of chain respondents say that they increased space significantly.
Retailers still vary in how they arrange their deli departments, however: Some separate their traditional deli sections from fresh prepared foods, and roughly 35 percent don't have a dedicated dining area.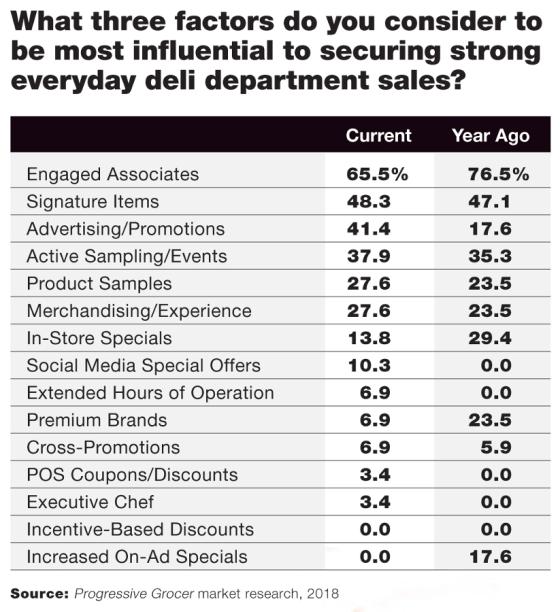 Not surprisingly, salads and healthier fare were mentioned by a large number of respondents, who note that customers are thinking more about wellness than ever before.
"Our fresh salads move very fast," explains one owner of an independent operation in Virginia. "Sandwiches and wraps go faster when they're already made up and placed in an open-face refrigerator." Another respondent goes so far as to list "vegan" as a growing category.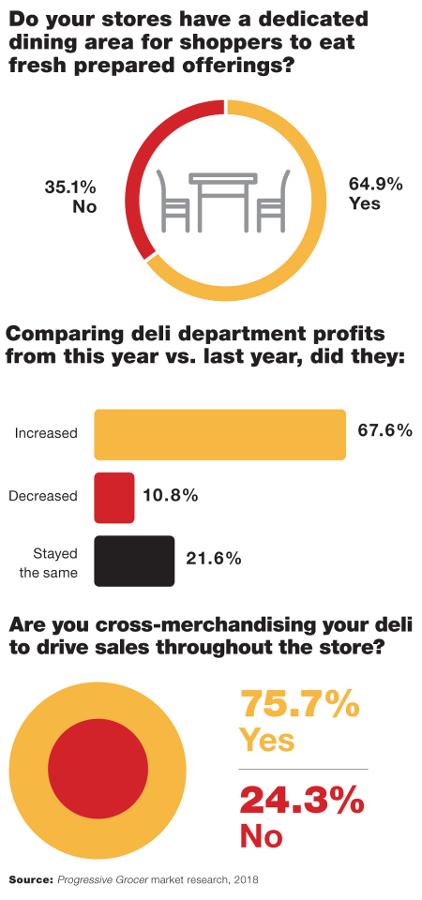 Planning for 2018
In planning for 2018, retailers are especially enthusiastic about meal deals (48.3 percent of respondents plan to concentrate on enhancing this area), and they remain focused on rotisserie programs, as they did in last year's survey. Just over 40 percent of respondents say that their companies plan to concentrate more on hot/cold bars, daily specials, lunch and sandwiches, while 31 percent will pay more attention to dinner and catering. Side dishes seem to be another hot area, with 27.6 percent of respondents planning to focus on them, compared with only 6 percent who were focused on this area in last year's survey.
Also, while staff training remains a planned area of focus (44.8 percent of respondents say that they'll concentrate on training in 2018), retailers' interest has waned somewhat compared with last year's survey, when almost 60 percent said that they'd be emphasizing this area.
Either way, the single most challenging operational issue for the service deli is still labor for half of the respondents, followed by shrink (25 percent) and training (17.9 percent). Further, when asked to rate the "most serious issues" facing the deli (using a scale of one to 10, with 10 being most serious), recruiting effective employees ranks as the top concern, followed by labor costs, shrink/waste, attracting more shoppers to the deli, employee training and food safety.
To be sure, deli operators will continue to face a number of challenges in the year ahead. But if they can stay creative in supplementing traditional fare with more modern, healthier options, while also thinking outside the counter when it comes to merchandising, deli's halo effect should continue to boost sales for independent and chain operators alike.