Stonyfield Launches Great Food Find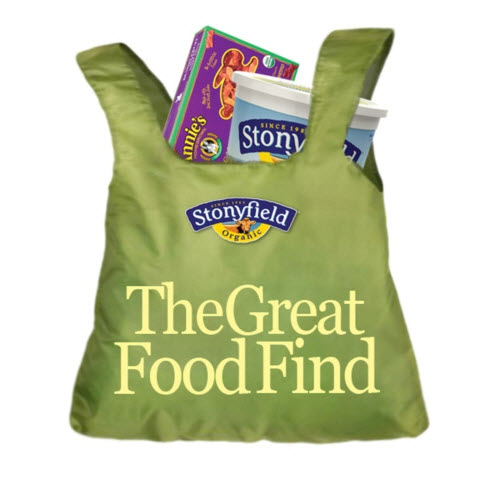 Organic yogurt maker Stonyfield has introduced The Great Food Find, an interactive online scavenger hunt that takes foodies on a virtual journey to discover organic and natural foods around the Web, with many opportunities along the way to win prizes and find out more about the food they eat.
The scavenger hunt is part of the year-long Stonyfield "Know Your Food" campaign, which builds on consumers' desire to know more about the food they purchase and serve to their families.
Clues on a dedicated website and Stonyfield's Facebook page will lead hunt participants to nearly a dozen food websites, including Annie's Homegrown, Nature's Path and Sambazon, where they'll encounter natural and organic food products to fill their virtual tote bag. Each visit allows players to check off another item from their virtual grocery list, upping their chances to win prizes. The discovery of each product also unearths another food fact.
"The aisles of the grocery store can be a confusing place with all of the different food products available and all of the misleading labels out there," noted Gary Hirshberg, chairman of Londonderry, N.H.-based Stonyfield. "It's clear that we're in a time when people want to know as much as they can about their food, from who grew the ingredients to how it was produced. The interactive Great Food Find is a fun way to invite people to learn what's really in the things we eat, and how all of this impacts our bodies, our communities and our planet."
After tracking the full shopping list of natural and organic food items from participating brands, players will receive coupons from Stonyfield and partner food companies such as Annie's Homegrown, Happy Family, Sambazon, Woodstock Farms, Nature's Path, Organic Valley, Applegate Farms, Peanut Butter & Co. and Honest Tea. The more actions people complete on the dedicated site, the more times they'll be entered to win the grand prize of a kitchen makeover worth $15,000, as well as natural and organic food from Stonyfield and the partner companies.
The Great Food Find will run through May 21, but the Know Your Food campaign will run throughout 2012, with fresh information, a panel of experts updated frequently, and further contests and interactive features to come.