Spartan Hosts 7th Grocery Expo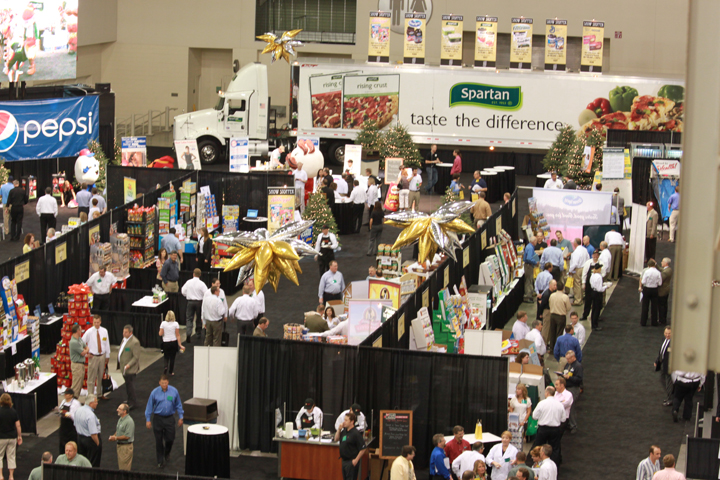 Spartan Stores hosted the seventh annual Grocery, Frozen and Dairy Expo in Grand Rapids, Mich., last week, drawing 75 major food vendors and brokers from throughout the United States and Canada and featuring 200 booths with exciting new food products.
Notable new showstoppers included:
- Nine culinary stations, including the Kraft-sponsored premier station at the entrance to the show. The remaining eight stations were sponsored by Daymon Worldwide, Nestle, Kehe, Eggland's Best, Advantage Sales & Marketing, Acosta, Crossmark and Sam Adams. Each station featured a culinary chef preparing a variety of recipes.

- Health and wellness section: This area educated retailers on the importance of reaching out to their customers with relevant products and activities including gluten free, allergies, kids' health, weight management, heart health, healthy lifestyles and diabetes. Eggland's Best fitness partner, Cathe Friedrich, was a featured guest, hosting 15-minute workout sessions.
- Numerous product samplings took place at individual booths, along with butler-style demos hosted throughout the show floor. Country Fresh unveiled a new ice cream center with a skating rink, Ocean Spray had a cranberry bog, ConAgra hosted a Hebrew National hot dog stand and popcorn wagon, and Nestle offered on-site pizza ovens baking DiGiorno pizza.
"The Expo combines the ultimate in selling solutions to meet the needs of today's consumer; attractive, state-of-the art food displays with the excitement of new product announcements; healthy living initiatives; celebrity and motivational speakers; and on-site ordering capabilities via computer stations with the added benefit of meeting vendors and getting firsthand knowledge of new product launches," said Alan Hartline, Spartan Stores executive VP of merchandising and marketing. "This show truly showcases Spartan Stores as a leader in the food service industry. As a value-added wholesale distributor, Spartan Stores makes this possible for nearly 400 independent retailers to see, taste and select products that they used to have to travel out of state and offer to many states to be able to make product decisions."
Hartline noted this show reaches out to nearly 500 grocery stores and supermarkets throughout Michigan, Indiana and Ohio.

The expo also featured a beer, wine and spirits tasting event, dinner and entertainment featuring comedian John Pinette. The Detroit Red Wings' Chris Osgood and Kris Draper visited the Fox Sports Detroit booth, and Miss Michigan made her inaugural public appearance as a guest of the Dr. Pepper Snapple Group.

Among the new food products displayed at the expo:

- Kellogg's Gluten Free Rice Krispies, available mid-July in stores.
- Hot 2 Go Individual 10.6-ounce lattes in a ready-to-drink container.
- Orville Redenbacher microwave popcorn in its own pop-up bowl.
- Spartan Indulgent Creations Summer Flavors ice cream (Michigan Blueberry and Peaches & Cream) and better-for-you ice cream sandwiches and fudge bars by Country Fresh.
- Dean's TruMoo Chocolate Milk with no high fructose corn syrup.
- General Mills Fiber One 80 Calorie Cereal, with 10 grams of fiber.
- Bon Appetit Steam Baked, Oven Ready Complete Frozen Meals: Smoked Apple Bacon Chicken, Beef in Red Wine Sauce, Roasted Garlic Chicken and Creamy Pesto Chicken.
- Knorr Homestyle Stock (Beef or Chicken), packaged in small tubs of concentrated stock.
- Voortman Cookies: Mocha and Coconut Creme Wafers, Peanut Butter Cookies and Mini Coconut Crunch.
- New Spartan Stores brand products, including thin and crispy pizza in three new flavors, Spartan Sooo Juicy (4 flavors), Spartan 100% juices (4 flavors), Spartan trail mix and Spartan pouch potatoes (3 flavors).
Grand Rapids, Mich.-based Spartan Stores Inc. distributes more than 40,000 corporate and national brand products to approximately 375 independent grocery stores in Michigan, Indiana and Ohio, and to 97 corporate owned stores located in Michigan, including Family Fare Supermarkets, Glen's Markets, D&W Fresh Markets and VG's Food and Pharmacy.