Smart & Final Q2: Private Label 'Key Focus to Driving Repeat Traffic'
Get great content like this right in your inbox.
Subscribe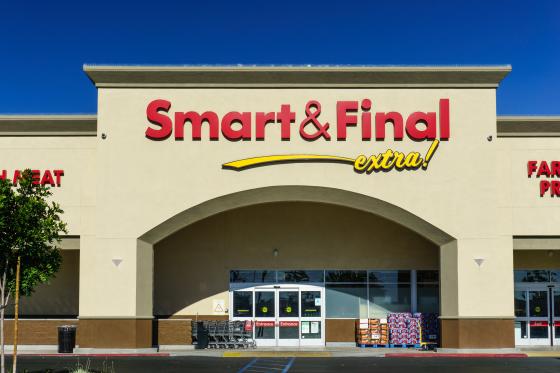 Smart & Final Stores Inc. experienced a rise in comparable-store sales across its consumer- and business-facing banners during the second quarter of its fiscal 2018.
During the period, which ended June 17, net sales rose 4.4 percent, reaching $1.1 billion, driven by a 1.3 percent rise in comps and from the net sales contribution of new stores. Comps were composed of a 2.8 percent increase in comparable average transaction size, partly offset by a 1.4 percent decline in comparable transaction count.
Broken down by banner:
Smart & Final banner stores saw net sales reach $868.5 million, 3.9 percent greater than they were in Q2 2017. Comps rose 0.8 percent.
Smart Foodservice Warehouse banner stores saw net sales hit $257 million, 6.1 percent greater than those during Q2 2017. Comps gained 3.3 percent.
"We've made customer service a major focus in 2018 and have made big improvements in our in-line wait times and on-shop in-stock rates throughout the first-half of the year," said David Hirz, president and CEO of Smart & Final, on a call to discuss the results. "We believe that this combination of overall value price and the customer service, combined with our strengths and warehouse club-pack sizes and strong private label offerings, will help support traffic in this competitive environment."
Private Label's Success
Hirz continued to stress the importance of private label to Smart & Final's success, noting that strengthening the program is a "key focus to driving repeat traffic." Private label sales during Q2 expanded to more than 28 percent of total Smart & Final banner sales, and total comp sales grew "well in excess" of the over-banner comp. Performance of own brands continues to be led by the flagship First Street label, as well as the strong growth of the Sun Harvest line of natural and organic products.
"As discussed in our prior calls, we've been consolidating some smaller private label brands into the First Street label for better brand recognition and cohesive marketing, and we've just hired an industry veteran as vice president to head up our private label team," Hirz noted, apparently referring to Michelle Narain, who joined the company from Albertsons as VP, private label in May. "This will support accelerated product development and our focus on growing a portfolio of top-quality well-priced items."
During Q2, Smart & Final relocated one legacy store and closed two others. It also opened a new Smart Foodservice Warehouse store.
Based in Commerce, Calif., Smart & Final Stores operates 322 stores, including 195 Smart & Final Extra stores, 63 Smart & Final stores, and 64 Smart Foodservice Warehouse stores. The company is No. 20 on Progressive Grocer's 2018 Super 50 list of the top grocers in the United States.