10/15/2018
Simple, Healthy Ingredients See Most Social Media Activity: Analysis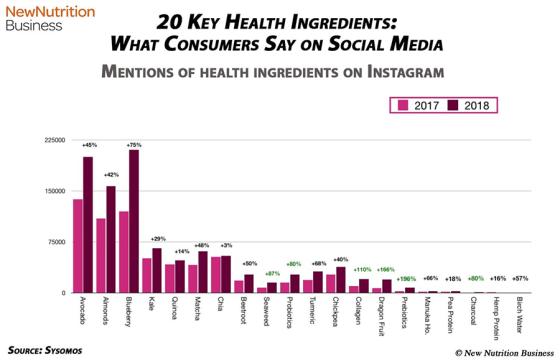 A social media analysis from food and nutritional consultancy New Nutrition Business has found that social media activity regarding avocado, almonds and quinoa far outpaces that of activated charcoal, collagen or pea protein – indicating that North American consumers are more interested in foods that are easy to understand and naturally healthy.
The analysis looked at social media mentions between 2017 and 2018 of 20 selected health food ingredients on Instagram, the most popular social media platform for food-related topics. The ingredients were ranked according to popularity with consumers.
At the top of the rankings, with more than 100,000 mentions per month each, were avocado, almonds, blueberries, quinoa, kale, matcha and chia.

Instagram mentions for these six had risen between 14 percent and 75 percent from the previous year.

One of the fastest-growing health ingredients on social media is collagen, a skin care ingredient often added to beverages, which experienced 110 percent more mentions on Instagram this year than last year.

Among those ingredients that garnered the least number of mentions on Instagram were birch water, pea protein and charcoal.

The 20 ingredients selected gained a total of over 850,000 mentions on Instagram in one month alone (

July 2018

).
The internet is now the main source of nutrition information for most Americans, with 34 percent of people depending more on blogs and online platforms for such information than on dietitians or nutritionists.
"Mainstream America wants simple, natural, easy-to-understand ingredients," asserted Julian Mellentin, director of London-based New Nutrition Business, which also has offices in the United States and New Zealand, and affiliates in Japan and South Korea. "They are willing to try anything new as long as it passes that test. And they are open to trying something new if the benefit is clear. Collagen, for example, a natural protein, has some robust benefits for skin and joint health, so it's no surprise to see it surging on social media."
The analysis additionally examined how the ingredients were discussed in global online media platforms, blogs and forums, as well as social media channels, including most-favored images posted by consumers, most-used hashtags and most popular searches.
The complete analysis appears in New Nutrition Business' report "20 Key Health Ingredients: What Consumers Say on Social Media."