01/09/2011
ShopRite Kicks Off 40th Anniversary 'Can Can' Sale Celebration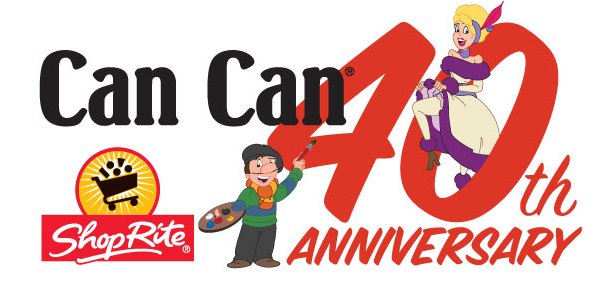 To commemorate the 40th anniversary of its iconic "Can Can" sales campaign, featuring dancers like those once in residence at Paris' famed Moulin Rouge, ShopRite has rolled out a number of special items in tandem with its latest sale of canned goods, which begins Jan. 9 and runs for two weeks at all of the banner's Northeast stores.
In honor of the milestone event, ShopRite has teamed up with select vendors on limited-edition products to be sold exclusively at the banner's stores while supplies last. As well as special labels or packaging, each product will sport a ShopRite Can Can 40th Anniversary logo. Although the sale was originally intended to promote on ShopRite's private label products only, today, it has since grown to feature many well-known national brands, too.
To mark the momentous occasion, General Mills' Progresso Soup brand has created a retro label for its top-selling Traditional Chicken Noodle Soup, in addition to several other varieties, recalling the product line's original labeling; Coca-Cola has added the logo to its classic red cans and rolled out a special discount program for Madison Square Garden/Radio City Family programs in 2011 that is available only to ShopRite customers; and Nestlé's Crunch Bar, TastyKake Kandy Kakes and Hostess Ho Ho have all gone retro with packaging reminiscent of how the products looked 40 years ago.
Another key part of the celebration is the donation of 40,000 cans to area food banks in the communities served by ShopRite. Recipients of needed contributions delivered by the 40th Anniversary Can Can Truck will be the Food Bank for NYC, Community Food Bank of New Jersey, Philabundance, Connecticut Food Bank, Food Bank of Delaware and Maryland Food Bank.
"ShopRite's Can Can sale is part of the company's history," said Meleta. "It is one of the most recognizable advertising campaigns …. Forty years is a long time, yet it never gets old -- partnerships like this help keep the brands fresh and exciting."
As an additional treat for fans of the campaign, a special online app available starting Jan. 10 enables customers to "Get Can Canned." By visiting www.shopritecancan.com, following a link from the ShopRite website at http://shoprite.com, or going to the official ShopRite Facebook page at http://facebook.com/shoprite.supermarkets, consumers can upload their own photos onto animated ShopRite Can Can dancers, and then share a video of the results with friends via e-mail, Facebook profile or Twitter feed.
"For years we've heard our customers tell us how much they love Can Can, and how the Can Can girls have always brought back memories," noted ShopRite spokeswoman Karen Meleta. "We thought it might be nice to let them get in on the act, kick up their heels and join the ShopRite Can Can line! ShopRite's Can Can has such a loyal and devoted following -- we've heard from people who have traveled from as far away as Florida to shop our sale -- that we wanted to create something fun to give back to our fans."
The campaign originated in ShopRite's traditional January grocery sale. In 1971, with the aim of luring customers back to the store after the busy holiday period by offering canned goods at deep discounts to encourage stocking up, the banner and its advertising agency devised, for the first time, a 360-degree marketing and merchandising campaign featuring the dancers. Over the years, the Can Can sale has proved so popular that in 2002, ShopRite introduced a Summer Can Can Sale.
"When we started Can Can in the early 70s, we needed a creative way to get customers back into the stores following the holidays," Explained Meleta. "Prices on canned foods were drastically slashed, giving customers an opportunity to stock up on staples they could keep in their pantry and offering them great value for their money -- it has become ShopRite's most famous event."
Although no sales figures are available from the early days of the sales, ShopRite estimates it has sold more than 3 billion cans over the 40-year history of the campaign. This year, for the 40th anniversary, sales are expected to surpass more than 300 million cans and bottles, including more than 50 million cans of vegetables, 72 million cans of soda, 120 million bottles of water, 10 million cans of soup, 3 million cans of tuna, 1 million cans of coffee and 5 million cans of pet food.
The banner is additionally offering advice to shoppers on healthy canned food choices, meal planning and quick, easy recipes.
ShopRite is the registered trademark of Keasbey, N.J.-based retailer-owned cooperative Wakefern Food Corp. With more than 228 ShopRite supermarkets in New Jersey, New York, Pennsylvania, Connecticut, Delaware and Maryland, ShopRite serves more than 5 million customers each week.