Schnucks Names Best Produce Manager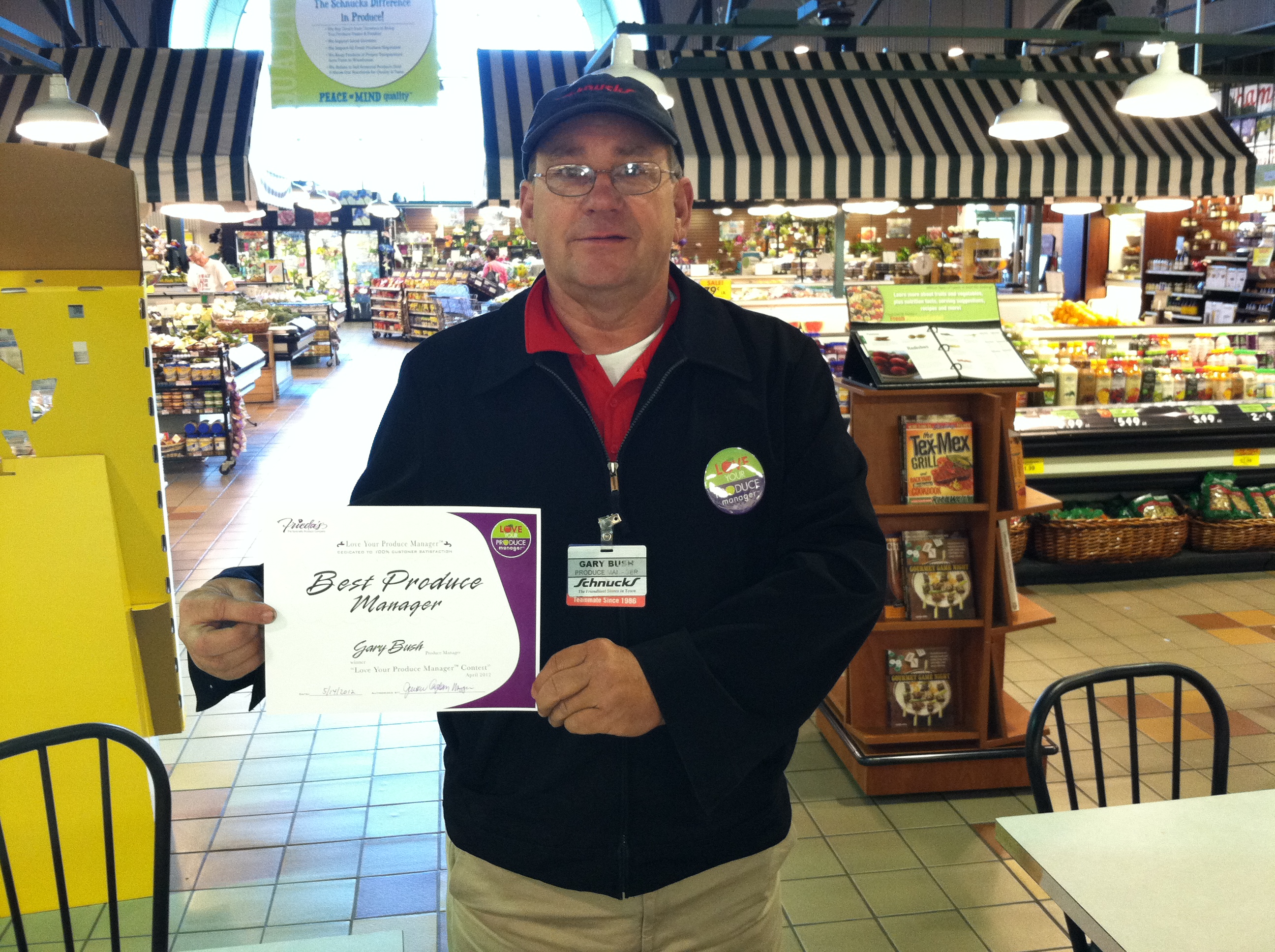 In April, all Schnucks, Logli and Hilander stores participated in Frieda's first-ever Love Your Produce Manager event. The month-long promotion put the spotlight on exemplary customer service in the produce department and recognized the impact the produce manager can have on increasing consumers' consumption of a variety of fresh fruits and vegetables.
From April 8 to May 5, Schnucks, Logli and Hilander shoppers were invited to vote for their favorite produce managers "American Idol"-style, with their cell phones using a text message poll. By voting, shoppers were also entered into a drawing to win $500 in Schnucks gift cards. Each week throughout the promotion, produce departments featured a different produce category – including Latin specialties, tropical fruits, gourmet veggies and Asian specialties – and hosted free tasting events on Saturdays to share their "fresh expertise" and offer samples.
Gary Bush (pictured above), produce manager at the Schnucks Green River Road store in Evansville, Ind., was voted "Schnucks Best Produce Manager" for his outstanding customer service and produce knowledge. Jeanne Belcher, shopper at the Schnucks Dorsett Road store in Maryland Heights, Mo., was also randomly selected from the pool of voting shoppers as the $500 Schnucks gift card winner.
Love Your Produce Manager was created by Frieda's Inc. in honor of its 50th anniversary.
"Our produce managers are constantly expanding their knowledge of specialty produce through programs like Frieda's Love Your Produce Manager and Produce University," said Mike O'Brien, Schnucks VP of produce. "This promotion helped increase engagement between our produce teams and shoppers while introducing some exciting new fruits and veggies."
Frieda's Love Your Produce Manager continues in 2013 with National Love Your Produce Manager Day on April 2, 2013.
Founded in 1962 by Frieda Caplan, Frieda's was the first wholesale produce company in the U.S. to be founded, owned and operated by a woman. Frieda's has introduced more than 200 specialty items to U.S. produce departments, including kiwi, spaghetti squash, habanero peppers and black garlic.
Founded in St. Louis in 1939, Schnuck Markets Inc. operates 99 stores (including five Logli and six Hilander stores) and 95 in-store pharmacies in Missouri, Illinois, Indiana, Wisconsin and Iowa.