RILA Fills Retail Ops Positions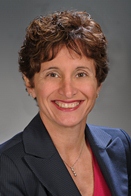 Garth Gasse has joined the Retail Industry Leaders Association (RILA) as director of retail operations, asset protection, while Lisa LaBruno (pictured left) has been promoted to the position EVP for retail operations.
Gasse joins Arlington, Va.-based RILA after 14 years with Toys R Us/Babies R Us, most recently as regional asset protection manager. At RILA, he will work with loss prevention executives from across the retail industry to identify common challenges and leading practices. Gasse reports to LaBruno.
A 25-year retail veteran, Gasse held a variety of positions within Toys R Us/Babies R Us, guiding loss prevention activities at stores in the Southeast and Mid-Atlantic regions. His districts of responsibility were continually placed in the top 10 shrink results by posting below 1 percent each year. Before Toys R Us/Babies R Us, Gasse was a security investigator for Victoria's Secret Stores and the regional loss prevention representative for CVS/Pharmacy.
"Garth's prior work with issues, such as organized retail crime, combined with his wide range of experience in loss prevention within the retail sector, make him a great fit for our organization," said RILA president Sandy Kennedy. "Loss prevention is critically important to our members."
LaBruno joined RILA in 2010 as VP for loss prevention and legal affairs. In her new role, she will oversee the trade organization's operational efforts, which unite executives from across the retail enterprise, including supply chain and asset protection, to address challenges and advance the industry. LaBruno will also play a prominent role in the planning of the association's educational and networking conferences. She will report to Jenny Keehan, RILA's EVP for member services.
Before coming to RILA, LaBruno was senior in-house attorney for eight years at The Home Depot, as well as the primary legal adviser in matters relating to criminal and unethical conduct by employees, customers and suppliers. She provided day-to-day guidance to field operations, and designed, developed and wrote loss prevention standard operating procedures and training materials.
Earlier, LaBruno was a corporate litigation attorney at the Archdiocese of Newark, N.J.; assistant prosecutor in the Hudson County, N.J., Prosecutor's Office; associate attorney at Hannoch Weisman; and an adjunct professor at Seton Hall University.
"Lisa's experience and deep understanding of the challenges that retailers face make her uniquely suited to providing our members with the resources and support they expect from RILA," noted Kennedy.