05/31/2020
Retail Foodservice Infrastructure Ensures Safety
As the nation reels amid the coronavirus pandemic, retail foodservice is assuming a more important role in the feeding of the country — and equipment suppliers are answering food safety needs.
Marjorie Proctor, design and marketing specialist at Dover Food Retail, in Conyers, Ga., says that the company manufactures retail foodservice equipment for the "front of the house," and its portfolio includes a wide range of refrigerated, hot and dry display cases, as well as counters.
"We are currently running at full capacity to meet our customers' needs," Proctor says, noting: "The options for food products available today continue to be a higher quality of freshness and merchandising in better packaging. For grab-and-go items, we have small plug-and-play refrigerated self-service spot merchandisers, as well as larger islands like our i2i modular island that is a customizable island that can accommodate variations of displaying refrigerated, hot or dry goods."
Key Takeaways
The coronavirus pandemic has led to retail foodservice taking a more prominent role in feeding consumers and meeting food safety needs.
Many foodservice equipment companies have been designated essential businesses during the outbreak, allowing them to serve retailers during an unprecedented time.
The core of a successful foodservice program, equipment can determine whether food items sell, and also boost margins by lowering food waste, operating costs and labor.
She adds that Dover's newest release is an all-metal food bar called the MBI, available for merchandising hot and cold food items, and "a great venue for enticing the time-crunched lunch-rushers who are depending on the time waiting in line to be very minimal."
When it comes to food safety,  Proctor says: "All of our cases are designed and tested to meet and exceed NSF [National Science Foundation] and UL [Underwriters Laboratories] standards. We are dedicated to helping retailers with maintaining product freshness and maximizing product shelf life by educating on how to keep hot foods hot and cold foods cold and everything in between to monitor food temperatures, and keeping equipment at top performance."
Essential Business
Joe Michaels, VP of new product development at Denver-based Tebo Store Fixtures, says that the company "has provided everything from supplies like hooks and bags to technology like indoor and outdoor digital menu boards, digital signage and customer analytics for over 50 years."
According to Michaels, the company has been deemed essential during the pandemic because it services the grocery industry, and, although the showroom is currently closed, product can either be shipped or picked up at the Denver warehouse while the sales, accounting and design staff are working from home.
Significantly, he points out that the company's latest addition is an affordable, customizable shield that protects both employees and customers from threats like COVID-19 by creating a clean, clear barrier of safety between people.
For his part, Daniel Poor, VP and business unit leader at N Wasserstrom, in Columbus, Ohio, notes that "Amtecko/Wasserstrom is considered an essential business, and our manufacturing and distribution locations remain operational to support our clients in the foodservice and hospitality industries."
Image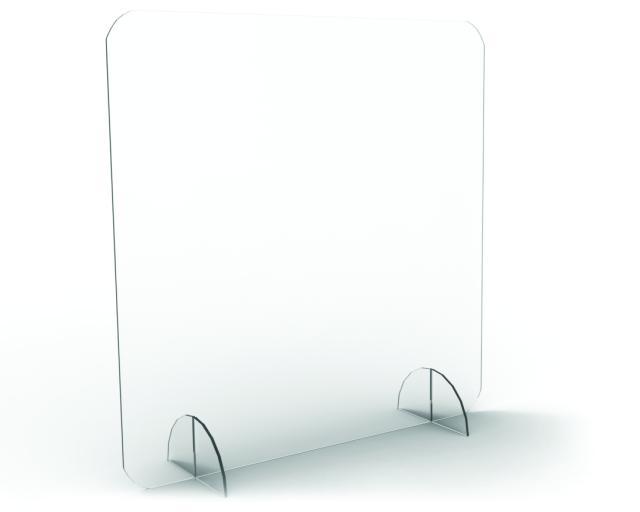 He notes: "As we strive to service and support our customers during this unprecedented time of change, we have been focused on products and solutions that address the unique operational challenges that have surfaced during the nation's response to the COVID-19 pandemic. These include plexiglass sanitation shields, mobile refrigerated spot merchandisers, mobile hot and cold merchandisers, salad-bar-to-grab-and-go conversions, and portable wash sinks."
Getting it Right
Jonathan Schroeder, director of national accounts at Menomonee Falls, Wis.-based Alto-Shaam, says, "As retail operators look to hire more staff and expand their pre-prepared and delivery options, it's important to have the right system in place to enable these critical shifts."
Equipment is the core of a successful foodservice program, Schroeder emphasizes, and can make or break whether food items sell, and also improve margins by reducing food waste, operating costs and labor.
"Alto-Shaam has an entire system of foodservice equipment that is tailored to meet the changing needs of retail foodservice programs, including Self-Cleaning Rotisserie ovens, Vector Multi-Cook ovens, heated holding cabinets [and] heated shelf merchandisers, among other products," he points out, adding that Alto-Shaam is an essential business dedicated to supporting its customers in critical foodservice industries that must stay open during this time.
"The cleanliness of equipment can also make or break an operator's ability to prepare food safely," Schroeder stresses. "Traditional ovens are difficult and time-consuming to clean, not to mention that the grease extraction and disposal can be a hazard. The automatic self-cleaning design incorporates a water-jet wash and sanitizing cycle that handles the toughest grease conditions."
He adds that Alto-Shaam has a full team of culinary experts dedicated to helping  retailers before, during and after the sale, asserting, "We are here as a partner to help streamline and navigate foodservice needs during this rapidly shifting time."
Brand New
According to Jim Socha, VP of retail sales at Glenview, Ill.-based ITW Food Equipment Group, the company's brands and foodservice equipment are Hobart and Berkel, food prep; Hobart, Vulcan and Wolf, cooking equipment; Hobart, weighing and wrapping, and dishwashing; Traulsen, refrigeration; and Baxter, bakery.
"Our equipment and service brands are grateful to be considered 'essential,' as we are fully operational in support of food retailers [and] health care foodservice operations, as well as other foodservice operations working hard to make sure people have the food they need during this challenging time," Socha says.