06/13/2018
Progressive Grocer Names Top Women in Grocery 2018: Rising Stars
Read the Full Story
In the era of #MeToo and #ImWithHer, women are increasingly are making their voices heard. Today: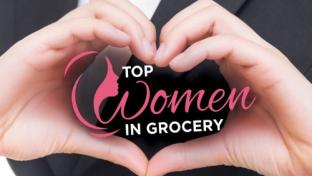 Get the Complete List
Download the full list of 2018's Top Women in Grocery in the Rising Stars category, including images and full descriptions of each honoree.
The grocery industry is no exception, and from the store floor to c-suite, women are leading the charge to keep the industry fresh, relevant and truly consumer-centric. To recognize their efforts, Progressive Grocer has inducted 362 of them into its 2018 Top Women in Grocery class.
Below, we present the names of the newest members in the Rising Stars category.
2018 Top Women in Grocery: Rising Stars
| | | | |
| --- | --- | --- | --- |
| Amanda | King | Sales Manager | Advantage Solutions |
| Amanda | Reaves | Sales Team Leader | Advantage Solutions |
| Amy | Knox | Account Executive | Advantage Solutions |
| Bethany | Schwartz | Client Team Leader | Advantage Solutions |
| Brooke | Heintz | Client Service Manager | Advantage Solutions |
| Crystal | Rossel | Client Team Leader | Advantage Solutions |
| Danielle | Bunch | Director of Sales, Enterprise Strategy | Advantage Solutions |
| Jennifer | Gruber | Senior Director, Analytic Solutions | Advantage Solutions |
| Kelli | Ficke | Senior Category Manager, Team Leader | Advantage Solutions |
| Kimberly | Cowen | Regional Manager | Advantage Solutions |
| Marilu | Robles | Director, Marketing Operations | Advantage Solutions/Advantage Marketing Partners |
| Elena | Skaletsky | Influencer Marketing Supervisor | Advantage Solutions/Advantage Media Solutions |
| Lindsey | Pruitt | Director of Business Development | Advantage Solutions/Advantage Media Solutions |
| Samantha | Weinstein | Director, Media Operations | Advantage Solutions/Advantage Media Solutions |
| Lynn | Blasio | Senior Director, Operations | Ahold Ecommerce Sales, an Affiliate of Peapod |
| Susan | Voelkner | Center Store Operations Specialist | Albertsons Cos./Acme Division |
| Angela | Moore | Director of Shopper Marketing Scale Events | Albertsons Cos./Corporate |
| Bessie | Berdusis | Director, Managed Care | Albertsons Cos./Corporate |
| Christina | Boyle | Senior Manager Admin Services & Facilities | Albertsons Cos./Corporate |
| Christy | Duncan-Anderson | Executive Director | Albertsons Cos./Corporate |
| Darcie | Renn | Director Sustainability | Albertsons Cos./Corporate |
| Jane | Anderson | Senior Manager Environmental Compliance | Albertsons Cos./Corporate |
| Kathy | Hosek | Real Estate Accounting Manager | Albertsons Cos./Corporate |
| Kendal | Callender | Director of Digital Partnerships & Shopper Innovation | Albertsons Cos./Corporate |
| Kim | Hornett | Ecommerce Program Manager | Albertsons Cos./Corporate |
| Leti | Rodriguez | Manager, Payroll Quality Assurance, Regulatory Reporting & Tax Department | Albertsons Cos./Corporate |
| Lisa | Roach | GM/HBC National Sales Manager | Albertsons Cos./Corporate |
| Louise | Gerber | Director Ecommerce | Albertsons Cos./Corporate |
| Maryrose | Rinella | Director Own Brands Product Management | Albertsons Cos./Corporate |
| Mei-Mei | Stark | Product Management Director, Own Brands | Albertsons Cos./Corporate |
| Sarah | Long | Senior Product Manager | Albertsons Cos./Corporate |
| Tina | Lucero | GM Sales Manager | Albertsons Cos./Denver Division |
| Amy | Jankauskis | Assistant Sales Manager-Deli & Food Service | Albertsons Cos./Jewel-Osco |
| Lindsey | Ellingson | Bakery Operation Specialist | Albertsons Cos./Jewel-Osco |
| Lynne | Barrington | Floral Buyer | Albertsons Cos./Jewel-Osco |
| Mary Frances | Trucco | Communications Manager | Albertsons Cos./Jewel-Osco |
| Melissa | Hill | Director Community Relations & Government Affairs | Albertsons Cos./Jewel-Osco |
| Mirna | Franjul | Sales Manager Own Brands | Albertsons Cos./Jewel-Osco |
| Sharee | Scopazzo  | Bakey Operation Specialist | Albertsons Cos./Jewel-Osco |
| Beth | DaCosta | Bakery Sales Manager | Albertsons Cos./Seattle Division |
| Leah | Giambarresi | Division Pharmacy Manager | Albertsons Cos./Shaw's Star Market |
| Sheryl | Salazar | Produce Assistant Sales Manager | Albertsons Cos./SoCal Division |
| Janet | Bishop Rowan | Southern Division Bakery Sales Manager | Albertsons Cos./Southern Division |
| Julie | Spier | Director-Pharmacy Operations-Southern Division | Albertsons Cos./Southern Division |
| Maha | Eldabaja | Center Store Operations Specialist | Albertsons Cos./Southern Division |
| Katherine | Chin | Sourcing Director | Albertsons Cos./Supply Chain |
| Rosie | Connolly | Human Resource Manager | Albertsons Cos./Supply Chain |
| Heather | Standifer | Category Manager II | Associated Wholesale Grocers |
| Meaghan | Tetreault | Employee Services Specialist | Big Y Foods Inc. |
| Robin | Leatherwood | Technical Services Manager | Blount Fine Foods |
| Damaris | Hernandez | Manager, Customer Service | C&S Wholesale Grocers |
| Danielle | McBreairty | Manager, S&OP/Demand Planning | C&S Wholesale Grocers |
| Deborah | Bailey | Senior Manager, Customer Service | C&S Wholesale Grocers |
| Gail | Somers | Senior Director, Chain Sales | C&S Wholesale Grocers |
| Heather | Savant | Director, Human Resources | C&S Wholesale Grocers |
| Risa | Jenkins | Senior Category Manager | C&S Wholesale Grocers |
| Crystal | Gonzales | Director, Merchandising | C&S Wholesale Grocers/Grocers Supply |
| Danna | Cox | Director, Customer Development II | Coca-Cola Co. Bottling Consolidated |
| Meghan | Pennell | Senior Director, Customer Development | Coca-Cola Co. Bottling Consolidated |
| Sara | Herring | Director, Club Channel | Coca-Cola Co. Bottling Consolidated |
| Tonya | Price | Customer Development Director II-Publix Super Markets | Coca-Cola Co. Bottling Consolidated |
| Shari | Wagner | Business Account Manager, Kroger Team | Crossmark |
| Stephanie | Clark | Director of Client Operations | Crossmark |
| Emma | Bryan | Senior Director | Daymon |
| Hannah | Zipp | Director of Client Services | Daymon |
| Lisa | St. Germain | Senior Manager | Daymon |
| Kristen | Baird | Senior Director, Analytics & Insights | Daymon/Interactions Marketing |
| Melinda  | Wing | Senior Manager, Operations | Daymon/Interactions Marketing |
| Misty | Fontanini | Business Manager | Daymon/Interactions Marketing |
| Annette | Taylor | Director, Category Management | Dean Foods Co. |
| Crystal | LaCourse | Transportation Operations Manager | Delhaize America Distribution LLC |
| Jennelle | Nystrom | Head of Product | Farmstead |
| Brandi | Langford | Human Resources Business Partner | Food Lion |
| Jamie | Osborne | Associate Creative Director | Food Lion |
| Leslie | Atkinson | Director of Brand Communications | Food Lion |
| Hannah | Walker | Senior Director, Technology & Nutrition Policy | Food Marketing Institute |
| Debbie | Gustafson | Senior Application Manager (IS) | Giant Eagle |
| Tammy | Kampsula | Director of Bakery | Giant Eagle |
| Amy | McAllister-Flynn | District Director | Giant Food |
| Cynthia | Volk | Category Manager | Giant Food |
| Deanna L. | Marion-Wilson | District Director | Giant Food |
| Kelli | Hall | HR Business Partner | Giant Food |
| Melanie | Mnich | Manager, Digital & Loyalty Strategy | Giant Food |
| Dana | Sherwood | Design Manager | Giant/Martin's  |
| Jennifer | Scott | Category Manager | Giant/Martin's  |
| Kim | Totaro | Finance Director | Giant/Martin's  |
| Kimberly | O'Hara | Deli/Bakery Field Merchandising Specialist | Giant/Martin's  |
| Summer | Monnett | Category Manager | Giant/Martin's  |
| Jan | Caruthers | Training Supervisor | Hy-Vee Inc. |
| Mary Beth | Hart | Director, State Government Relations | Hy-Vee Inc. |
| Melissa | Vogel | Assistant VP, Marketing Projects | Hy-Vee Inc. |
| Camille | Balfanz | Brand Manager | Litehouse Inc. |
| Diana | Moravits | Director of Sales, San Antonio Division | Maher Marketing |
| Cynthia | Carbonaro | Team Leader, Market Asset Protection | Meijer |
| Emily | Henao | Director, Marketing Strategy, Campaign Planning & Development | Meijer |
| Karen | Langeland | Divisional Merchandise Manager-Soft Home | Meijer |
| Melody | Langeland | Senior Director, Application Managed Services | Meijer |
| Robyn | Afrik | Diversity & Inclusion Manager | Meijer |
| Amy | Brondyke | Specialist, Interactive Sales & Support | Peapod LLC, An Ahold Delhaize USA Co. |
| Aminta | Price | Customer Manager Senior Director Costco, Frito-Lay North America Division | PepsiCo |
| Elizabeth "Liz" | Gastineau | Key Account Manager, Frito-Lay North America Division | PepsiCo |
| Hana | Golden | Senior Marketing Manager | PepsiCo |
| Jyoti | Mujumudar  | Senior Category Advisor, Dollar General, Frito-Lay North America Division | PepsiCo |
| Katie | Schiavone | Senior Director Shopper Marketing-NAN & Gatorade, DX Shopper Marketing | PepsiCo |
| Kaylee | Niestrom | Key Account Manager, Frito-Lay North America Division | PepsiCo |
| Stephanie | Kinney | SC Ops Senior Manager PBC | PepsiCo |
| Stephanie | Rivera | Sales Category Management Senior Manager NA Commercial Category Leadership | PepsiCo |
| Aileen | Musselman | Senior Account Executive | Procter & Gamble |
| Christina | Fuller | Category Development Senior Account Executive | Procter & Gamble |
| Jennifer | Williams | Marketing Manager, Kroger Team | Procter & Gamble |
| LaJeanna | Jennings | Grocery Supply Chain Leader, Kroger Team | Procter & Gamble |
| Marie | Matacia | Senior Manager, Consumer & Market Knowledge, Publix & Grocery Omnichannel | Procter & Gamble |
| Thu-Hien | Ronas | Associate Director, Meijer, HEB and Wegmans | Procter & Gamble |
| Lesley | Daniels | Director, Sales & Account Development | Produce for Kids |
| Alexis | Foreman | Director of Employee Relations | Redner's Markets |
| Anne | Morrone | Manager II Logistics | Retail Business Services, an Ahold Delhaize USA Company |
| Christina | Franklin | Director of Space Management | Rouses Markets |
| Dianne | Graves | Assistant General Counsel | Save-A-Lot Food Stores |
| Kendra | Shaw | Regional Director-Florida East | Save-A-Lot Food Stores |
| Megan | Siedlarczyk | District Manager | Save-A-Lot Food Stores |
| Giselle | Restrepo | Senior Manager Consumer Insights & Analytics | Schwan's Co. |
| Jennifer | Holmberg | Senior Manager Product Development | Schwan's Co. |
| Angela | McKeand | Director of Strategic Growth Channels Marketing | Schwan's Consumer Brands Inc. |
| Jessica | Longshore | Director of Field Sales Strategy | Schwan's Consumer Brands Inc. |
| Michelle | Delamielleure | Director of Consumer Insights & Analytics | Schwan's Consumer Brands Inc. |
| Melissa | Van Gheem | Human Resources Director | Skogen's Festival Foods |
| Tracy | Cleaves  | Front End Operations Senior Director | Skogen's Festival Foods |
| Aishia | Kindig | Human Resource Manager, Supply Chain | Smart & Final |
| Amanda | Cuellar | Corporate Merchandising Manager | Smart & Final |
| Kim | Cook | General Manager, Transportation & Traffic | Smart & Final |
| Madelyn | Brooks | Human Resource Manager, Associate Relations & Compliance | Smart & Final |
| Katrina | Peterson | Category Manager | Southeastern Grocers |
| Amy | Ellis | Pharmacy Services Manager | SpartanNash |
| Carlye | Cordes | Consumer Relations Manager | SpartanNash |
| Carrie | Quigley | Director of the Project Management Office | SpartanNash |
| Cassandra | Nino | Grocery Category Manager | SpartanNash |
| Janis | Huffman | Pharmacy Operations Manager | SpartanNash |
| Karen | Calligaris-Rodriguez | Pharmacy Procurement Manager & Pharmacy Warehouse Manager | SpartanNash |
| Kenya | Phillips | MDV Division Inventory Control Manager | SpartanNash |
| Kristie | Bohn-Berman | Real Estate Manager | SpartanNash |
| Lauren | Mills | Marketing Analytics Supervisor | SpartanNash |
| Mary | Brunsting | Director of Network Systems Engineering | SpartanNash |
| Sherry | Ferebee | MDV Division Controller | SpartanNash |
| Trish | Jones | MDV Division Customer Service Manager | SpartanNash |
| Evette | Smith | Grocery Category Manager | Sprouts Farmers Market |
| Kate | Gibson | Director of Vitamins | Sprouts Farmers Market |
| Kelli | Walter | Dairy Category Manager | Sprouts Farmers Market |
| Laura | Rajchel | HR Business Partner II | Stop & Shop |
| Michele | Merchant | Category Manager Dairy | Stop & Shop |
| Sheila | Walton | Human Resources Business Partner | Stop & Shop |
| Brandy | Dressen | Senior Manager | Supervalu |
| Kelley | Wedeking | Director, HR Project Management & Org Development | Supervalu |
| Kellie | Walker | Senior Category Manager | Supervalu |
| Liz | Micheletti | Manager-Retail Integrity | Supervalu |
| Liz | Pham | Manager, Corporate Communications | Supervalu |
| Mary | Vander Leest | Manager | Supervalu |
| Melissa | Sax | Senior Director, Wholesale HR & Talent Acquisition | Supervalu |
| Stacy | Boulier | Compensation Manager | Supervalu |
| Brenda | Dolan | Shelf Management Representative | Supervalu/Eastern Region |
| Nadine | Parris | Senior Manager, Sales & Marketing | Supervalu/Professional Services |
| Jill | Davies | Business Integration Lead | Target |
| Kristin | Kulpinski | Campaign Manager | TCC Global |
| Melissa | Pulliam | Director, U.S. Sales, Costco | The Coca-Cola Co. |
| Tara | Robbe | Director of Sales, Warehouse Juice-Walmart US | The Coca-Cola Co. |
| Charlotte | Ess | Deli Bakery Sales Manager | The Kroger Co./Atlanta |
| Jennifer | Barnett | District Meat & Seafood Coordinator | The Kroger Co./Cincinnati/Dayton |
| Maria | St. Germain | Division Deli/Bakery Merchandiser | The Kroger Co./Cincinnati/Dayton |
| Terri | Coffey | Division Meat & Seafood Merchandiser | The Kroger Co./Cincinnati/Dayton |
| April | Markiewitz | District Human Resources Manager | The Kroger Co./Columbus |
| Danielle | Gordon | Operations Specialist | The Kroger Co./Columbus |
| Felicia | Delk | Division Talent & Development Manager | The Kroger Co./Dallas |
| Rachel | Booker | Grocery Merchandising Sales Manager | The Kroger Co./Delta |
| Jade | Hoefer | Deli/Bakery Coordinator | The Kroger Co./Dillons |
| Marcie | Wiles | Customer 1st Manager | The Kroger Co./Dillons |
| Inshirah | Marchan | Division Talent & Development Manager | The Kroger Co./Food 4 Less |
| Katie | Taylor | Division Talent & Development Manager | The Kroger Co./Fred Meyer |
| Rhonda | Etnire | District Human Resources Manager | The Kroger Co./Fred Meyer |
| Janine | Whelan | Division Producer Merchandiser | The Kroger Co./Fry's |
| Alicia | Pitocco | Collaborative Category Optimization Manager | The Kroger Co./GO-Cost Management |
| Anne | DiFilippo | Senior Digital Marketing Manager, Corporate Digital Marketing | The Kroger Co./GO-Digital Marketing |
| Rebekah | Manis | Director of Investor Relations (New Title) | The Kroger Co./GO-Finance |
| Rachel | Browne | Business Owner Deli/Bakery | The Kroger Co./GO-Freshness & Standards |
| Dana | Thomas | Category Manager of Cosmetics & Nail Care | The Kroger Co./GO-HBC |
| Kim | Hryhorchuk | Human Resources Manager | The Kroger Co./Houston |
| Cynthia | Logan | District Manager | The Kroger Co./Louisville |
| Rene | Kendrick | District Merchandising Manager | The Kroger Co./Louisville |
| Tracy | Mobley | Plant Manager, Cheese CCE-Center of Excellence Leader | The Kroger Co./Manufacturing |
| Amanda | Puck | Director of Strategic Brand Development | The Kroger Co./Mariano's |
| Kendall | Thomas | Ecommerce Specialist | The Kroger Co./Mariano's |
| Marci | Reynolds | Clinical Sales Manager | The Kroger Co./Nashville |
| Linh | Lee | Pharmacy Merchandiser | The Kroger Co./Ralphs |
| Francine | Wilder | Floral Manager | The Kroger Co./Roundy's Wisconsin |
| Aubriana | Martindale | Division Corporate Affairs Manager | The Kroger Co./Smith's |
| Haritha | Reddy | Senior Director, Business Intelligence | The Kroger Co./VitaCost |
| Katy | Olinski | Manager, Regulatory, Nutrition & Scientific Affairs | Topco Associates |
| Jillian | Sirica | Manager, Digital Marketing | Tops Markets LLC |
| Kathleen | Allen | Senior Manager of Community Relations | Tops Markets LLC |
| Kathy | Romanowski | Public & Media Relations Manager | Tops Markets LLC |
| Kanika | Sodhi | Team Leader, Wakefern | Unilever |