PG WEB EXTRA: Selling Pasta
Barilla America, whose latest products include a line of Gluten Free pasta made with a combination of non-GMO corn and rice, and the addition of Meat Sauce Gemelli to its shelf-stable, microwaveable single-serve Italian Entrées line, has also been busy figuring out the best ways to market and merchandise its products, along with those of the whole category.
"We know from our [2012] 'Path to Purchase' study that shoppers are looking for easy meal solutions, since many of them are looking for ideas for tonight's meal," notes Debbie Zefting, director, shopper marketing at Bannockburn, Ill.-based Barilla America. "We also know that providing a variety of solutions is equally important to help Mom break away from the same old recipes. Italian is one of the most popular varieties of meals when cooking at home, and it continues to grow."
To that end, the company has developed several meal/recipe programs with its retail partners. "Our focus … was to build awareness of the different products that Barilla offers," explains Zefting. "We customized our promotion across our retailers with sweepstakes, digital coupons and in-store 'take-one' pads sharing the point of difference for our brands and providing recipes for [our] different pastas. As a result, Barilla's share grew across a majority of the customers."
For Barilla's "Kiss-Worthy Meals" program, for instance, "the goal was to turn a one-day holiday [Valentine's Day] into a month-long opportunity to share the love of pasta," says Zefting, adding: "We tied into our digital program that invited people to share a kiss with friends and family. Then Barilla developed custom programs by partnering with other categories to provide shoppers a complete meal. For one retailer, we also developed a microsite that shared 28 days of 'kiss-worthy' meals."
When it comes to merchandising, the "Path to Purchase" study uncovered "the importance of branding in the category, and that better-for-you pasta has become more mainstream with consumers," asserts Zefting. "To activate this learning, we have seen that our Barilla 'Blue Wall,' with clearly defined brand blocks and placement of better-for-you pasta with their respective parent brand, is most effective for merchandising pasta and driving category sales. We also learned that pasta is consumed quickly after purchase, based on meal preparation for that night and planning for the week. To effectively merchandise based on this insight, retailers should continue to stock a variety of pasta cuts and types, and merchandise frequently to help shoppers solve their meal-planning needs."

Healthier Pasta Is Cool
Better-for-you items lure shoppers to the refrigerated case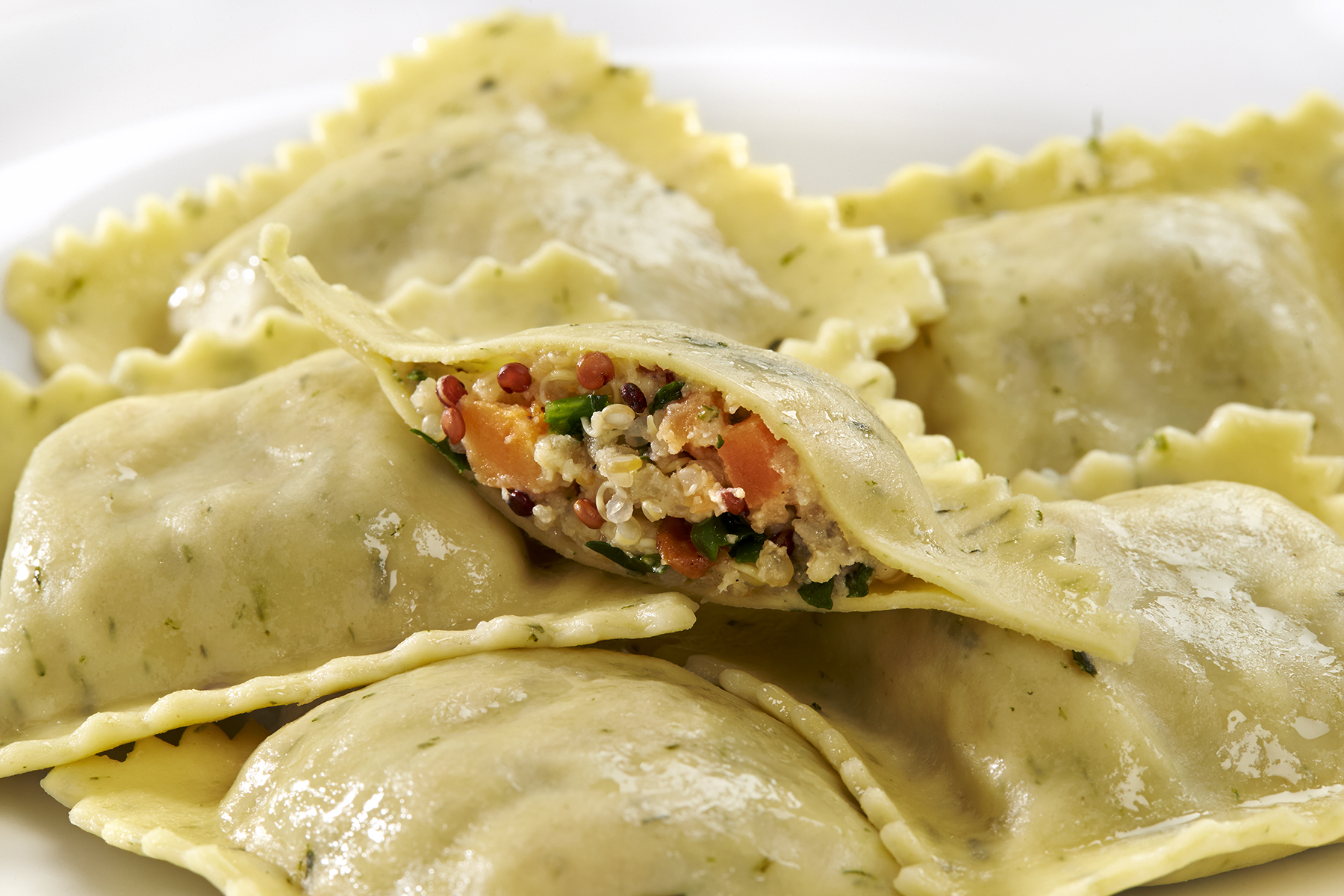 In the realm of refrigerated pasta, Silver Spring, Md.-based La Pasta has introduced such innovative products as gluten-free, vegan, whole grain and Ancient Grains pastas, in addition to Sweet Potato, Quinoa & Kale and Beet, Butternut Squash & Goat Cheese ravioli varieties, about which Sales & Marketing Manager Emily Buckley notes, "Superfoods in raviolis have been hot."
While ravioli "is kind of viewed as an indulgence," according to Buckley, "when we create a healthier version, by adding, say, superfoods, it transforms from an indulgence to an everyday item. Also there is the obvious influx of dietary restrictions. Filled pasta has three major restrictives: wheat/gluten [for celiac disease sufferers], carbs for the diabetics, and cheese for the lactose-intolerant and vegans. Creating items that these people can eat is huge."
As a result of this focus on better-for-you items, "our sales have grown," says Buckley. I think that is because we are very innovative and pride ourselves [on producing] healthier products through wholesome manufacturing. We use all fresh ingredients, manufacture a clean label, work in small batches and produce healthy alternatives."
To promote La Pasta products, the company has held demos with Earth Fare "that were very successful, and we have run a few promotions with Gelsons Market" as well, observes Buckley. "We do a lot of little promotions here and there, but what works best for us are demos, because we believe our product sells itself. All our demos have been extremely successful."
When asked what she thinks is coming next in pasta, Buckley replies that "the category is going to continue to move in a more health-conscious directions, i.e. organic, more gluten-free, more superfoods, etc."
The Asian Connection
Nasoya also sells refrigerated pasta products. "Overall, we are seeing strong consumer interest around eating fresh, minimally processed foods, which are generally understood to be more nutritious and cleaner than prepared packaged foods," notes Brad Lahrman, brand manager at the Ayer, Mass.-based company. "All of our pasta products are sold fresh and merchandised next to our Nasoya Tofu in the produce section."
In addition to freshness, "consumers are looking for pasta products that are either quick or easy to prepare, or that offer a healthier alternative to traditional wheat pasta," adds Lahrman, pointing out the versatility of Nasoya noodles, which "can be used to create everything from appetizers to desserts." Meanwhile, the company's Pasta Zero shirataki noodles are "sought by consumers increasingly concerned with low-calorie and low-carbohydrate alternatives to traditional wheat pasta," he says.
First introduced in 2012 and still gaining distribution across the country, the item contains only 15 calories and 4 grams of carbs per serving. Additionally, Pasta Zero is naturally gluten-free, as it's made primarily from yam flour and water.
"Nasoya Pasta Zero has a category-exclusive consumer program with Weight Watchers that has performed quite well," according to Lahrman, noting that the partnership "has … been a big driver in creating consumer awareness" as the product rolls out. The company also promotes Pasta Zero in-store in January as Americans embark on their New Year's resolutions, and features noodle recipes on its website.
Thanks to such strategies, sales across Nasoya's entire pasta business "have been very strong, up 16 percent over the previous 52 weeks as measured by Nielsen," observes Lahrman, adding that "Nasoya Wraps and Noodles are America's No. 1 refrigerated brand."
"We're seeing an increased interest in Asian-inspired ingredients in American kitchens, which we think will only grow as cuisines such as Korean and Vietnamese become more accessible nationwide," says Lahrman when asked what's ahead in the pasta category. "Americans are eager to expand their palates beyond the traditional spaghetti and meatballs, and are seeking alternatives in the noodle category. Whether looking for a gluten-free alternative or something more ethnic, we foresee consumers reaching beyond the traditional semolina pasta and venturing into the refrigerated case for new alternatives."