New Seasons Market Meal Kits Use Michelin-Star Chef to Teach Cooking
Get great content like this right in your inbox.
Subscribe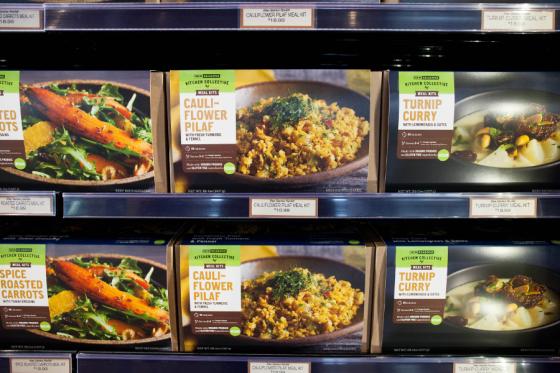 West Coast independent grocer New Seasons Market has teamed with Matt Lightner, said to be "the most accomplished chef in Portland's recent history," to introduce a line of gourmet-style meal kits that takes a new approach to teaching consumers how to cook, Portland Monthly has reported.
Lightner, the former Castagna chef and a native Portlander, came back to the area after six years working at New York modernist restaurant Atera, where he earned two Michelin stars and three from The New York Times. For New Seasons, he was tasked with bringing "a fresh perspective to the 19-year-old grocer," particularly in prepared foods, and came up with his own take on "larger subscription programs like Blue Apron and Hello Fresh," the news source said.
"One of the most celebrated chefs in Portland's history, Lightner created five seasonal recipes with bright and elevated flavors, featuring fresh ingredients from local farmers and producers," New Seasons said. "The recipes are rooted heavily in the Pacific Northwest with global inspiration to capitalize on the popularity and the abundance of the region while introducing customers to new flavors."
From vegetarian dishes such as cauliflower pilaf, spice roasted carrots and turnip curry, to heartier entrees such as miso glazed chicken or Columbia River steelhead, the meals come in vegan, gluten-free and organic options, suitable as standalone meals, appetizers or sides for hosting guests, New Seasons noted. With high-quality premeasured ingredients and easy-to-follow instructions, the kits are packed with minimal packaging in the grocer's Central Kitchen daily, and can be prepared in 20 to 45 minutes, serving two to four.
The kits are now available at nine stores in Oregon and Washington, and will be in all New Seasons Market locations by the end of this month. According to Portland Monthly, all produce in the kits is organic, the chicken is antibiotic-free, and many ingredients are local. The items also offer "a level of creativity, spice literacy and freshness you won't find in a typical meal kit."
"We want to give them restaurant quality – fun and edgy," Lightner told the news outlet. "Not boring, like culinary school. Whole coriander? Heck yes. Ingenious three-ingredient sauce with butter, bonito flakes, and soy sauce? Amazing. Pre-made spicy sesame dressing? Thank the Lord."
What's also possibly unique about the product line is that with each kit, users learn how to cook a new vegetable or use a new spice or herb. So while, as Lightner puts it, services like Blue Apron "teach you the dish," New Seasons' kits are intended to "teach you the vegetable," because "when you learn the vegetable, you learn all the dishes," Portland Monthly reported.
New Seasons Market operates 21 independent grocery stores in Washington, Oregon and California, as well as four New Leaf Community Market locations in Northern California.