Merchandisers, Coffee Systems, and Other Novel Ideas
As supermarket foodservice becomes more inclusive and sophisticated, so do the new products that make the job easier and more efficient. Here's a sampling: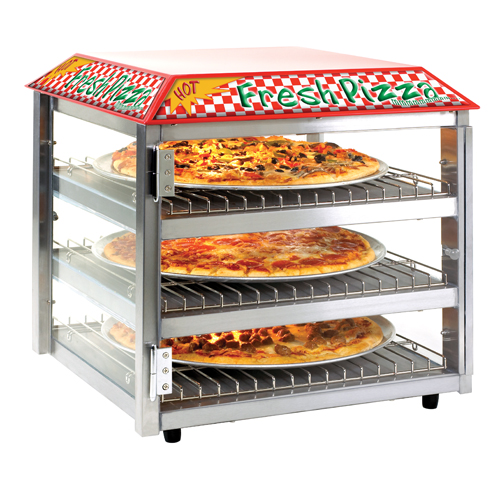 The Deluxe Fusion Pizza & Snack Merchandiser from Tomlinson Industries is a 16" unit with an attractive design to generate impulse sales.
Features include:
• Adjustable thermostat – 80 degrees F to above 160 degrees
• Thermometer included inside merchandiser
• Three 17" x 17" heated shelves – each holds up to a 16" pizza
• Can be used for other foods, as well – muffins, donuts, cookies, and more
• Three raised glass racks included to help keep shelves clean and food fresh
• Tempered glass side panels, polycarbonate doors and stainless steel corner posts
• Front and back doors for easy accessibility
• One-year limited warranty
• Versatile – can be placed on countertop or positioned on top of Tomlinson's Deluxe 16" Pizza & Snack Oven, which bakes all types of frozen pizza up to 16" in diameter – thin crust, regular crust, and rising crust -- and also bakes frozen snack foods and single serve entrees. Also available in 12" Pizza Oven and Deluxe 12" Pizza & Snack Oven.
For more information, visit www.tomlinsonind.com.
* * *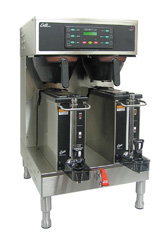 The Curtis Gemini gourmet coffee system features an updated, narrow satellite server that doubles serving capacity and saves valuable counter space. Operators can now serve the same amount of freshly brewed coffee in half the space.
Double-wall construction in each slim satellite maintains coffee temperature and preserves flavor for extended holding periods. Each satellite holds up to one and a half gallons and is removable to become its own remote serving station. Traditional satellite units are 9" x 9", but Curtis' Gemini Narrow Satellite is just half the size, allowing the option of brewing two separate flavors, saving time and space.
The Gemini features a Curtis G3 Digital Control Module for precision brewing. An easy-to-use interface displays all brewing functions in real time for immediate response. On-board, self-diagnostics continually sense proper brewing operations and a convenient Service Phone Number and a specific error code displays if technical assistance is ever needed.
For more information, contact the Wilbur Curtis Company, Inc. toll free at 800-421-6150 or visit www.wilburcurtis.com.
* * *
Traulsen TS Series Prep Tables can help prevent premature food waste and health department citations while keeping ingredients within arm's reach.
The new prep tables don't freeze or dry out products. No pan stirring is required, and products can be stored safely in the rail overnight. There is no ice or water, saving the cleanup time and labor common with cold-wall designs.
Traulsen's TempAssure air channel system circulates cold air around and underneath the pans, as well as lofts a protective blanket over the food surface, effectively insulating it from warm kitchen air. The patented Traulsen INTELA-TRAUL microprocessor control maintains a consistent 34-degree Fahrenheit temperature by keeping airflow regulated to withstand the harsh kitchen environment.
Traulsen business development manager John Davis says, "The number one complaint among prep-table operators is that the pans do not keep ingredients cold enough
The unique design of the Traulsen TS Series Prep Tables makes all-day performances to NSF Standard 7 test requirements not just possible, but an everyday reality."
The TS Series features stainless steel construction inside and out, and the stainless steel finishes, combined with design and construction, deliver aesthetics for customer confidence and appeal in front-of-the-house applications.
The new prep tables feature a 15" work surface that can be extended to 18" with optional cutting boards; a spill-safe ingredient rail that can be hosed out for quick cleaning; an easy-to-clean front-facing condenser and filter that promote long condenser life; multiple open-rail cover positions; and leg/caster channels that make it easy to avoid floor constructions.
Available in 48-inch, 66-inch, 72-inch, and 90-inch widths to accommodate six to 12 third-size pans, the tables hold both high-fat ingredients, such as cheese, and high-water-content ingredients, such as vegetables, equally well. This makes the TS Series useful for pizzas, sandwiches, bagels, gyros, burgers, salads, tacos, burritos, or almost anything that requires a ready supply of cold ingredients and condiments.
For more information, visit www.traulsen.com.
* * *
Rubbermaid Commercial Products has introduced its trademarked ProSave Food Box System featuring the new Dual Action Food Box Lid that fits all brands of clear food boxes and slides back or flips up for proper food storage and freshness.
"With its intuitive design, the patent-pending ProSave Dual Action Lid allows users to quickly access food with one hand – improving efficiency by 65 percent while reducing risk of cross-contamination," says Dawn Huston, product manager of foodservice for Rubbermaid Commercial Products.
The new lid offers improved space efficiency when reduced clearance is required and can also be stacked, withstanding up to 100 pounds. The durable clear food box allows for easy identification for inventory management, with the additional benefits of odor and stain resistance.
ProSave Dual Action Lids are available in two sizes: 18" x 12" and 26" x 18" and include accessories such as drain trays with a domed design to improve liquid drainage and airflow circulation and colanders that fit 18" x 26" food boxes. The eight-inch colander offers easy lift handles and drain openings designed to promote liquid drainage.
For more information, visit www.rubbermaidprosave.com.