11/16/2018
Lucky's Market Launches Same-Day Grocery Delivery in 6 States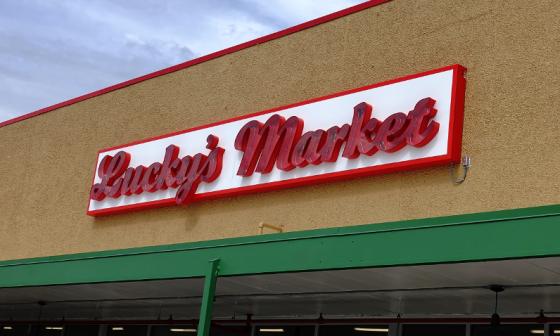 Lucky's Market has launched same-day grocery delivery in 18 metropolitan areas across six states.
Available through the Lucky's Market Delivers mobile app, the grocery ecommerce platform brings delivery to shoppers to Boulder/Longmont and Denver-area, Colo.; Gainesville, Gulf Coast, Jacksonville, Naples, Orlando, Sarasota, South Florida, Space Coast, Tallahassee and Tampa, Fla.; Savannah, Ga.; Iowa City/Cedar Rapids, Iowa; Columbia, Springfield and St. Louis, Mo.; and Billings, Mont. All markets will be served in partnership with Birmingham, Ala.-based third-party delivery service Shipt, a division of Minneapolis-headquartered Target Corp.
Shoppers in these markets will have access to an assortment of quality groceries and everyday household essentials through the service, including items for which Lucky's is known such as a wide selection of "never ever" meats, house-smoked bacon from the in-house butcher, ready-to-eat meals made daily in the store's kitchen, grab-and-go sushi bars, olive bars and more. The service will expand early next year to additional communities in the Midwest and new store locations slated to open in quarter one of 2019.
The service's launch gives more than 10 million households access to Lucky's products in as little as an hour without the need to drive to the store. Annual membership costs $49 for a limited time in the new metros with the service, almost half the cost of the traditional annual membership. Customers also will be able to apply their Lucky's Rewards to online orders.
"Lucky's Market was founded on the idea that healthful foods should be more available to more people," said Ben Friedland, VP Marketing for Lucky's Market. "Through this partnership, Lucky's Market Delivers makes shopping for good food more convenient in the communities we serve. We are thrilled to be offer more choices and be a better resource to our customers through the Shipt platform."
Lucky's made news earlier this month when it revealed signed leases for additional store locations in Florida. The grocer is slated to open one store each in Kendall, Bradenton, Brandon and Clearwater, as well as two in Boca Raton, over the next 18 to 24 months.
Boulder-based Lucky's Market operates 33 stores in 11 states.