Local Alcohol Brands Can Be Profitable
Get great content like this right in your inbox.
Subscribe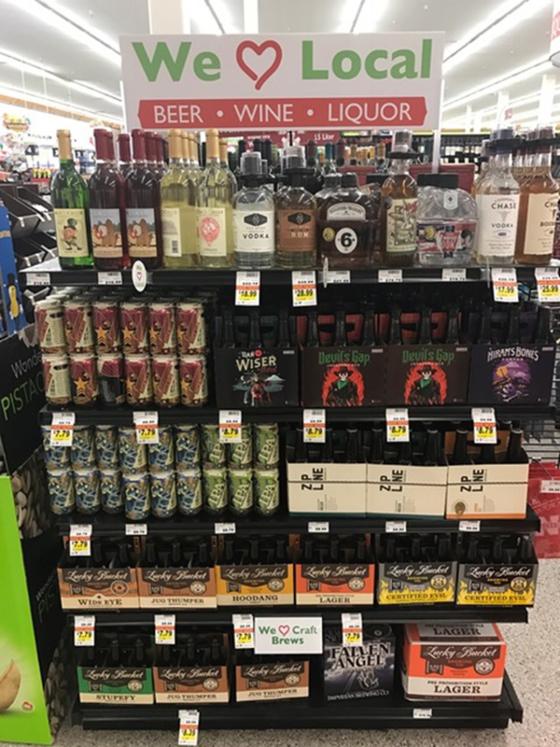 As with other categories, retailers are discovering the power of place when it comes to selling beverage alcohol.
"Consumers have an increasing thirst for local craft beers, and here at SpartanNash, we believe in supporting our local communities, businesses and families – and that means supporting our local wineries, breweries and distilleries," asserts Joe McQuesten, VP, center store merchandising at the Grand Rapids, Mich.-based grocery distributor and retailer. "Supporting local requires a significant amount of customization in merchandising, which is why every store is unique in its offerings in the alcohol categories. We are proud to offer small-batch alcohols, and we like to find exclusives to keep our offer unique as well."
Continues McQuesten: "For example, in Michigan, we recently teamed up with Short's Brewing to develop an exclusive Lemon-Hop Stand beer. Craft beer is a big business in Michigan – Grand Rapids has been named Beer City – so we often work with up-and-coming breweries on a hyper-local level. We look at which of our Family Fare and D&W Fresh Market stores are closest to them, and give them shelf space in one to four stores that surround them."
For SpartanNash, engaging with local brands in its home state makes good business sense. "In Michigan, craft beer and cider sales account for about 31 percent of our beer business, which outpaces the industry standard," explains McQuesten.
The company has extended its local reach well beyond Michigan, however.
"Each one of our store's beer sections is unique, and no store has the same planogram as any other," notes McQuesten. "That gives us the ability to test out new breweries and see if their sales warrant expanding their footprint to other SpartanNash stores. Most of our banners also feature a local end cap that supports the local beer, wine and spirits that are produced in that state."
For instance, in Nebraska, the company's Family Fare stores feature an end cap with local products from the state such as Lucky Bucket, Brickway, Zipline, Nebraska Brewing, Infusion, Empyrean and Kinkaider, while in Rapid City, S.D., the Family Fare stores have an end cap featuring local items such as Prairie Berry Wines, Crow Peak, Knuckle Brewing and Black Tooth Brewing. "Prairie Berry Wines have grown to be our top-selling wine SKU on a dollar basis," says McQuesten.
He adds: "While it's a competitive space for smaller breweries, part of SpartanNash's corporate responsibility is to support local businesses such as craft breweries. By supporting these local businesses, we can spur our local economy, minimize transportation miles and provide a true 'local flavor' to our store guests."