Kroger, Yoplait Mark 10-year Fight Against Breast Cancer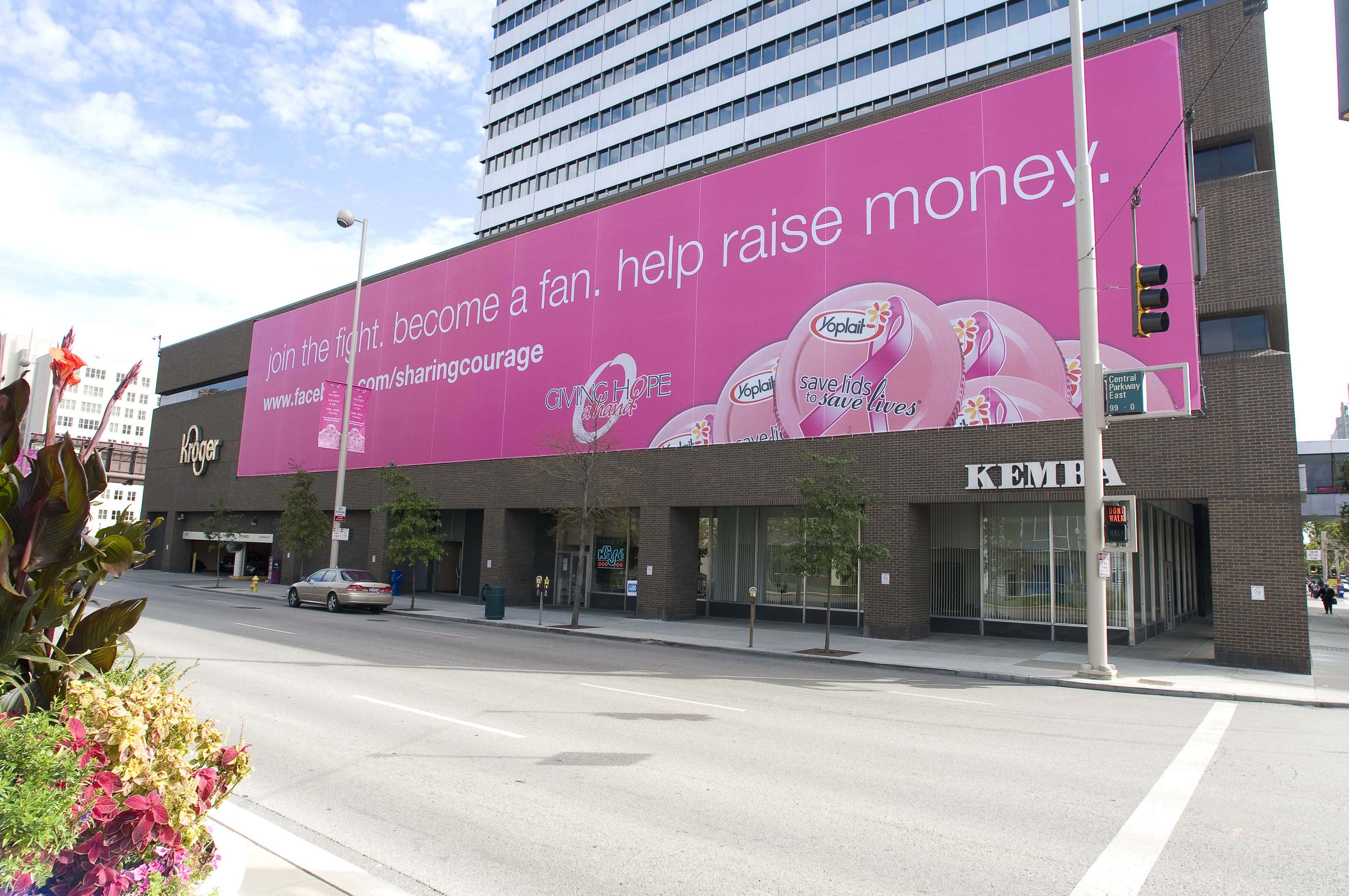 To honor the 10th anniversary their partnership supporting the fight against breast cancer, Kroger and Yoplait urging Facebook fans to "like" www.Facebook.com/sharingcourage, where for every new fan, Yoplait will donate $1 up to $150,000 through Oct. 31 to Susan G. Komen for the Cure.
The effort is part of Kroger's annual Giving Hope a Hand campaign, during which the grocer's network of stores, in partnership with key suppliers such as General Mills (maker of Yoplait yogurt), pledge $3 million to support breast cancer initiatives in communities across the country. Earlier this month, Kroger's Cincinnati corporate headquarters was illuminated with pink spotlights and festooned with 150-foot pink banners that urged folks to join the Facebook campaign.
"We wanted to do something extra this year, something that would really generate awareness,´ said Marianne Spain, Kroger manager of integrated marketing and a breast cancer survivor. "To date, this campaign has already reached over 38,000 Facebook fans and, with about 20 more days left, we hope to raise as much money for the cause as possible."
During the past 10 years, the companies have donated more than $1 million to local affiliates of Susan G. Komen for the Cure. For the 12th consecutive year, Yoplait lids will turn pink for the Save Lids to Save Lives program in October at all participating retailers nationally. Yoplait will donate 10 cents to Susan G. Komen for the Cure for every pink lid sent in by Dec. 31, up to $1.6 million, with a guaranteed donation of $500,000.
Kroger operates 2,468 supermarkets in 31 states under two dozen local banner names including Kroger, City Market, Dillons, Jay C, Food 4 Less, Fred Meyer, Fry's, King Soopers, QFC, Ralphs and Smith's.