08/06/2018
How Pay Transparency Gives Aldi, Trader Joe's a Leg Up over Competitors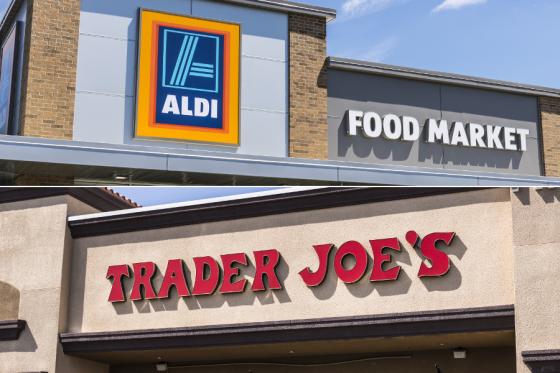 Smaller-format grocers Aldi and Trader Joe's – Nos. 9 and 10 on Progressive Grocer's 2018 Super 50 list of the top grocers in the United States – are among the five companies that are most transparent with employees about their compensation practices and approaches, new research from PayScale Inc. reveals.
On the 100 companies honored as the Pay Transparency Heroes of 2018, Batavia, Ill.-based Aldi lands at No. 1, while Monrovia, Calif.-based Trader Joe's falls at No. 4. Other food retailers to make the list include Smith's Food and Drug Stores (No. 8), Costco Wholesale Corp. (No. 11), H-E-B (No. 40), Sprouts Farmers Market (No. 56), Save Mart Supermarkets (No. 73) and Publix Super Markets (No. 93). PayScale ranked the companies based on employee feedback from more than 47,000 distinct employers.
PayScale, which provides on-demand cloud compensation solutions, said grocers had strong representation among the list's top 10, likely because both sectors have relatively thin profit margins. This reality suggests that transparency might provide a "distinct advantage" in these highly competitive areas.
"These organizations at the top of the list have done a good job of communicating their pay practices to their employees," Chris Martin, lead data analyst with Seattle-based Payscale, told Progressive Grocer. "Aldi and Trader Joe's both have excellent reputations of paying their employees higher than the market rate – which is minimum wage for many positions."
Martin noted that he regularly sees in his research that organizations develop compensation plans but then fail to communicate them to front-line workers. Companies like Aldi, Trader Joe's and Smith's, however, do an "exceptional job" communicating.
So what can other grocers learn from these three companies - and perhaps from other food retailers that made the list? That those who work in compensation sometimes forget that the process can look like a "black box" to many employees, Martin noted.
"The majority of people surveyed from these companies are frontline workers or managers – produce or deli clerks, cashiers, department managers," Martin stated. "In order to turn your compensation strategy into happier and more engaged employees, it isn't enough to develop your pay philosophy and a compensation plan. You need to own the narrative of that pay plan all the way to down to the front line in your organization."