04/18/2017
Grocers: 7 Simple and Affordable Ways to Boost Your Customer Experience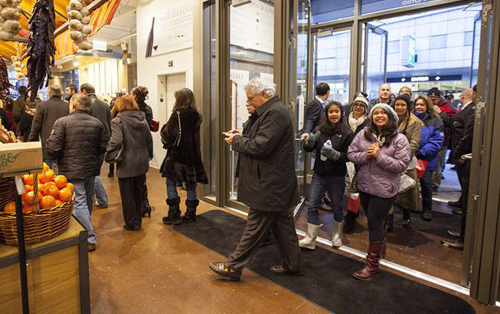 The best things in life are often simple, affordable, and even free. The same thing can be said for having a better checkout and store visit experience. It's often the simple conveniences that your shoppers appreciate most. With that in mind, I'm suggesting seven practical technology functions that my retail customer base can quickly deploy from their technology platform, in 2017, each of which is either free or very affordable.
1.   Twice as Fast EMV - Don't Settle for Less
Cost: Free
Faster EMV transactions can help local and regional grocers easily differentiate from national big box competitors, most of whom have poorly developed EMV capability. We've documented some of the largest national grocers taking up to 16 seconds for EMV authorization, and nearly all of them take over 10 seconds. Consumers have grown to hate this new payment process, which is where the opportunity lies in deploying superfast EMV. For example, CATAPULT Transaction Server enables grocers to process EMV transactions in around 4 seconds, sometimes less. I'm not referring to Quick Chip for EMV either, but instead faster code execution and form sequencing. Having a direct integration between your point of sale provider and your credit card processor also helps.
I can promise you this, when your customers first experience blazing fast EMV, it will be a pleasant surprise for them. Funny thing is, I often hear stories of consumers who have been so conditioned to expect slow EMV processing, that when they're actually first exposed to fast EMV, they think something is wrong. Of course, nothing's wrong with the EMV transaction, they're just shopping with a retailer who is using better, more modern POS technology. 
2.   Direct e-Receipts - No 3rd Party, Please
Cost: Free
This is really low-hanging fruit, yet it's rarely picked. Allow your consumers to opt-in to receive their receipts by email and opt-out of printed receipts. Most consumers dislike printed receipts; they're a hassle to deal with and just clutter up the world. We've all long moved away from paper in nearly every aspect of our lives, so why do we need paper receipts? Why not deliver the receipt in email form?
And while you're at it, do so in a way where your customers' privacy is always protected, as well as your own business data, which means not using an expensive 3rd party to perform this very simple function. Your POS system should allow for secure and direct e-receipt deliveries, at no additional cost or service fees, right out of the box. 
3.   Secure OneTouch™ – It really is that Simple
Cost: $245 per lane
Magic happens when you allow your customers to not only associate with a transaction but also pay using biometrics. In this case, I'm talking about using a simple fingerprint reading device. We call it Secure OneTouch™ and, like the name implies, it's an effortless and secure way for your customers to receive all of their rewards, e-coupons and even pay, simply by touching the device one time.
Oddly enough, I came up with this idea myself, but I wasn't sure consumers would like it, and was hopeful we could get a 5% adoption rate. Then, the opposite happened. It appears that, instead, customers enjoy shopping without the need to also carry their purses, wallets, or even their smart phones. They also feel emotionally attached to a retailer who allows them to pay simply by placing their finger on a device; it's the next best thing to a handshake. Many seem to think, "I get to checkout faster here, because my local or regional retailer knows and trusts me." Our test locations are showing adoption rates as high as 70%; that's 65% higher than the most popular mobile payment apps.
Emotion matters, and I have no doubt that Secure OneTouch will allow retailers to have a much closer, more emotional attachment to their customers. I, myself, check out this way at my own local health food store.
For a glimpse of Secure OneTouch in action, check this out.
4.   Self-Checkout – It's Now More Affordable and Autonomous
Cost: As low as $3000 per lane
I know, I know, you think your customer would never go for self-checkout, but the fact is, they will. Many consumers prefer self-checkout, especially millennials and those who want to quickly get in and out of the store, without talking to anyone. Good news: self checkout is no longer difficult and expensive to deploy. For example, a modern self-checkout unit can be a fraction of the cost of deploying a manned POS lane or even a legacy self checkout lane.
When done right, self-checkout is plug-and-play, with no costly customizations needed. It is now nearly completely autonomous, requiring little to no attendant supervision. This becomes even more important as hourly wages continue to climb. ECRS designed many features, some of which are patented or pending patent, that make these devices as close to autonomous as possible - greatly enhancing the consumer checkout experience, while also reducing store operational costs.
It's time to give self-checkout a second look, and perhaps discover and deploy a new tool that your competitors have either ignored or executed poorly. The fun part is knowing you paid a lot less money than they did, while your customers receive a more autonomous self-checkout experience.
5.   Round Up for Charity – Connecting on a Local Level
Cost: Free
It feels good to give, even when it's just a small amount. The idea behind this is simple: during each transaction, your customers can choose to have their transaction total rounded up to the next whole dollar, with the proceeds going to a selected local charity.  Though it's just a small amount, it all adds up to a substantial sum. Totals raised can then be publicized to each shopper, right at the checkout, which of course generates an even greater sense of goodwill, tieing your store locations and the community closer together. By using this POS and self-checkout function, you can position your company as a trusted and convenient way for your customers to give to local causes, and feel good about buying from you in the process.  
6.   Leverage Thy Token – Less Friction Means Happier Customers  
Cost: Free
If you've ever used Amazon's "One-Click" ordering than you're already familiar with tokenization. But this technology isn't exclusive to online retailers. Like I mentioned with the Secure OneTouch feature, tokenization means using your technology platform to store a "token," provided by your credit card processors, which links to your customer's credit card. Tokens are at the very heart of making credit transactions dramatically more secure and reducing the hassle of transacting. Here are just some of the real possibilities you should be deriving from token technology today: 
Offer biometric payments (see idea #2, Secure OneTouch).
Make returns to the same credit card used to purchase the items.
Allow phone-in orders, especially for pharmacies, without the need for customers to give their credit card information over the phone. It's more secure and much more convenient for the customer to just use their token. For example, "Would you like to use your Visa ending in 4356?"   
Provide an Amazon-like experience when your customers order online.  
Finally, enable speedy transactions during click and collect order pickups.
7.   Electronic Shelf Labels - Start with the Produce
Cost: $2,900
Electronic shelf labels (ESLs) have been widely acclaimed across European grocery stores for years now, but American grocers have not been so quick to adopt this customer-facing technology. Why is that, when ESLs can provide grocers with time savings and improve profits while delivering a digital experience to the consumer? I think one reason for the slow adoption may be the perception of ESL being too expensive to deploy at each shelf location. However, I think this "all or nothing" approach is wrong.
Why not first deploy ESL on selected items, those that have the most price changes? I recommend you start an ESL adoption with your produce or meat department first since pricing and availability for these items are more susceptible to many changes and specials that happen weekly, if not daily. ESLs offer time and labor savings by eliminating the need for constant re-labeling and new signage in these high-change areas.
With ESLs you can also drive down waste by easily adjusting pricing based on ripeness or expiration date. Your store personnel will love it because their workload will be reduced. Your customers will love it too, enhancing their overall experience and how they perceive your digital capability.   
I have many more tips, but seven is a good luck number, so we'll stop here. However, you shouldn't stop thinking of ways you can make simple and affordable technology changes that will give your grocery locations a consumer experience edge. Remember, you can't solve every technology problem with money. Often it's more about creativity and the willingness to try simple new concepts.  
About ECRS
ECRS brings together retail software, hardware, and services to create the only truly holistic, unified retail automation platform on the market. By developing a framework of optional plug-and-play modules that work seamlessly with our core applications, ECRS' CATAPULT gives customers the freedom to choose as much, or as little, automation as their business enterprise demands. Retailers can easily expand their automation framework as their business grows. Exhaustive research, intelligent design, and rigorous pre-market testing ensure that ECRS products integrate smoothly into existing retail environments. By providing retailers with automation tools that put real-time actionable enterprise data at their fingertips, ECRS empowers them to compete and expand their business in an increasingly competitive marketplace. Find out more at www.ecrs.com.