03/27/2019
Grocer Loyalty vs. Shopper Dwell Time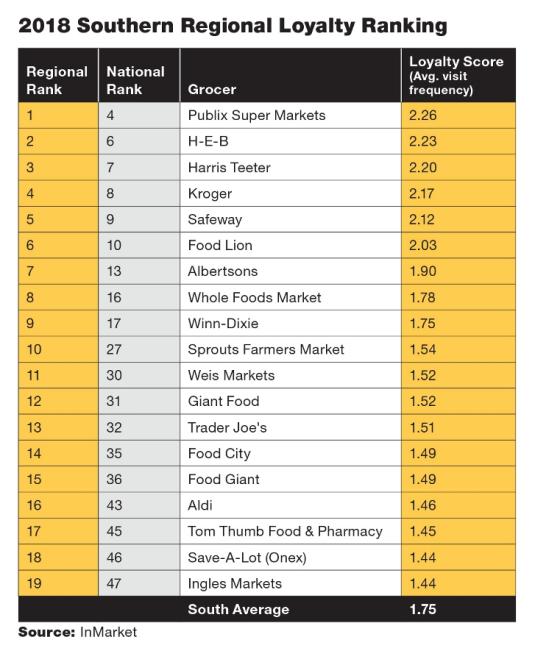 Editor's Note: This second of a two-part series looks at banner loyalty and shopper dwell times, and how they differ by region. In Part 1, industry analysts offered their thoughts on which retailers are best positioned for success in their respective markets.
A customer's loyalty to a specific chain is becoming more and more important in the modern landscape of home delivery and immediate fulfillment, and has emerged as a fairly good barometer of a business' health.
"The grocery landscape is changing rapidly. There are many factors impacting the traditional experience, such as online-to-store pickup, that affect how much time we spend and how frequently we visit," says Cameron Peebles, CMO of InMarket, a mobile-at-retail marketing platform and app developer based in Venice, Calif., that analyzes trends and patterns to provide its clients with a near real-time understanding of modern shopper behavior.
InMarket provided Progressive Grocer with an analysis of the top grocery retailers by region (detailed in the accompanying charts) and how they rank in terms of shopper loyalty (where they shop most often) and dwell time (where they spend the most time and, presumably, the most money).  
In terms of loyalty, there should be no surprises to most industry watchers. For example, the top three grocery chains in the South, according to InMarket's data -- Publix (Florida), H-E-B (Texas) and Harris Teeter (Carolinas) -- are considered leaders in their respective markets, with deep ties to their communities.
Similarly, loyalty in the West is led by three Kroger-owned banners, Fry's (Arizona), Ralphs (Southern California) and Smith's (Utah, Nevada, New Mexico).
Loyalty in the Northeast is led by Giant Eagle, Stop & Shop (Ahold Delhaize USA), and ShopRite (Wakefern); surprisingly, considering its avid following, Wegmans ranked only sixth in InMarket's study.
Pittsburgh-based Giant Eagle also ranks tops for loyalty in the Midwest, with stores in Indiana and Ohio, followed by Kroger (operating under its own banner, as well as Mariano's in the Chicago area and Pick 'n Save in Wisconsin) and Whole Foods Market, based in Texas but with a strong national following.
Look at dwell time in these regions (see charts in the image gallery), and the InMarket data paints a different picture. In the South, shoppers are spending more time at The Fresh Market (based in North Carolina), Whole Foods and Lowe's (Carolinas). Up north, ShopRite leads in lingering shoppers, followed by Market Basket (New England) and C-Town Supermarkets (New York).
In the Midwest, consumers are shopping longer at Marc's, a 60-store grocery and drug chain based in Ohio; Whole Foods; and Fresh Thyme, a regional chain with headquarters in the Chicago suburbs. Meanwhile, out West, Whole Foods leads in shopper dwell time, according to the InMarket data, followed by Colorado-based Natural Grocers and El Super, a Hispanic chain with 59 stores throughout California, Arizona, Nevada, New Mexico and Texas.
"It's no surprise that grocery is a regional game, but now we have a more clear-cut picture as to how these chains stack up," Peebles says. "You can look at a Northeast-only chain like Stop & Shop, which at 12th overall wouldn't make a national Top 10 for loyalty. But relative to the rest of the Northeast, its performance is quite impressive."
How do national chains like Whole Foods, Trader Joe's and Aldi stack up against fierce regional competition? "They're typically in the middle of the pack, with Whole Foods ranking No. 3 in the Midwest as the best showing," Peebles notes. "Aldi is toward the bottom in each region. It's clear that shoppers still prefer their regional stores over the national chains."
Regional Shopper Dwell Times