Giant-Landover Readies D.C. Store Construction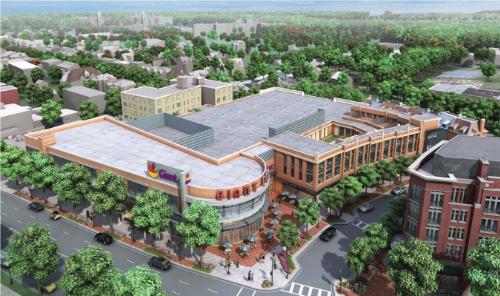 Giant Food of Landover, Md., has teamed up with local real estate company The Bozzuto Group on the development of Cathedral Commons, a mixed-use project on Wisconsin Avenue in northwest Washington. The $125 million, two-block development (see artist's rendering at left)  will include 137 apartment units and eight townhomes, more than 500 parking spaces, and 128,000 square feet of retail anchored by a state-of-the-art, 56,000-square-foot Giant Food store.
Noting that the Cathedral Commons project would result in "the transformation of the current Wisconsin Avenue store into a vibrant, urban destination for Cathedral Heights, Cleveland Park and the District," Anthony Hucker, president of the Ahold USA division, added: "Giant has been a part of this neighborhood for the past 50 years, and our new store will enable us to better serve the community for years to come. Giant operates 173 supermarkets in Virginia, Maryland, Delaware, and the District of Columbia, employing around 22,000 associates.
According to Tom Bozzuto, CEO of Washington-based Bozzuto, the development "will offer the District neighborhoods of Cleveland Park and Cathedral Heights the best shopping, dining and housing yet."
The store will feature full-service floral, bakery, meat, seafood, and deli departments, as well as a larger offering of fresh produce and natural, organic, gluten-free, and international products. Among the planned amenities of the residential portion of the development are a boutique hotel-style lobby, lounge areas, a library, a fitness center, a clubroom, a conference room and residential courtyards.
Joining with Bozzuto on the retail portion of the project is Southside Investment Partners, LLC, a Baltimore-based developer and owner of shopping centers and other retail projects.
Construction on Cathedral Commons is scheduled to get underway in spring 2012, with the opening of the new supermarket tentatively slated for late 2013.