06/15/2018
Frozen Foods Heat Up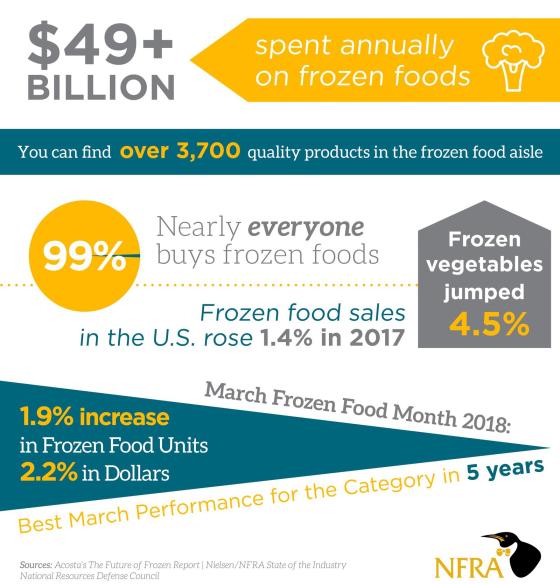 Results from the National Frozen & Refrigerated Foods Association's (NFRA) recent March Frozen Food Month promotion revealed a 1.9 percent uptick in unit sales and 2.2 percent rise in dollar sales, according to Nielsen, representing the best March performance for the frozen food category in five years.
Additional evidence cited by NFRA of frozen foods' strong performance of late:
A recent RBC Capital Markets report showed that volume growth for the frozen category turned positive for the first time in five years, up 1 percent for the 12 weeks ending 

March 10

. Frozen meals and appetizers, which account for 35 percent of the category, saw sales growth of 3 percent, the highest in five years.

Nielsen found that U.S. frozen food dollar sales rose 1.4 percent in the past year,

with frozen vegetables a particular standout, with a 4.5 percent increase.

Acosta's

 "The Future of Frozen" 

report revealed that 26 percent of total U.S. grocery shoppers were shopping for frozen foods more frequently than last year, with Millennials in the forefront: Forty-three percent of them said that they had bought more frozen items than the previous year, spending 9 percent more than average households per trip on frozen foods in 2017.
Further, many NFRA member companies, among them Conagra, Pinnacle Foods, B&G Foods and Kellogg, are experiencing positive growth for many of their frozen brands, including Healthy Choice, Birds Eye, Green Giant, Eggo and MorningStar Farms, according to the trade association.
"The industry together is doing a great job in making this turn around happen," noted NFRA President and CEO Skip Shaw. "The innovation we're seeing from our brands in both product development and packaging demonstrates success in meeting the needs of a changing consumer base and aligning frozen food offerings to their new demands."

Added Shaw: "There are many new frozen food brands and product lines that are now catering to a wider variety of cultures and dietary requirements. Whether someone is looking for vegan, ethnic, gluten-free, organic or antibiotic-free meat, the frozen food aisle has it all, and more."
The association unveiled the Real Food. Frozen campaign in 2013, with the overall goal of sparking new conversations, changing negative frozen food perceptions and ultimately bringing more shoppers into the category. Additionally, through its Easy Home Meals website, blog and social media platforms, NFRA focuses its messaging on real ingredients, fresh flavors, chef-inspired recipes and wholesome meal ideas.
Harrisburg, Pa.-based NFRA is a nonprofit trade association representing all segments of the frozen and refrigerated food industry. The organization sponsors national promotions like March Frozen Food Month, June Dairy Month, and June/July Ice Cream & Novelties, as well as providing a range of consumer information.