04/04/2018
Food Lion Offers Savings on Private Brands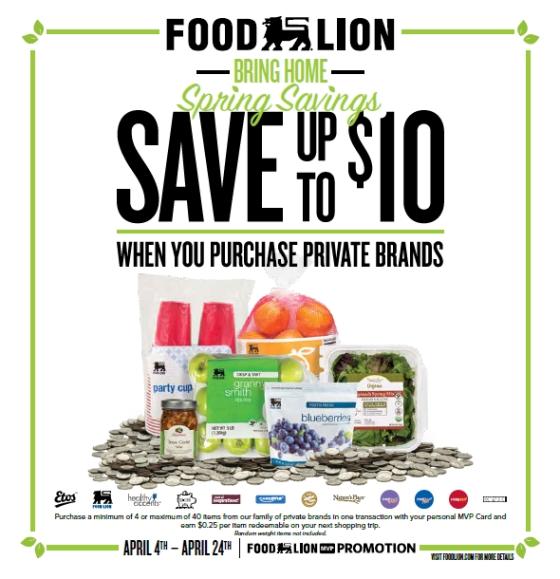 Now through April 24, Food Lion shoppers can save 25 cents when they buy the grocer's private-brand items, up to $10, during the Bring Home Spring Savings promotion. Purchasing at least four private-brand products with an MVP card will earn customers a coupon that they can use on their next shopping trip, but not on the same day.
The promotion covers more than 7,000 private-brand items sold at Salisbury, N.C.-based Food Lion. All items have a double-your-money-back guarantee, meaning that if at any time, a customer isn't completely satisfied with the product, they can return it to a Food Lion store and get double their money back.
Spanning the entire store, the banner's private brands include:
Food Lion:

A wide range of value-priced products comparable to national brands in such categories as produce, meat, dairy and bakery

Nature's Place:

Natural and organic products featured throughout the store and free from more than 100 artificial ingredients, at affordable prices

Taste of Inspirations:

Premium products at affordable prices

Home 360:

Nonfood products such as household items like batteries, fire logs and charcoal, as well as Home 360 Pet items, Home 360 Baby items and others

Healthy Accents:

Value-priced health and beauty products

Cha-Ching:

Low-priced basics including paper products, cookies, bread, sugar, oil, spices, dressings, condiments, peanut butter, toaster pastries, apple juice cocktail, chips, and laundry/cleaning products

Etos:

A range of affordable to premium European-inspired beauty products
For the duration of the promotion, shoppers can repeat the deal as many times as they want. A customer must buy at least four private-brand items for the promotion to apply, not exceeding 40 items, or $10, in a single shopping trip, using a personal MVP card. Random-weight items are not included in the promotion.
Alcohol, tobacco, lottery, services, postage stamps, pharmacy and gift cards exclusions apply. Coupons received April 4-18 expire two weeks from receipt date; coupons received after April 18 expire May 1.
A company of Ahold Delhaize USA, the U.S. division of Zaandam, Netherlands-based Royal Ahold Delhaize Group, Food Lion has more than 1,000 stores in 10 Southeastern and Mid-Atlantic states, and employs more than 63,000 associates.