Egging On Family Baking
The holiday season is a popular time of year for recipe searches on IncredibleEgg.org because so many families rely on eggs for holiday baking and entertaining, as well as for fast meals during this busy season.
That's the word from the American Egg Board, which notes that, from casseroles and quiches to cakes and cookies, people are hungry for easy egg recipes around the holidays. In fact, the AEB says a recent Google report found, during the winter holidays, people are three times more likely to be searching for "easy recipes."
Chef Jeffrey Saad, television host and father of two, loves creating special memories in the kitchen with his family during the holiday and relies on eggs for easy and affordable cooking and baking. "Eggs are a staple in our house, especially during the holiday season, because they are an important part of all our favorite family recipes from make-ahead brunch dishes to desserts," Saad says. "At less than 15 cents apiece, eggs are a great value, which is especially important during the gift-giving season when many folks are watching their wallets."
In the spirit of holiday giving and sharing, Saad will be hosting a recipe e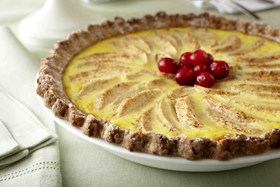 xchange on the Incredible Edible Egg Facebook wall . By sharing recipes and stories, fans can help feed the hungry this holiday season. For every post on the recipe exchange, America's egg farmers will donate a dozen eggs to Feeding America.
Egg dishes like Mini Italian Breakfast Casseroles or Simple Breakfast Strata are comfort foods that can be created the day before and then baked the next day for the family. Eggs' versatility allows home cooks to take classic appetizers like deviled eggs and dress them up, making them ahead of time to avoid the last-minute party rush. And desserts like Caramel Pumpkin Torte or Apple Custard Pie will wow party guests.
These and other easy egg recipes can be found at www.IncredibleEgg.org.
The Park Ridge, Ill.-based American Egg Board is funded from a national legislative checkoff on all egg production from U.S. companies with greater than 75,000 layers.