Chef'd's Failure Reinforces that Grocers Will Eventually Own Meal Kits
Get great content like this right in your inbox.
Subscribe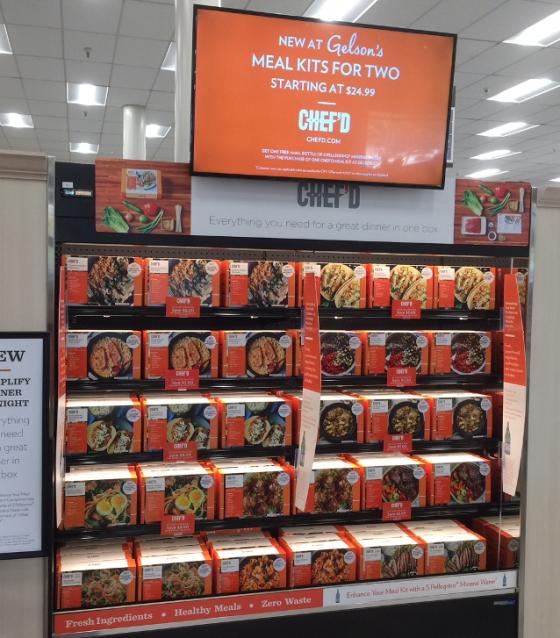 News broke yesterday that Chef'd, the meal-kit provider known for its gourmet-style offerings and early adoption of brick-and-mortar partnerships, shut down unexpectedly following "unexpected circumstances with the funding of the business." But while it is tragic – and not exactly good news for other subscription-based meal-kit services – it reinforces one big truth for grocers: they not only should – but eventually will – own the meal-kit segment, said David Bishop, partner with Barrington, Ill.-based retail consultancy Brick Meets Click.
While the El Segundo, Calif.-based service did sell its kits in some stores, it still based much of its operations off a subscription-based online-ordering model, meaning that, just like other pure-play providers, it still was somewhat lacking in two key assets grocers with physical operations possess: proximity and connection. These two assets – being closer to the consumer and having an established relationship – help reduce the distribution and marketing expenses that pure-play meal-kit providers struggle to overcome.
"Chef'd deserves some credit for moving quicker than rivals in partnering with grocers and integrating new products online and in-store," Bishop stated. "Unfortunately, the move wasn't enough to offset the extraordinarily high cost related to the direct-to-consumer sales model."
Pure-play meal-kit services have always been a challenging and expensive proposition relative to other online grocery-shopping options – from both the consumer's and the operator's perspectives, Bishop noted. As consumer interest has grown, so has the level of competition – and, with it, expectation and perceptions related to the various value propositions.
"Saving time and money and offering more control and choice are all appeals of shopping online for groceries and this applies to the meals segment too," he said. "What started out as pre-assembled kits of ingredients that take 20 to 30 minutes [to prepare] now compete against pre-packaged meals that are ready in less than five minutes. Instead of receiving meals once a week, you can now get them delivered the same day from your local grocery provider. And, why buy more than you need when you can shop a la carte and even make substitutes here and there?"
In the end, grocers have to understand how they respond if their partner meets a similar fate or begins developing an alternative plan that transitions to a more stable source. As for meal-kit providers, they must continue to remember that consumers shop online very differently for fresh foods compared to packaged foods. They should not count on consumer loyalty – as expectations and competition continue to increase, they must focus on improving consumer outcomes.
"Chef'd isn't alone, as others continue to wrestle with similar challenges as grocers refine their own meals offering," Bishop stressed. "While these realities hurt Chef'd, they also should help grocers in developing more sustainable strategies in this area.