CELSIUS: New Can Graphics & Repositioning, 2017 Q1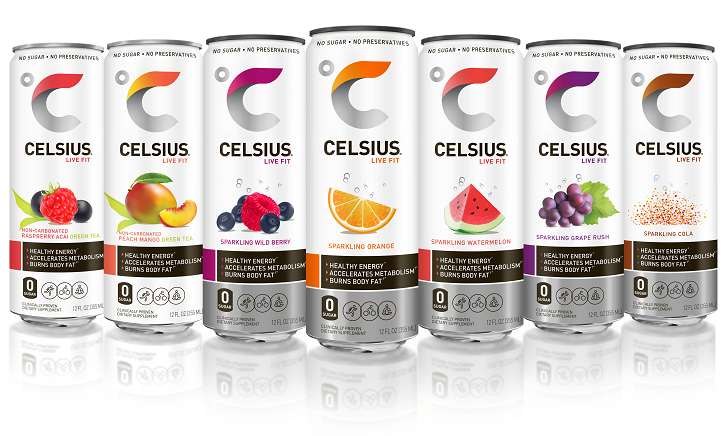 CELSIUS is the leading global Fitness Drink. It delivers unique benefits including metabolic acceleration which in turn burns body fat & calories, while also providing healthy energy.
CELSIUS is pioneering the Fitness Drink Category by defining a new cross-section on shelf; its primary placement fills a void in the beverage aisle where Functional Beverages meet Healthy Energy (single cans / 4pk grocery package). Secondary placement opportunity exists in open-air coolers alongside protein bars, salads, subs and fruit bowls. This not only encourages trial but also promotes CELSIUS beside healthy grab & go items that its consumers seek. CELSIUS appeals to a broad demographic: the Fitness Community, Active Lifestylers and those seeking Better-For-You Alternatives.
CELSIUS is available in five carbonated flavors: Orange, Wild Berry, Grape Rush, Cola & Watermelon and two non-carbonated flavors: Raspberry Acai and Peach Mango. CELSIUS' healthy ingredients (including 100% of 7 essential vitamins such as calcium, chromium, B vitamins and vitamin C) complement what is not in the can; CELSIUS has no preservatives, no sugar, no high-fructose corn syrup, no artificial flavors and no artificial colors. It is gluten-free, certified vegan & Kosher and low in sodium.
CELSIUS. LIVE FIT