Amazon's 4-Star Store: What Does It Mean for Grocery?
Get great content like this right in your inbox.
Subscribe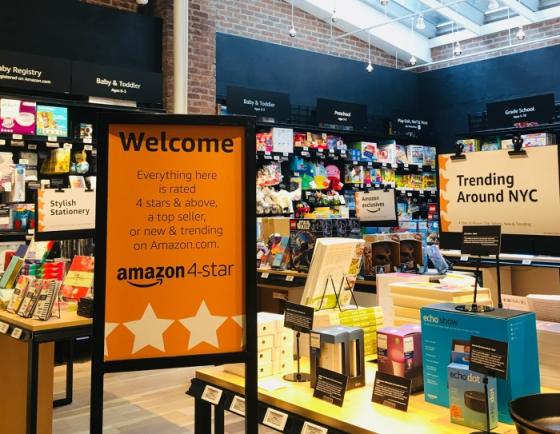 Amazon's new 4-Star store in New York's SoHo neighborhood doesn't sell food. But this unique brick-and-mortar venture could change retail grocery – again.
The store features 2,000 rotating items that are selected based on online customer ratings. Prices change automatically to align with online prices and Amazon Prime members receive a discount off the list price. Checkout does involve cashiers, unlike Amazon Go, but the convenience factor is still foremost and Amazon's focus on providing an enhanced shopper experience is impossible to miss.
And, although recent industry news feeds have focused almost exclusively on the novelty of the 4-Star store, one can't help but think about the implications this new store model could have for retail grocery.
a Smaller Footprint
Could this small-store format become the new neighborhood mini-mart? Not only do smaller locations translate into lower capital costs, but these Amazon "mini-stores" could pop up on any street corner – downtown or down by the old mall. Needing less square footage to operate, they can be more easily plotted to deliver the convenience that drives shoppers in store. And the value of convenience can't be overstated, as 68 percent of shoppers participating in Inmar's 2018 Shopper Behavior Study cited "convenient location" as the primary reason for choosing where they shop for groceries.
Making Real-Time Pricing a Reality
It's hard not to be at least a little impressed by Amazon's deployment of digital price tags at the 4-Star store that instantly match in-store pricing with what shoppers are paying online. Further, it seems entirely reasonable that Amazon could further refine real-time product pricing at the store level based on external market forces, internal goals and a host of other considerations – including competitors' prices. Is this a signal to a grocery industry challenged by shrinking margins that now is the time to invest in similar technology?
And given Amazon's unmatched shopper data history and management, could the 4-Star store be where personalized pricing for shoppers takes hold? Grocery retailers have built pricing strategies around known-value items (KVIs) for decades but have hesitated to go a step further and commit to truly shopper-specific pricing. If the Amazon 4-Star store makes personalized pricing the norm for its customers, will this be the final impetus for grocery retailers to do the same?
Highlighting Hyper-Localization
The Amazon 4-Star store in SoHo includes a section designated as "Trending Around NYC," reflecting the retailer's unflagging focus on strategically positioning products in front of shoppers identified as potential purchasers. As grocery retailers fight for sales in an increasingly competitive marketplace, this should serve as an important reminder of the need to customize – to the greatest possible extent  – assortment at the store level. With brick-and-mortar shoppers demanding a more personalized in-store experience, industry retailers need to make full use of available shopper data to ensure that assortment matches local demand.
If Amazon can stock shelves based on what products individuals in the immediate area are already buying online or in store, why can't grocery retailers? While it will require strategic collaboration across multiple business functions, merchandising, supply chain, etc., along with consistent, committed application of analytics to ensure that merchandise is properly curated, it is within the reach of industry retailers and the return on the investment will be substantial.
A Growing Presence – and Influence
While it's too early to fully assess the impact of the SoHo store – and the announcement of a second Amazon 4-Star coming to Berkeley, Calif. – it's immediately evident that this latest retail concept has the potential to irrevocably shape shopper expectations regarding the in-store experience. And that includes what they'll be looking for in the grocery store.
By featuring top-rated items and targeted assortments, Amazon is delivering what shoppers have been demanding for some time: relevance. They're further strengthening their relationship with shoppers by working harder to meet demand and that may well be the most important takeaway for grocery retailers. While a technology-match with Amazon is a stretch goal for most in the industry, establishing better relationships with shoppers is something that every grocery chain can achieve.
It's critical at this point that retailers understand that relationships are not built exclusively in-store or online. (Just ask Amazon!) Shoppers are purchasing across channels and their experience in one influences how and where they shop in the other. And it's the quality of both that, combined, drives loyalty.
Therefore, grocery retailers must do everything they can to provide the most complete and convenient omnichannel grocery experience that appeals to a variety of shoppers. Because, one day, the technology available will make it possible for retailers to serve up a completely personalized experience in-store or online for any shopper.  When retailers achieve that degree of personalization they will find their fate not in the stars but in themselves.