10/25/2017
Amazon to Offer In-Home Delivery
Amazon has unveiled a new in-home delivery service for members of its Prime program, following speculation that it was working on such an initiative.
Available in 37 cities and surrounding areas starting Nov. 8 – and rolling out to additional locations over time – Amazon Key allows for delivery of tens of millions of items sold on Amazon.com at no extra cost for members of Amazon's Prime subscription program. It allows customers to have packages securely delivered inside their homes without their having to be there.
Using the Amazon Key app, customers may track deliveries via real-time notifications, watch a delivery occur live, and even review a video of the delivery after it has finished. Each time a delivery driver requests access to a customer's home, Amazon verifies that the correct driver is at the right address and at the intended time through an encrypted authentication process. Once the process is completed, a set-up Amazon Cloud Cam unit begins recording, and the door is unlocked.
No access codes or keys are necessary, and customers can set the frequency and length of time a delivery person has access, while also adding or removing contacts as they wish. Moreover, additional service providers will be available for scheduling with the lock technology in the coming months, including integrations with such brands as Merry Maids for home cleaning or Rover.com for pet sitters and dog walkers, as well as 1,200-plus services from providers across 60 professions via Amazon Home Services.
"Amazon Key gives customers peace of mind knowing their orders have been safely delivered to their homes and are waiting for them when they walk through their doors," said Peter Larsen, VP of delivery technology at Seattle-based Amazon. "Now Prime members can select in-home delivery and conveniently see their packages being delivered right from their mobile phones."
The Amazon Key In-Home Kit is now available for preorder to Prime members for $249.99, and includes an Amazon Cloud Cam unit along with one of several compatible smart locks by such manufacturers as Yale and Kwikset. Customers may install the kit themselves or have a professional do so at no charge.
The Battle Intensifies
Amazon's new initiative comes on the heels of Walmart's test of a similar service in Silicon Valley. Partnering with smart-lock provider August Home, the mega-grocer – possibly Amazon's biggest competitor today – allows customers to place an order on Walmart.com for items, including groceries, which are retrieved and transported by a driver from Deliv, a Menlo Park, Calif.-based same-day-delivery provider. If no one responds to the doorbell, a one-time pre-authorized code can be used to enter the home and complete the delivery, all while allowing the customer to monitor the delivery in real time via a security system feed through smartphones or tablets.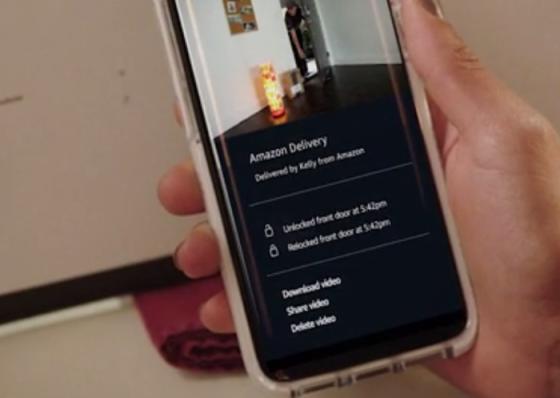 Amazon's service is said to be intended especially for reduction of package thefts from front porches. According to San Francisco-based August Home, 11 million U.S. homeowners had a package stolen in 2016, and a survey by Aurora, Ill.-based Shorr Packaging showed that 31 percent of U.S. shoppers have experienced package theft. This may prove to be just part of the reason behind the initiative, however.
For example, like Walmart's piloted service, Amazon Key could have potential particularly for delivery of perishable groceries, a major issue many grocers continue to struggle with today: A June report from The NPD Group, of Port Washington, N.Y., revealed that the prior month saw only 7 percent of U.S. consumers shopping online for groceries, as they didn't have much control over their fresh purchases. While many in-home deliveries fulfilled by Amazon likely will be left inside the home right at the front door, perishable groceries can be stored in the fridge or freezer, or, on a particularly cold day, even in the garage.
CNBC first reported on speculation about Amazon Key at the same time that it said that the ecommerce giant was in "advanced talks" with San Francisco-based smart-license-plate-maker Phrame to develop a solution that allows for direct-to-trunk delivery.
Although Walmart was first to introduce in-home delivery, Amazon still appears to have an edge over the Bentonville, Ark.-based company "right out of the starting gates," said Tushar Patel, chief marketing officer of Kibo, a Dallas-based omnichannel solutions provider.
Today's announcement of Amazon Key is the "perfect example" of the ecommerce behemoth's relentless focus on long-term thinking. First off, Amazon will offer the service in 37 cities in just a matter of weeks, similar to its making news with Whole Foods Market not for the price cuts it made on day one of its ownership, but for its speed in cutting prices, echoing a mantra held by many grocery technology experts: The future belongs to the fast.
Second, Prime shoppers can use Amazon key for services that extend beyond the retail realm. This is significant because U.S. consumers have been spending more on services than on goods.
"Amazon continues to carve out its niche as more than just a retailer, it's a way of life, and one that encompasses the spirit of personalization," Patel noted.
While it appears impossible for grocers to compete with Amazon on this level, there remains potential to capitalize on making sure their convenience and personalization strategies are on par, Patel said.
"We know that, based on our own research, 52 percent of retailers plan to invest in personalization in the next 12 months, or are already implementing this strategy," he asserts. "If these announcements from Amazon and Walmart don't entice retailers to get off the dime, I don't know what will."