Amazon Now Delivers Orders to Parked Vehicles
Get great content like this right in your inbox.
Subscribe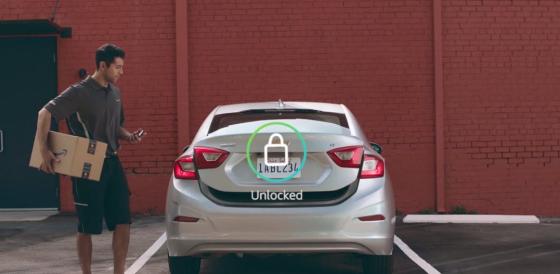 Amazon's in-home delivery service has officially expanded to include direct-to-car delivery, allowing for parked cars in publicly accessible areas to receive shipments when the recipient is not present.
Amazon Key In-Car allows members of Amazon's Prime subscription service with compatible vehicles receive in-car delivery for no extra cost. Available now in 37 cities and their surrounding areas – with plans to continue expanding nationwide – the service includes tens of millions of items sold on Amazon.com and works with same-day, two-day and standard shipping options.
To set up an order, customers link their Amazon account with their connected car service account. Once the Amazon Key mobile app has been downloaded, setup is complete and the delivery location has been registered, customers simply choose "In-Car" as the delivery option at checkout.
On delivery day, the Amazon Key app helps customers ensure they've parked within range of the delivery location and provides notifications with the expected four-hour delivery time window. Customers also will be notified when a delivery is on its way and a package has been delivered, and also may check to see when their car was unlocked and locked again.
"Since launching Amazon Key last November, we've safely delivered everything from cameras to collectable coins inside the home. Customers have also told us they love features like keyless guest access and being able to monitor their front door from anywhere with the Amazon Key App," said Peter Larsen, VP of delivery technology at Amazon. "In-car delivery gives customers that same peace of mind and allows them to take the Amazon experience with them. And, with no additional hardware or devices required, customers can start ordering in-car delivery today."
Current vehicles compatible with the service include 2015 or newer Chevrolet, Buick, GMC and Cadillac vehicles with an active OnStar account, and 2015 or never Volvos with an active Volvo On Call account. Over time, support will expand to other makes and models.
Reducing the 'Creep' Factor
Last October, Amazon was reportedly in "direct talks" with Phrame, a San Francisco-based provider of smart license plates, to develop a solution that allows for direct-to-trunk delivery. The news came just more than a week before Amazon officially announced the introduction of Amazon Key.
At the time of the Amazon Key launch, SurveyMonkey conducted a poll on behalf of tech news outlet Recode that showed less than 4 percent of U.S. households saying they'd definitely buy into Amazon Key, and 61 percent saying they definitely wouldn't. One complaint often voiced about the service is the necessity of allowing a stranger into one's house to drop off a package.
It's likely many will see Amazon Key In-Car as far less unsettling than its in-home counterpart, especially as Amazon seeks to expand its omnichannel capabilities.
"Letting someone into your home when you are not there strikes most shoppers as 'creepy,'" said Charles Dimov, VP of marketing with OrderDynamics, a Richmond Hill, Ontario-based order systems developer. "Letting a stranger put your purchases into the trunk of your car also takes a fair bit of trust – but less so. … The lesson for the rest of the retail industry is to start experimenting with omnichannel retailing. It is a whole new retail market. You have to keep innovating, adapting and getting better."
But while in-car delivery might serve well for items that can withstand extreme temperatures, it might not be as ideal for perishables, which often are cited as the reason many grocers are having a tough time developing a successful grocery delivery model.
"For grocery perishables, parked-car delivery in the middle of summer may not lead to the best results," warns Sylvain Perrier, president and CEO of Toronto-based digital solutions provider Mercatus.