07/09/2018
Amazon to Build Larger Checkout-Free Store in Seattle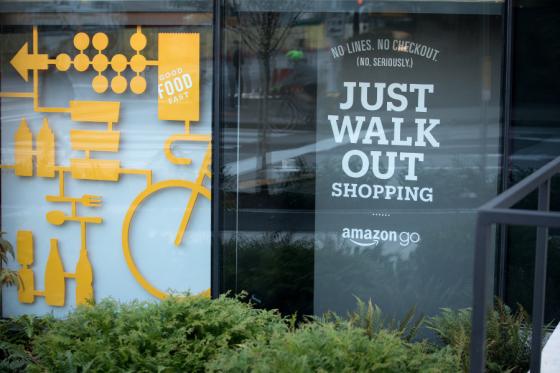 Amazon is building a second Seattle store under its checkout-free Amazon Go banner, GeekWire has reported, and the new location will be bigger than the city's existing store, which currently remains the only location open to the public.
Located in the new Madison Centre office tower at the corner of Fifth Avenue and Marion Street, the new store will be 1 mile away from the original and open in the fall, the news outlet said. But while it sports characteristics similar to the original location – such as a "No lines. No checkout. (No, seriously.)" tagline on a sign, rows of sandwiches and bottles of Smartwater and San Peligrino, and the entry-exit scanning gates – one key difference is its size: At 3,000 square feet, it will be 1,200 square feet larger than the first Seattle location, suggesting that the original Amazon Go store might be just one of several types of cashier-free stores that the ecommerce giant plans to open.
The "just walk out" technology that makes Amazon Go's store cashier-free uses the same innovation found in self-driving cars, employing computer vision, sensor fusion and deep learning to automatically detect when products are removed from, or placed back on, shelves. Patrons download and check in via a mobile app, take what they want and walk out the door, where they are charged for the products they take with them. There are no lines or barcodes to be scanned in the process.
The new Seattle store isn't the only one that Amazon plans to roll out. Several months after reports that it was planning to turn the one-store concept into a chain, Amazon revealed job postings for Amazon Go stores in Chicago and San Francisco, which were reported on in May. The next month, sources told the Chicago Tribune that the Windy City is getting not one, but two, locations of the checkout-free concept: one each in the Willis Tower and the Ogilvie Transportation Center.
Retailers aren't sitting still as Amazon rolls out the new technology. In a recent presentation, for instance, Shane Sampson, chief marketing and merchandising officer of the Boise, Idaho-based Albertsons Cos., said that the retailer is experimenting with "Amazon Go-like technology" specifically for use with a "limited set of products, like Plated" meal kits and other prepared offerings. Customers would be able to grab what they want and leave the store without having to scan a barcode or go through traditional checkout.
That's not to say that Albertsons and any other retailers looking to go the same route won't have their share of troubles, just as Amazon did. During a March presentation at ShopTalk in Las Vegas, Amazon Go VPs Dilip Kumar and Gianna Puerini shared several issues they had to correct before the public debut could occur, including pulling off the "just walk out" technology in a way that makes it seamless and effortless, developing algorithms that are beyond state-of-the-art for computer vision and machine learning to solve the problems of who took what, and creating a robust hardware and software infrastructure to support everything. Even retraining customers' behavior when shopping and leaving a typical grocery store presented a challenge.
Seattle-based Amazon operates more than 470 stores under the Whole Foods Market banner in the United States, Canada and the United Kingdom. The retailer lands in eighth place on Progressive Grocer's Super 50 list of top grocers in the United States.