Allegiance Retail Services Hires 2 Senior Managers
Get great content like this right in your inbox.
Subscribe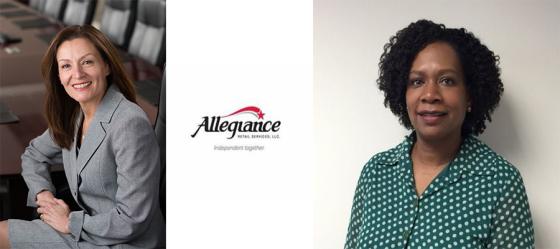 Retail cooperative Allegiance Retail Services LLC has named Donna Zambo VP and chief marketing officer, and Kelly Davis director of produce and floral.
In her new role, Zambo will oversee the information technology, marketing and advertising, digital marketing and consumer analytics divisions. She has more than 30 years of experience in the supermarket industry, most recently holding several leadership roles at Keasbey, N.J.-based retailer co-op Wakefern Food Corp., where she oversaw customer-facing digital marketing, eommerce and analytics. Before her eight-year stint at Wakefern, Zambo spent more than 20 years at Pathmark, rising through the ranks in the areas of marketing/advertising, loyalty marketing, and consumer insights, and leaving in 2008 as senior director of marketing.
Davis, meanwhile, will be responsible for directing, planning and organizing all functions of  produce and floral departments for Allegience. Her extensive produce industry experience includes 18 years at Wakefern, during which time she was involved in all aspects of produce procurement, operational activities and category management. Davis also held various merchandising roles in pricing, marketing and advertising. In the mid-1980s, she worked for the U.S. Army in Fort Knox, Ky., where she handled the administrative and clerical needs of a nine-person military intelligence division.
"We look forward to both Donna and Kelly bringing their knowledge and experience to our organization," noted Allegiance Chairman and CEO David Maniaci. "It will greatly benefit our business and support our continued growth in the marketplace."
Added John T. Derderian, the company's president and COO: "I am excited to welcome Donna and Kelly to Allegiance. Their previous experience will be an invaluable asset to the Allegiance membership and stores, and we are proud to have them on our team."
Iselin, N.J.-based Allegiance provides independent supermarkets, including Foodtown, Freshtown, Freshco, D'Agostino, LaBella Marketplace and Brooklyn Harvest, with marketing, advertising, technological and merchandising support, as well as a full line of Foodtown private label products.