Acme Smoked Fish to Relaunch Brands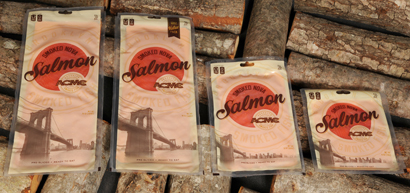 Acme Smoked Fish Corp. plans to relaunch its well-known Acme, Blue Hill Bay, Ruby Bay and Great American brands at the upcoming International Boston Seafood Show next month. The Brooklyn, N.Y.-based company will also roll out a website and packaging redesign in the next few months as part of the campaign.
The relaunch comes in the wake of extensive market research into consumer and wholesaler perception, with data revealing a need for greater differentiation among the family-owned and -operated smoked fish producer and distributor's various brands and their relation to Acme. The refreshed brands also aim to better communicate Acme's standing as a quality Brooklyn company steeped in family tradition, with unique, diverse products that stand apart from other smoked fish brands, and a commitment to consumer education by offering full recipes, serving suggestions and tutorials.
"As consumers trend toward more retail seafood purchases, we saw an opportunity to make our brands recognizable and synonymous with quality smoked seafood," noted Acme VP Adam Caslow. "Our family also wanted to ensure customers could continue to rely on the same quality smoked fish they've enjoyed for more than 100 years."
Acme offers New York-style kosher smoked salmon and lox, whitefish, chubs, herring and sable. It sells premium all-natural and preservative-free food products under the Blue Hill Bay brand, innovative seafood products under the Ruby Bay brand and foodservice products sold mainly in the Southeast under the Great American brand.