Winn-Dixie Bows Smartphone App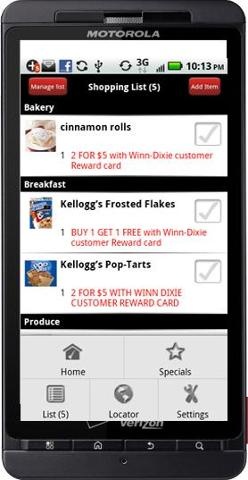 Winn-Dixie Stores Inc. has launched a smartphone application that will aid customers in finding the Winn-Dixie store closest to them, enable them to view the weekly circular and sales for that particular location, and assemble and manage shopping lists that both sync with computers and can shared with other users. The easy-to-use app for Apple's iPhone and Android smart phones is available as a free download through Apple Inc.'s iTunes, the Android Market or via links at www.winndixie.com/Mobile/apps.
"Our customers are on-the-go more than ever, and this new app will make their busy lives easier," noted Mary Kellmanson, group VP of marketing at the Jacksonville, Fla.-based grocer. "Using the new app in the store, you can check off items as you place them in your cart, so you'll never miss an item on your list. And you'll always be organized -- no more paper lists stuffed in pockets or purses or left at home or in the car."
"Our goal is to help our clients engage with their customers where ever they are in the digital space," added Rich Tarrant, CEO of Colchester, Vt.-based MyWebGrocer, which developed the app for the supermarket operator. "The growing popularity of the iPhone and Android phones shows that Winn-Dixie's mobile strategy for multiple platforms makes a lot of sense."
Winn-Dixie operates 484 retail grocery locations, including 379 in-store pharmacies, in Florida, Alabama, Louisiana, Georgia and Mississippi. MyWebGrocer works with more than 110 retailers nationally, representing more than 10,000 stores, and operates the largest grocery ad platform in the nation.