Whole Foods 1st in FL to Achieve Grocery Stewardship Certification
Get great content like this right in your inbox.
Subscribe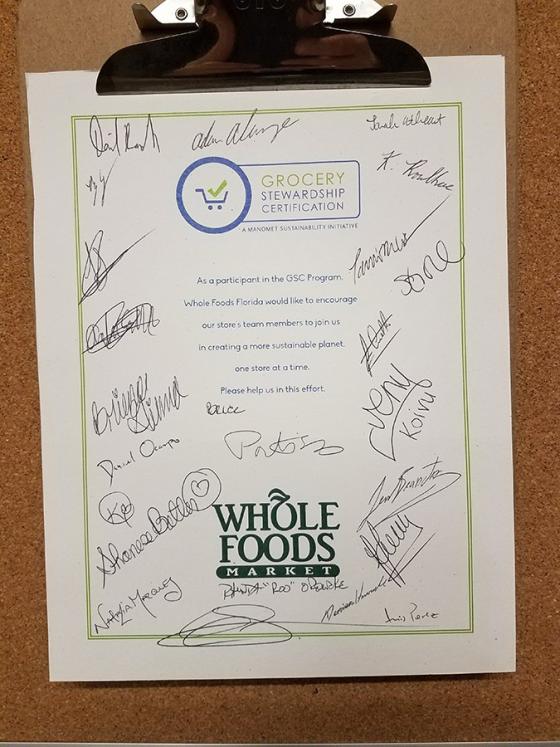 The 28 stores operated by Whole Foods Market in the state of Florida have all been certified by Manomet's Grocery Stewardship Certification (GSC) program. The GSC teams with grocers to engage employees on operational sustainability strategies, and to review store-level practices and equipment to boost energy efficiency, increase revenue and reduce costs.
Whole Foods' Florida region is the Austin, Texas-based retailer's first U.S. region to enroll all of its stores in the program, as well as the first grocer in the Sunshine State to join the GSC.
"We are proud to showcase our commitment to sustainability by enrolling in the Grocery Stewardship Certification program," said Karen Doyle, senior maintenance and facility manager for Whole Foods' Florida region. "There is no other program like this for the industry; the GSC covers all the bases — from employee engagement and education to energy usage and water conservation. Whole Foods Market is known as a mission-driven company that aims to set the standards of excellence for food retailers. By enrolling our entire region, we look forward to ensuring that all of our Florida stores are conserving resources and protecting our local communities whenever possible."
Because of their sustainable operating practices, the Florida Whole Foods Market stores taking part in the GSC are annually saving
 More than $2.8 million, an average of $103,900 per store

 More than 1,900 tons of food waste from going to landfills

More than 12 million gallons of water from being used

More than 35,000 metric tons of greenhouse gases from being released
"We are excited to be expanding our partnership with Whole Foods Market," noted GSC Program Manager Peter Cooke. "When a whole region of stores enrolls in our program, it allows us to give them a complete picture of the sustainability challenges they are facing and the successes and cost savings they've already achieved through their efforts. The Florida Whole Foods Market stores are making sustainability a priority, and it shows."
Since it began 2012, the GSC has enrolled 800-plus grocery stores in the United States and Canada. The program, administered by Plymouth, Mass.-based environmental nonprofit Manomet, is the only certification program to include employee practices and procedures as a way to engage all stores within a chain. Other grocers participating in the program include Giant Eagle, Hannaford, Safeway, Sprouts Farmers Market and Wakefern/ShopRite