05/24/2018
Wellness, Flavors Driving Innovation in Candy and Snacks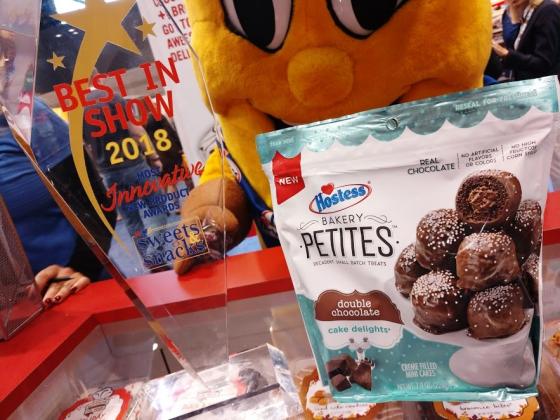 From smaller to shareable to cleaner to spicier to handier, innovation was in full view at this past week's Sweets & Snacks Expo in Chicago, a festival of sweet to salty and everything in between.
A couple of days hiking the show, hosted by the National Confectioners Association, by the Progressive Grocer team is barely enough time to absorb the avalanche of new products that are increasingly embracing wellness as well as indulgence, as daily snacking occasions widen among consumers and reshape traditional mealtime habits. 
Dark chocolate, artisan salt, spicy flavors, protein from plants and animals, mini sizes, sharing portions and flavor mashups were all among the trends in evidence at this week's show in Chicago.
Many of these important trends were reflected in the winners of NCA's annual Most Innovative New Product Awards, sponsored by data analytics heavyweight IRI. Winners were selected from more than 300 new product award entries across nine candy and snack categories and judged for taste, packaging, innovation and go-to market feasibility
"Innovation and new products are key drivers of treating and snacking," said John Downs, NCA's president and CEO. "Competition is fierce, and the companies that have been recognized should be very proud of the contributions they make to advancing the fun and enjoyment of the category."
Larry Levin, IRi's EVP of consumer and shopper marketing, concurred: "Historically, innovation has driven about 7 percent of the growth in confections. New products spark excitement for the consumer and generate more opportunities for treating." 
This year's Best in Show award was presented to Hostess Brands for its Double Chocolate Cake Delights, mini crème-filled cakes in a recloseable pouch. Judges presented the Small Business Innovator award to Vosges Haut-Chocolate for its Hazelnut Cocoa Toast.
Among category winners, The Hershey Co. scored in the chocolate category for its Gold Standard Bar, while Nestle USA/Ferrara Candy Co. took top non-chocolate honors for its Big Chewy Nerds.
Sweet Snacks winner was Justin's Organic White Chocolate Mini Peanut Butter Cups, while judges chose Sahale Snacks Tangerine Vanilla Cashew-Macadamia Glazed Mix as their favorite salty snack. The winner among Savory Snacks was Alli & Rose's Trail Mix Crackers.
The Novelty/Licensed winner was Impact Confections Inc. for its Warheads Dippin' Ring. Seasonal winner was Ferrero USA Inc. for its Golden Heart for You & Me. Gourmet Winner was That's How We Roll Trios/Original. Gum & Mints winner was Ferrero USA for its Cool Tropical Tic Tac Gum.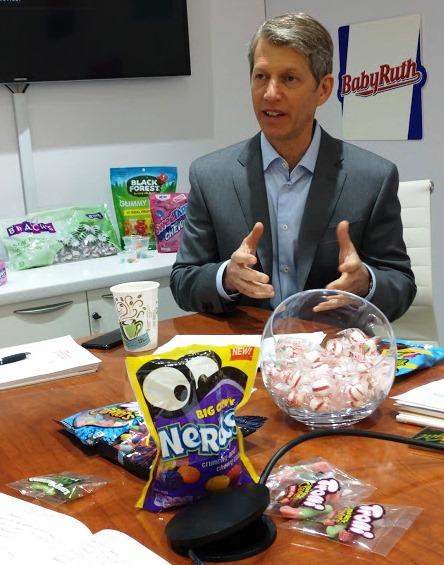 Ferrara embraced its win as it declared its commitment "to building relationships with retailers … [and] concentrating unapologetically on confection," Ferrara CEO Todd Siwak said in an interview with the PG team.
With its recent acquisition of the Nestle candy portfolio, Ferrara's first priority will be the revitalization of the iconic Butterfinger brand, Siwak said.
Meanwhile, the company will continue to grow its core brands, including non-chocolate chewy lines Trolli and Black Forest.
"The focus is on revitalizing the portfolio," Siwak said, "and providing our grocery partners with the support they need to grow their businesses."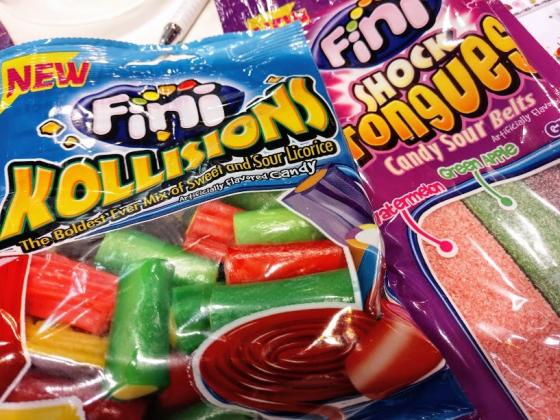 To be sure, non-chocolate chewy – or gummies, both sweet and sour – is the "largest growth bubble" in confections, said Tracy Nappier, spokesperson for Spanish confectioner Fini, making inroads among Millennials and GenZ's with its extensive line of gummy candies in innovative shapes and natural flavors.
Innovation was evident in the offerings from the candy giants as well. In addition to its prize-winning Gold, Hershey displayed Reese's Outrageous, a bar of chocolate and peanut butter studded with Reese's Pieces candies; and Kit Kat Snack Mix, the latest addition to its line of "snackfections" that combine sweet and salty elements.
Similarly, Mars unveiled its M&M's Sweet & Salty Snack Mix, along with a salty and sweet version of its Snickers bar, plus Milky Way Fudge, Twix White (with white chocolate) and mini, sour and gummy versions of its Starburst line.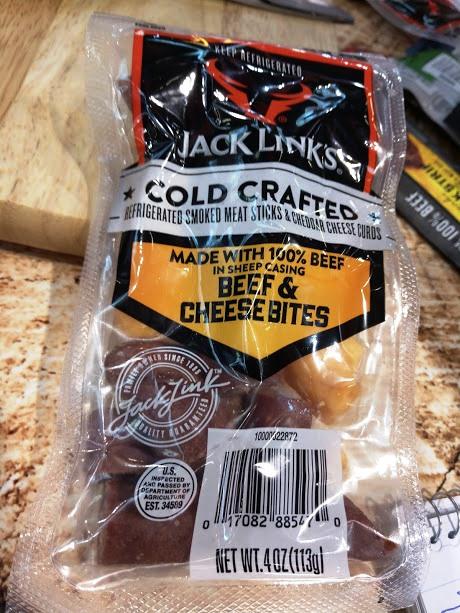 Meanwhile, meat snacks continue to grow as consumers demand more protein-rich foods as well as more substantial snacks for new meal occasions.
Jerky powerhouse Jack Link's is breaking into the refrigerated space with its new Cold Crafted line, pairing meat and cheese. The company is also adding an Original flavor to its Lorissa's Kitchen line of jerky that targets the growing demand for protein snacks among women; as well as steak strips positioned in the bar category and 10-count packs of beef sticks designed as lunchbox fillers.
Other meat snack innovators included Country Archer, which added a line of paleo-friendly beef, pork and turkey bars and sticks to its multi-flavored line of beef and turkey jerky; Conagra Brands, which added three premium SKUs to its legendary Slim Jim line, plus Tomato Basil Chicken Sausages and a meat-and-cheese snack pack to its Duke's craft meat snack brand; Trapper's Choice tender Kippered Beef Steak; Smart Stix and a pineapple pork variety from Western's Smokehouse; and Southern Recipe Small Batch Honey Chipotle Pork Cracklins from pork rind leader Rudolph Foods.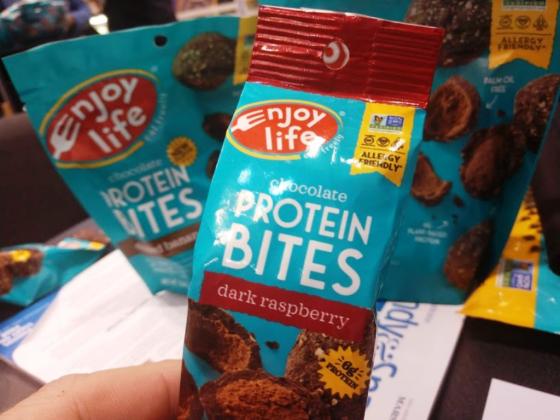 There was protein a-plenty from non-meat entries as well. Allergen-friendly leader Enjoy Life Foods launched its Protein Bites, reformulated without palm oil, offered in a five-bite pack for the front end. Peas Please sampled crispy snacks made from green pea flour that boasted 5 grams of protein and a half-cup of vegetables per serving in addition to being organic, gluten free and non-GMO. And RxBar offered clean-label protein in its new nut butters.