Weis Markets Teaching Shoppers About Plant-Based Foods
Get great content like this right in your inbox.
Subscribe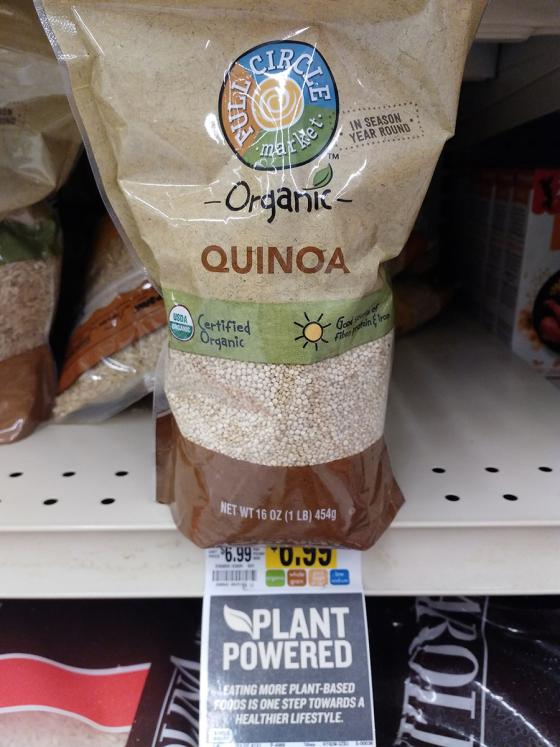 Weis Markets has launched a chain-wide themed health-and-wellness program, Plant Powered, featuring in-store signs identifying a variety of healthy plant-based foods that can easily be incorporated into everyday meals and snacks.
Special signage on price tags calls out certain Weis Quality and Weis Signature Collection and Full Circle products, as well as select national brands, spotlighting plant-based items that can be consumed as part of a balanced diet. Among the Plant Powered foods identified by Weis Markets' seven registered dietitians are fresh and frozen fruits and vegetables; beans and lentils; fruits packed in 100 percent juice or water; vegetables that can be drained and rinsed; whole-grain rice, pasta, cereal, bread and specialty grains; soy and almond milks; healthful oils; select nuts; and tea.
"Our Plant Powered program offers guidance on an eating approach that is a more flexible than vegetarianism or veganism, yet may offer many of the same benefits, including lower risk for heart disease and an increased intake of vitamins, minerals, antioxidants, fiber and unsaturated fats," noted Beth Stark, lifestyle initiatives manager at Sunbury, Pa.-based Weis Markets, which operates 205 stores in Pennsylvania, Maryland, New York, Virginia, New Jersey, Delaware and West Virginia. "According to Nielsen survey data, we know that more than one in three Americans are actively trying to include more plant-based foods in their diets. This program aims to help them understand where to find these foods and how to enjoy them at home."
As well as providing new plant-powered recipes, the grocer's dietitians suggest simple swaps to substitute plant-based ingredients from animal-based ones in such meals as roasted vegetable tacos and overnight oats with almond milk.
Weis Markets' other dietitian programs include Nutri-Facts, which features such easily identifiable icons as Gluten Free, Vegan, Carb Conscious, Good Source of Protein and Heart Healthy on the price tags of hundreds of foods throughout the store, and Mystery Tours, a free in-store nutrition education field trip program for kids in elementary school. Recently, the company revealed that it was augmenting its HealthyBites Magazine with an online health-and-wellness community that connects customers with the Weis dietitian team.
Weis Markets additionally offers free in-store dietitian-hosted events in select stores across its market area.