Wegmans Bags Send a Message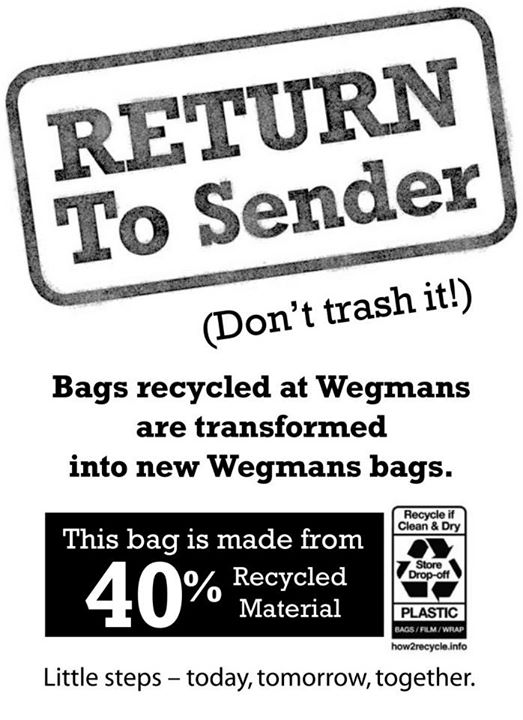 Carry-out plastic bags at Wegmans Food Markets stores now feature the following slogan: "Return To Sender. (Don't Trash It!)" The message is meant to remind customers to bring the bag back to the store when they return to shop and place them in the collection areas at all Wegmans entrances. The used bags will eventually embark on a second life as new bags with 40 percent recycled plastic content.
"People have been recycling for years, but it's still not easy to know what you're supposed to do," noted Jason Wadsworth, sustainability coordinator at Rochester, N.Y.-based Wegmans. "Many communities have curbside recycling for paper, cans and bottles, but beyond those items, it's not always clear what can be recycled. One way for Wegmans to make a difference is by helping to make recycling easier to understand and easier to carry out, with strong, simple messages and convenient drop-off spots for the items we can accept."
The new bags explain on one side the recycling process they undergo, and also include a How2Recycle logo directing consumers to store drop-off points. A Wegmans video provides more detail about the process. Since introducing reusable bags and reformulating its carry-out plastic bags in 2007, each of the grocer's stores uses on average 4,000 fewer plastic carry-out bags daily, for a total of 120 million fewer bags annually.
Collaboration on Better Solutions
"Private companies and not-for-profits are now working together toward better recycling solutions," said Wadsworth, pointing to the Charlottesville, Va.-based environmental advocacy group Sustainable Packaging Coalition (SPC), creator of the How2Recycle labels. As previously reported by PG, Wegmans is the first food retailer member of the "How2Recycle Label" program.
Wegmans is also placing new signs next to plastic bag recycling bins to inform customers of other types of plastic bag materials the store will accept for recycling, and those not accepted.
"Using reusable bags every time you shop probably comes out best among choices, environmentally," observed Wadsworth. "Yet some customers do prefer plastic or paper, or don't always remember to bring the reusables along. So the frequently asked questions section [of Wegmans' website] answers common questions about plastic and paper bags."
Family-owned Wegmans operates 83 stores in New York, Pennsylvania, New Jersey, Virginia, Maryland and Massachusetts.