05/09/2018
Walmart Will Now Outrank Amazon in India's Booming Ecommerce Market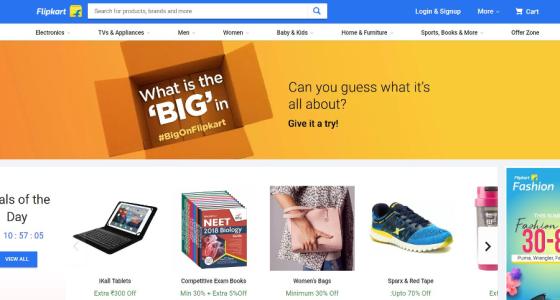 Walmart Inc. has officially signed on to become the largest shareholder in India's Amazon counterpart, Flipkart, a blow to the Seattle-based ecommerce giant, which last week was reported to have made a formal counteroffer for 60 percent.
While the deal is subject to regulatory approval in India, Walmart has agreed to pay $16 billion for 77 percent of Flipkart Group, while the remainder of the business will be held by co-founder and shareholder Binny Bansal, as well as Tencent Holdings Ltd., Tiger Global Management LLC and Microsoft Corp., shareholders that also will serve as "key strategic and technology partners," Walmart President and CEO Doug McMillon said. The Bentonville, Ark.-based mega-retailer's investment will help Flipkart accelerate its plan to "transform commerce in India through technology" while also assisting Walmart in creating jobs and investing in India's fast-developing economy.
"We are confident this group will provide Flipkart with enhanced strategic and competitive advantage," McMillon added. "Our investment will benefit India, providing quality, affordable goods for customers."
Additionally, Walmart plans to benefit India in the following ways:
Job creation through through development of supply chains, commercial opportunity and direct employment.
Supporting small business and the government program Make in India through direct procurement as well as increased opportunities for exports through global sourcing and ecommerce. Among other initiatives, Walmart will partner with kirana (small retail store) owners and members to help modernize their retail practices and adopt digital payment technologies.
Supporting farmers and developing supply chains via local sourcing and improved market access.
Reducing food waste by improving waste management practices and investing in supply chains, especially cold storage.
Added Bansal, who also serves as Flipkart's group CEO: "This investment is of immense importance for India and will help fuel our ambition to deepen our connection with buyers and sellers and to create the next wave of retail in India. While ecommerce is still a relatively small part of retail in India, we see great potential to grow."
An Attractive Market
India, which McMillon called one of the most attractive markets in the world, given its size and growth rate, was just reported to be the fastest-growing economy in 2018. According to the Economic Times of India, it currently has a growth rate of 7.4 percent that should rise to 7.8 percent in 2019.
Meanwhile, Forrester Research said in a March report that the online retail market in India is anticipated to grow 2.92 percent annually to cross $72 billion in 2022, representing nearly 5.7 percent of overall retail sales. Grocery, along with apparel and footwear, is anticipated to be a key focus online in 2018. Flipkart, which currently controls nearly 40 percent of India's online retail market, is seeking to enter grocery, CNBC has reported.
Under the deal, Walmart stands to gain from several emerging factors in India's developing economy, among them increasing urbanization and a growing middle class, according to "Sales Enablement: A Master Framework to Engage, Equip and Empower a World-Class Sales Force," a new book by Miller Heiman Group CEO Byron Matthews and CSO Insights Research Director Tamara Schenk.
In the developed world, the number of people with middle-class buying power has remained relatively stagnant and, in some cases, even declined, the book noted. However, many emerging economies show the opposite to be true, as by 2025, the middle class is expected to have increased by 153 percent worldwide, with the greatest increases coming from countries in the Asia-Pacific region.
"To tap into this new buying power, companies are going to have to staff a sales force with professionals from countries and cultures that may be very different from those of their current sales force," the authors observed. "These new hires will have unique enablement needs."
Additionally, many geographies in developing regions are moving from mostly agrarian-based economies to ones that are heavily industrialized and supported by growing cities: As many as 65 million people are moving to cities every year.
"What were once small urban areas will grow into commerce power centers as people and industry flock to these cities in the hope of new opportunities and an improved lifestyle," the book noted.
Amazon already has a share of 27 percent in India's ecommerce market. By snatching the majority stake in Flipkart, Walmart has become the new ecommerce leader in India, and could very well outdo Amazon in serving the country's 1.3 billion citizens' online grocery needs.
"Amazon has committed $5.5 billion to India, so it was only a matter of time before they took over as the leader," said Dan Neiweem, co-founder and principal of Chicago-based digital solutions provider Avionos. "If Walmart didn't make this move now, they would be likely to spend way more to get into the market."

"This investment aligns with our strategy, and our goal is to contribute to India's success story as we grow our business," said Judith McKenna, president and CEO of Walmart International. "Over the last 10 years, Flipkart has become a market leader by focusing on customer service, technology, supply chain and a broad assortment of products. With Flipkart and the other shareholders who have come together, we will continue to advance the winning ecommerce ecosystem in India."
Walmart's investment includes $2 billion of new equity funding, which will help Flipkart accelerate growth in the future. Walmart and Flipkart are also in discussions with additional potential investors who may join the round, which could result in Walmart's investment stake moving lower after the transaction is complete. Even so, the company would retain clear majority ownership.
To finance the investment, Walmart intends to use a combination of newly issued debt and cash on hand. Upon closing, Flipkart's financials will be reported as part of Walmart's International business segment.
Makeup of the board has yet to be determined, but it will include independent members. The transaction's closure is expected to occur later this calendar year.