Walmart Shoppers Learn to Buy Healthy Groceries on a Budget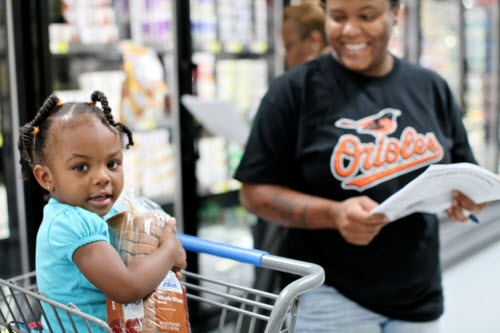 Shoppers at a Baltimore Walmart recently learned how to purchase nutritional foods on a limited budget, following a series of educational grocery shopping events in the store. The June 26 events, organized by Washington, D.C.-based anti-hunger nonprofit organization Share Our Strength, included two interactive "Shopping Matters" grocery store tours and four stations at which shoppers could compare unit prices, read food labels, identify whole grains, and buy inexpensive fruits and vegetables.
Shopping Matters is an initiative of Share Our Strength's "Cooking Matters,"  a program that aims to help low-income families make better food choices at the supermarket and eat more healthfully. ConAgra Foods Foundation and Walmart are national sponsors of Cooking Matters. Volunteer nutrition and culinary experts run the Shopping Matters tours.
"With nearly 20 percent of children at risk of hunger in Baltimore, we need to do everything we can to get children the healthy food they need to thrive," said Baltimore Mayor Stephanie Rawlings-Blake.
Tours began in Maryland early this year, and will continue to take place across the state as under the Partnership to End Childhood Hunger. Cooking Matters and Shopping Matters are part of the "No Kid Hungry" campaign, which works to involve children and families in federal food and nutrition programs and educate people on how to get more from their food resources.
"We recently released a study that showed 85 percent of low-income families want to make healthy meals, but only about half are able to do so on a regular basis," noted Share Our Strength's Anne Sheridan, director of the Maryland No Kid Hungry campaign. "The cost of groceries is a big concern for Maryland families, but healthy eating doesn't have to break the bank."
After taking a Shopping Matters tour, 54 percent of participants said they planned to compare unit prices for the best deal, and 56 percent said they would look for whole grains on ingredient lists.
Early in 2012, the Walmart Foundation said it would award a $4 million grant to Share Our Strength to support the expansion of Shopping Matters tours across the United States and to provide low-income families with hands-on cooking, shopping and nutrition education in six-week Cooking Matters courses.