11/14/2018
Walmart Partners With Ford on Autonomous Vehicle Delivery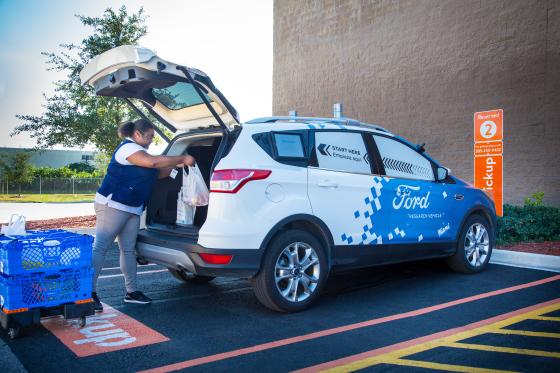 Walmart, which earlier announced a pilot program with Waymo on how customers want to use self-driving cars for grocery shopping, is introducing another pilot program with Dearborn, Mich.-based Ford to use autonomous vehicles for grocery delivery.
The pilot is taking place in Miami-Dade County, with the aim of learning more about how the mega-retailer can use the autonomous vehicles to deliver fresh groceries to customers and gather data on how customers want to interact with autonomous vehicles, as well as what products can be delivered.
San Francisco-based logistics company Postmates, already connected on Ford's digital platform, is acting as the delivery partner in Miami-Dade. The pilot will explore different vehicle configurations or modifications that might be needed for perishables or when vehicles need to make multiple deliveries on a single trip.
Walmart currently offers grocery delivery in nearly 100 metro areas, with plans to double the number of stores offering delivery service in the next year. The retailer operates more than 11,200 stores under 55 banners in 27 countries and ecommerce websites, employing more than 2.2 million associates worldwide. The Bentonville, Ark.-based company is No. 1 on Progressive Grocer's 2018 Super 50 list of the top grocers in the United States.