Wakefern President Receives GMA Award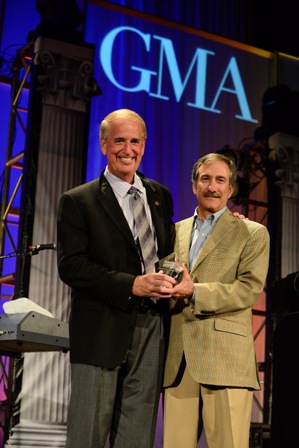 The Grocery Manufacturers Association (GMA) has presented Joe Sheridan, president and COO of Keasbey, N.J.-based Northeast retail cooperative Wakefern Food Corp., whose members operate almost 250 stores under the ShopRite banner, with the 2012 Industry Collaboration Leadership Award. The honor was bestowed during the President's Dinner at the GMA Executive Conference on Aug. 27.
The Industry Collaboration Leadership Award recognizes those executives who have demonstrated excellence in facilitated significant collaboration among trading partners and programs throughout their careers, with the aim of better serving customers.
"Joe Sheridan is a leader who possesses the vision and determination to confront the challenges and opportunities facing the CPG industry, and who knows that collaboration among trading partners is the key to responsible growth," noted Pamela G. Bailey, president and CEO of Washington, D.C.-based GMA. "Joe has been instrumental in building industry collaboration on key initiatives, such as the Rapid Recall Exchange and other business building areas, that help us serve the consumer better and more completely."
Sheridan (at left in image) has served as chairman of the National Grocers Association (NGA), is a member of the board of directors and the executive committee of the Food Marketing Institute (FMI), and a board member of GS 1, the nonprofit organization that designs and manages standards for the global supply chain.
"This recognition is truly an honor and is a testimony to the member-driven culture and entrepreneurial spirit of Wakefern," said Sheridan. "We are grateful to GMA for its continued support of the industry, as a whole, as we move into a new phase of our business' history."