United Supermarkets Offers Free Cookware
United Supermarkets shoppers now have the opportunity to earn professional-grade cookware at no cost while fulfilling their everyday grocery as part of a new promotion that launched today at the regional independent's stores.
Between now and March 15, shoppers will receive one bonus sticker for every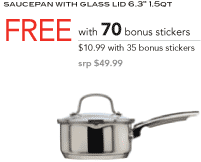 $10 they spend at any United Supermarkets, Market Street, or Amigos location to collect and redeem for individual pieces of a 10-piece culinary set by Thomas Rosenthal.
"We believe our guests will be extremely pleased with the quality of the Thomas Rosenthal line, and we can think of no better way to thank them for their continued patronage," said Wes Jackson, chief merchandising officer of United Supermarkets. "And, the time of year offers an added bonus, as the cookware would make a terrific Christmas gift as well."
There are three ways for shoppers to collect their cookware: by redeeming the full number of bonus stickers, by purchasing pieces at a significantly reduced price with half the required bonus stickers, or by purchasing pieces at full retail value. At the end of the 19-week program, guests can continue redeeming their tickets for specific cookware items through March 29.
Items in the 10-piece cookware set include:
Eight-inch fry pan,
10-inch fry pan,
Three-quart sauté pan with glass lid,
One-and-a-half-quart sauce pan with glass lid,
Three-quart sauce pan with glass lid,
Five-quart Dutch oven with glass lid,
Four-quart stir-fry pan with glass lid,
11-inch grill pan,
Three-quart casserole dish with glass lid,
Eight-quart stock pot with glass lid.
Guests can find more information about redeeming bonus stickers and the cookware at http://www.unitedtexas.com along with recipe ideas and additional resources for preparing family meals to feed four for under $15. The complete set is now on display in all 50 stores.
Lubbock, Texas-based United Supermarkets operates 50 stores under the banners of United Supermarkets, Market Street, and Amigos United.