Tropicana Squeezes More Fruit into Kids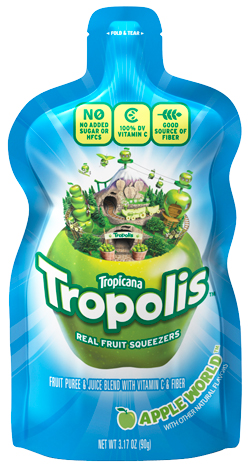 Tropicana Products Inc. has introduced Tropolis, a smooth blend of real squeezable fruit in great-tasting flavors, packed with nutrition, designed for kids.
America's iconic juice brand for more than 50 years, Tropicana created this innovative new line to help moms squeeze the goodness of fruit into kids' daily diets by making fruit fun.
With challenges in mind that moms and kids face when it comes to consuming enough fruits and vegetables, Tropicana worked with moms, kids and health experts including dietitians and pediatricians to develop this healthy, delicious, lunchbox and grab-and-go snack. Price, availability and convenience are the three main barriers for moms when it comes to squeezing fruits and vegetables into everyday routines, leaving Americans, including children, short on the five to 13 fruit and vegetable servings recommended for everyday consumption.
Tropolis boasts a smooth blend of real squeezable fruit, is a good source of fiber and offers 100 percent of the recommended daily value of vitamin C, with no added sugars, artificial sweeteners or high fructose corn syrup; and no artificial flavors, colors or preservatives.
"Moms have fond memories of Tropicana from their own childhoods, and now we're giving them a new nutritious snack so they have yet another way to give their children fruit goodness," said Memo Maquivar, Tropicana VP of marketing. "For kids, Tropicana Tropolis is all about making fruit fun and being drawn into 'a world of good.'"
Offering flavors of CherryWorld, GrapeWorld and AppleWorld, Tropolis comes in a colorful pouch, while an online "universe" will allow kids to discover the fun in fruit through interactive games. Tropicana enlisted the help of kids to identify the best flavors, resulting in sweet and sour Tropicana Tropolis varieties. The package is the perfect size for lunch boxes and was designed to fit into small hands for a fun-to-squeeze experience, while the top easily tears off to make eating independently a breeze for kids on the go.
Tropolis introduction is the latest addition to the expanding "Good for You" product portfolio from Tropicana parent PepsiCo. It comes on the heels of Tropicana's successful 2009 debut of Trop50, a line of nutritious juice drinks with 50 percent less sugar and calories, and no artificial sweeteners.
Tropicana Tropolis will be available in select Target and Kroger stores in select markets beginning late January 2011. Expanded distribution is expected in 2012. It retails for $2.49 to $3.49 per four pack and can be found next to applesauce and fruit cups.