Trader Joe's New Podcast Series Tells 'Never-Before-Heard' Stories
Get great content like this right in your inbox.
Subscribe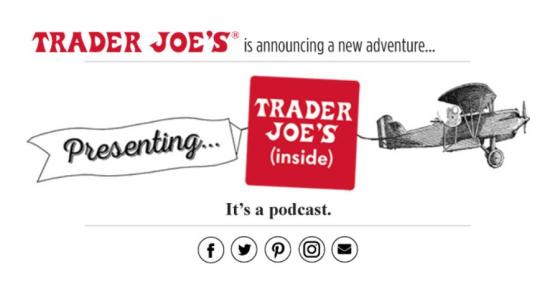 Limited-assortment specialty grocer Trader Joe's has launched a podcast to give listeners an inside look at its history and what makes it so unique.
"Inside Trader Joe's," a five-part series and the grocer's premiere podcast, features interviews from the floor to the corner office, with store captains, the EVP of marketing and merchandising, the president of stores, president and COO, and even the CEO. They share insights on how the Monrovia, Calif.-based retailer does business, where and how it discovers the products it carries, and what customers can expect from the future, including whether the grocer plans to offer an ecommerce program.
"Providing information to our customers has always been an important part of what we do," said Trader Joe's spokeswoman Kenya Friend-Daniel. "'Inside Trader Joe's' has allowed us the air – literally – to delve a little deeper into our story and to answer the questions our customers have asked of us, in our own fun and interesting way. It's a good start to a conversation we hope to continue."
Never-before-heard stories also feature on the podcast, including tales of what saved Trader Joe's from going out of business, and how one customer helped change the way that the retailer sells its bananas.
Fans can download the podcast from Trader Joe's website or through the iTunes and Google Play stores.
Trader Joe's new podcast strategy could resonate strongly with its core demographic: higher-income, educated Americans. According to the 2017 "The Infinite Dial" report from Somerville, N.J.-based Edison Research, 45 percent of monthly podcast listeners earn between $75,000 and more than $150,000 annually, compared with the average 35 percent of households nationwide. Meanwhile, 27 percent and 30 percent of podcast listeners have a four-year college or a graduate/advanced degree, respectively, compared with 19 percent and 22 percent of overall Americans, respectively.
As podcast listening grows, so will the opportunities for grocers to get more involved in this space. Edison's 2018 "Infinite Dial" report shows the number of people who have listened to a podcast as being on the rise in recent years (30 percent in 2014 to 44 percent in 2018), while the number of those who listen weekly is slowly increasing as well (8 percent in 2014 to 17 percent in 2018). Meanwhile, the average number of podcasts listened to in a given week has grown from five to seven between 2017 and 2018.