Target to Expand Car-Charging Program
Get great content like this right in your inbox.
Subscribe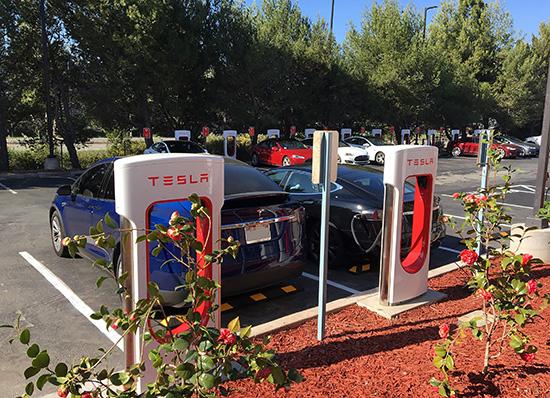 As one of several "ambitious goals" it has planned for Earth Month, mass-merchandiser Target Corp. has unveiled plans to expand its electric vehicle program over the next couple of years, partnering with electric vehicle manufacturer and energy storage company Tesla, charging station provider ChargePoint and Volkswagen subsidiary Electrify America to do so.
In two years, Target plans to have charging stations serving 600-plus parking spaces at more than 100 sites in 20-plus states, and will consider adding more as it evaluates new stores and their associated parking footprints. Currently, it has electric-vehicle stations at 18 sites across California, Hawaii, Minnesota, North Carolina and Texas.  
"Accelerating our efforts to install new charging stations at Target stores across the country is one way we're building on our commitment to investing in solutions that leave our communities better for future families," said John Leisen, VP, property management at the Minneapolis-based retailer. "And it's an opportunity to work with industry-leading partners to bring a more convenient shopping experience to guests as we look to design lower-carbon solutions throughout our entire operation."
Target began investing in electric vehicle charging stations in 2012 in partnership with ChargePoint. Last year, it teamed with Tesla to pilot its newer Superchargers, which offer shorter charging times.
"It's just one way we're building momentum on carbon reduction efforts: For example, we support renewable energy by offsetting a portion of our energy needs with solar and wind power," Target said. "We're on our way to having 500 stores with rooftop solar panels by 2020, and working toward a goal to be 100-percent renewable overall. In recognition of that work, we're a three-time Energy Star Partner of the Year, and the Solar Energy Industries Association named us the top corporate solar installer in the U.S. two years in a row."
Target isn't the only major U.S. food retailer expanding its charging stations: At its annual Sustainability Milestone Summit last week, Bentonville, Ark.-based Walmart Inc. revealed plans to more than double its EV charging station sites through the addition of several hundred charging stalls across its operations in 34 states. When completed, the expansion will bring the mega-retailer's total number of charging units to considerably more than 1,000, making Walmart one of the nation's leading EV charging station hosts and creating a national grid of electric vehicle-charging availability at hundreds of Walmart and Sam's Club locations. It, too, teamed with Reston, Va.-based Electrify America on the project.
According to Target, electric cars are gaining popularity, with more than 1 million projected to sell by 2020. By 2030, it's estimated that electric cars will make up one in four new overall cars sold. Target intends to ease customers' concerns over convenience and charging by adding these stations.