04/18/2018
Walmart to More Than Double Number of EV Charging Stations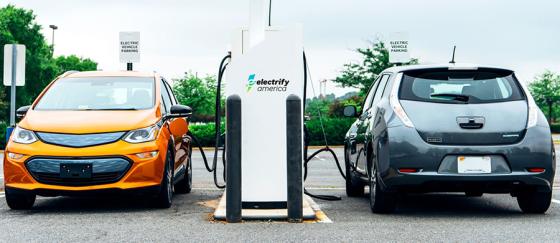 At its annual Sustainability Milestone Summit, Walmart Inc. has revealed plans to more than double its EV charging station sites through the addition of several hundred charging stalls across its operations in 34 states. When completed, the expansion will bring the mega-retailer's total number of charging units to considerably more than 1,000, making Walmart one of the nation's leading EV charging station hosts and creating a national grid of electric vehicle charging availability at hundreds of Walmart and Sam's Club locations.
According to Bentonville, Ark.-based Walmart, several of the new EV charging station units will feature super-fast chargers that can charge a car in between 10 to 30 minutes.
"Along with providing our customers with an enhanced shopping experience through added convenience, this initiative also allows us to contribute to the expansion of our nation's EV charging station infrastructure," said Mark Vanderhelm, Walmart's VP of energy. "Providing this service is the right thing to do for our customers, our business and the environment." 
"The expansion of Walmart's electric vehicle-charging facilities with our ultra-fast charging systems will provide consumers with a quick and convenient way to charge their vehicles in the time it takes to make their Walmart purchases," said Mark McNabb, president and CEO of Electrify America, a Reston, Va.-based Volkswagen subsidiary that's teaming with the company on the expansion. "EV owners need a convenient, reliable and fast turnaround in recharging their vehicles. Walmart is the perfect partner for Electrify America to bring electric charging services to EV owners who value their time."
Project Gigaton and More
Walmart also noted at the summit that its suppliers have reported reducing more than 20 million metric tons (MMT) of greenhouse gas emissions in the global value chain, as part of the company's Project Gigaton initiative. The effort launched last year as a collaboration with suppliers to lower emissions from the Walmart's value chain by a gigaton, or 1 billion metric tons, by 2030.
"In its first year, Project Gigaton has helped to inspire action that has led to the avoidance of millions of metric tons of greenhouse gas emissions and has expanded into an international campaign that includes the participation of several hundred suppliers," observed Kathleen McLaughlin, Walmart's SVP and chief sustainability officer. "The early success of Project Gigaton parallels ongoing progress in our operational efforts that seek to double our U.S. renewable-energy use and expand our customer electric vehicle-charging hubs to retail outlets across more than 30 states."
The company has a 2025 goal of being supplied globally with 50 percent renewable energy. Walmart's recent various solar and wind power projects will provide it with more than 1.6 billion kilowatt-hours of renewable energy annually, equivalent to the average annual electricity use of 139,000 homes.