Sustainable Seafood Strides
Sustainable seafood is no flash in the frying pan. All across the United States, supermarket operators and the companies that supply them are rolling out stringent programs to ensure that the product they offer green-minded consumers is as eco-friendly as possible.
Aiding the retailers in their fishy endeavors are several well-regarded nonprofit certification organizations that work with trading partners to encourage sustainable fishing and sourcing practices.
Minneapolis-based Target Corp. made big waves in October when it pledged to sell only sustainable, traceable fresh and frozen seafood products by 2015 as a result of a partnership with Santa Cruz, Calif.-based FishWise.
Springfield, Mass.-based Big Y also recently adopted the Marine Stewardship Council's (MSC) chain of custody certification for its fresh seafood counters. The London-based council's distinctive blue ecolabel now appears in the retailer's fresh seafood cases to help customers identify MSC-certified wild-caught product. Big Y sources almost all of its fresh seafood from New Bedford, Mass.-based North Coast Seafood.
At fellow New England supermarket operator Shaw's, a Supervalu-owned banner based in West Bridgewater, Mass., the MSC also certifies fresh case product. Additionally, the chain carries fresh items verified through the Gulf of Maine Research Institute (GMRI), a nonprofit marine science center in Portland. Shaw's was the first New England-based retailer to carry fresh product certified by the MSC. The grocer worked closely with both organizations, as well as North Coast Seafood, the chain's exclusive seafood supplier, to develop the program, which debuted in September.
Keeping up the Good Work
Among those grocers that are building on their already established sustainable seafood efforts are Kroger and Safeway.
According to an October progress update from Cincinnati-based Kroger, the grocer is on track to meet its sustainable seafood goals within the next three years.
Kroger has teamed with the World Wildlife Fund (WWF), a leading Washington-based conservation organization, to develop the company's strategy for responsibly sourced seafood. The company is committed to sourcing 100 percent of the top 20 wild-caught species from fisheries that are MSC-certified, in MSC full assessment or engaged in a WWF fishery improvement project by the year 2015. Today, 65 percent of Kroger's top 20 wild-caught fresh and frozen species are sourced from fisheries meeting these standards.
Kroger additionally works with the Best Aquaculture Practices program of the St. Louis-based Global Aquaculture Alliance to ensure that the farmed seafood its stores sell meets strict sustainability standards.
Also in October, the grocer introduced a campaign to educate customers and associates about the importance of sustainable seafood practices, corresponding with National Seafood Month. The campaign included in-store stanchion and countertop signs and brochures, and an updated sustainable seafood section of the company's sustainability website.
Product Partners
Part of a sustainable seafood commitment is offering new items that generate excitement and live up to exacting environmental imperatives. Products carried by Wegmans Food Markets and online grocer FreshDirect are doing just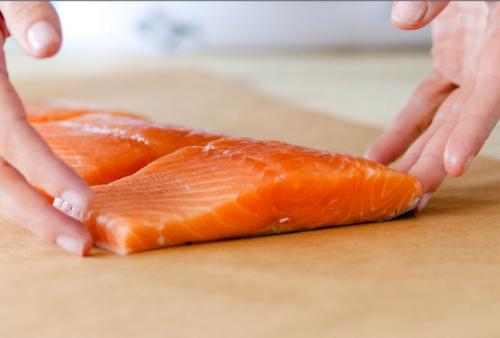 that.
Mediterranean fish species bronzini and orata are brought to Rochester, N.Y.-based Wegmans within 24 hours of harvest, as a result of a partnership the grocery chain formed with Local Ocean. The New York-based company has pioneered environmentally sensitive ways to raise premium fish while conserving water, minimizing waste and reducing fuel dependence.
And in late September, Verlasso, a brand and trademark of AquaChile that bills itself as "the world's first provider of harmoniously raised fish," launched its premium salmon (above) with Long Island City, N.Y.-based FreshDirect, the first U.S. retailer to offer the omega-3-rich product, which is raised in the pristine waters of southern Patagonia.