Supervalu Reports Strong Q1 Sales Growth from Acquisitions
Get great content like this right in your inbox.
Subscribe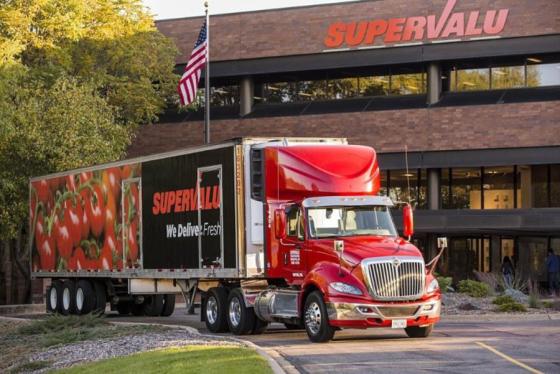 Acquiring Associated Grocers of Florida and Unified Grocers last year appears to have been a favorable move for Eden Prairie, Minn.-based retailer-wholesaler Supervalu, which said that the deals contributed more than $1.3 billion in wholesale sales growth during quarter one of its fiscal 2019, the results of which were releases the same day as the news broke of the company's acquisition by United Natural Foods Inc. (UNFI).
Overall, Q1 net sales were $4.76 billion, compared with $3.52 billion during the same period last year, a 35 percent increase. Total wholesale-segment net sales grew 49 percent, and comparable-store sales at retail received a 0.4 percent bump. Fees earned under corporate services agreements in the first quarter were $40 million, compared with $55 million for the first quarter last year.
While gross profit made up 9 percent of sales ($428 million), compared with the 12.2 percent ($431 million) logged during last year's Q1, this was primarily due to the change in business segment mix, with wholesale representing a larger portion of total sales and gross profit, and the contribution from Unified Grocers at a lower gross-profit rate.
"A key initiative within our business transformation plan is to drive sales growth, and our topline sales benefited greatly from the two acquisitions we completed last year, contributing more than $1.3 billion in wholesale sales growth this quarter," said President and CEO Mark Gross. "Two transformational initiatives completed this quarter included completing the exit from our Farm Fresh banner and closing the sale-leaseback transactions for seven of our distribution centers, both significant accomplishments that we believe will deliver long-term benefits to the business and our stockholders."
Broken down by segment, performance includes:
Wholesale
Q1 wholesale net sales were $3.81 billion, compared with $2.56 billion for Q1 2018, representing an increase of 49 percent. This was mainly due to the sales contribution from the acquired Unified Grocers and AG Florida businesses, sales to new customers, and sales to new stores operated by existing customers, partly offset by stores no longer operated by customers, lower net sales to existing customer stores, and lower military sales.
Retail
Q1 retail net sales were $901 million, a 0.6 percent dip from the prior-year Q1's $906 million. Comps were positive, however, at 0.4 percent, although they were more than offset by lost sales from closed stores.
Supervalu today also revealed its sale to Providence, R.I.-based UNFI, which will purchase the wholesaler for almost $3 billion. UNFI said that it plans "over time … to divest Supervalu retail assets in a thoughtful and economic manner."
In other Q1 news, Supervalu:
Successfully closed on the sale and leaseback of seven owned distribution centers and received $382 million in aggregate proceeds, the net proceeds of which were used to reduce outstanding debt. The sale and leaseback of an eighth distribution center is still expected to close by October.
Completed the exit of the Farm Fresh banner, of which 21 stores were sold to Harris Teeter, Kroger and Food Lion. Additionally, five stores were sold to independent grocers and will be supplied by Supervalu's wholesale business. The remaining stores have shuttered.
Is continuing to pursue the sale of its corporate-owned and -operated Shop 'n Save and Shop 'n Save East retail operations. The former is based in St. Louis, while the latter has stores in West Virginia, Maryland, Pennsylvania and Virginia.
With annual sales of about $15 billion, Supervalu serves independent grocery stores and other customers across the United States through a network of 3,606 stores composed of 3,495 wholesale primary stores operated by customers serviced by Supervalu's food distribution business and 111 traditional retail grocery stores in continuing operations under three retail banners in three geographic regions. It employs approximately 23,000 associates. The company is No. 18 on Progressive Grocer's Super 50 list of the top grocers in the United States.