09/25/2019
Supermarket Shelving Solutions Influence Store Profitability
Mega-brokerage Acosta's recent "Shelf Management Report" reveals that more than half of grocery buying decisions are made at the shelf, and that manufacturers spend $100 billion annually on promotions, versus $300 million on shelf management, which actually represents 66% of sales and 85% of profits.
The Acosta study also notes that "fixing the shelf" achieves a sales lift of 6%, while there has been a decline in lift from promotional tactics in the past several years.
Key Takeaways
Shelving is evolving to accommodate new technologies in regard to ordering, inventory control, merchandising and advertising, and retailers must keep pace with such advances.
With retailers increasingly focused on finding ways to fit more selection into smaller footprints, shelving solutions that maximize space become ever more necessary.
Creating a digitally connected environment, through such means as electronic shelf labels that display pricing, promotional and product information, allows retailers to better blend their virtual and physical experiences.
At Landover, Md.-based Giant Food, shelving selection is a collaborative effort based on the specific needs of design, color and strength, says Bob Bennett, director of operations support. Selection is made along with the NFR (not for resale), category management and format teams.
According to Bennett, Giant is considering electronic shelf labels (ESLs) and routinely researches how this technology is developing. He believes, however, that there are a couple of aspects of ESLs that still need resolution before wide-scale development. 
"For one," Bennett offers, "the cost is still significant here, so ROI can be a challenge. Additionally, in most sets, you will lose a shelf, so you could be looking at losing a number of product SKUs. This is because they are larger than regular shelving strips, so fewer items may fit on the shelf with the electronic shelf labels."
Attention Must be Paid
Retailers must pay attention to more than their shelving solutions, advises Bill Bender, sales VP at Corona, Calif.-based Uniweb Inc. – they must perfect their display and storage solutions as a whole.
"For example, many stores are going to a pickup service, where people order online, arrive at a parking station in the store's parking lot; then employees bring the product out to the customer," Bender says. "Merchants must create an efficient pickup service by having a shelving system to stock the orders and make it simple enough for employees to easily distribute the product."
If the customer decides to come into the store to pick up the online order, he adds, having a pop display area in case the customer wants to grab something additional would be "ideal."
With increased pressure on the retail experience, retailers are focusing on maximizing the merchandising effectiveness of existing space.
"Retailers like that they have a durable, cost-effective American system that automatically faces products for improved impulse sales and labor reductions," asserts Craig Weiskerger, director of sales and marketing at Trion Industries Inc., in Wilkes-Barre, Pa., referring to Trion's newly developed Zip Track system, which can accommodate a variety of single-serve beverages; its adaptability has also been demonstrated store-wide.
But the company's most popular shelving product, Weiskerger notes, is the WonderBar system, which helps retailers maximize available space by gaining space for more products. "It replaces the shelf with a tray and bar that keep products forward-faced, reducing labor and improving product presentation," he says.
Scott Weakley, president of STM Display Sales, in Mississauga, Ontario, which distributes the Zip Track and WonderBar systems in Canada, observes: "We have found that retailers, especially in larger urban markets, are being hurt with the increasing value of land and the property tax increases, which have led to big increases in overhead leasing costs, and thus are paying more attention to store size and product mix, and are trying to find ways to fit more selection into a smaller footprint."
New Options
Bryan Stirle, president of San Diego-based gondola shelving manufacturer Creative Store Solutions Inc., says that shelving is typically one of the last purchasing decisions to be made by a store owner. "Unfortunately, once the retailer gets to the point of a focus on shelving, they quickly realize that the purchase is not as straightforward as they thought," Stirle admits.
"For the typical client I work with, when I tell them that the average lead time is four to six weeks for the shelving to be manufactured and shipped, it can seem overwhelming," he adds. "This is why I suggest that all store owners or project managers contact us once the plans have been put on paper, even if the plan set is not the final draft. We can always make changes to the shelf runs once the final draft has been approved."
Image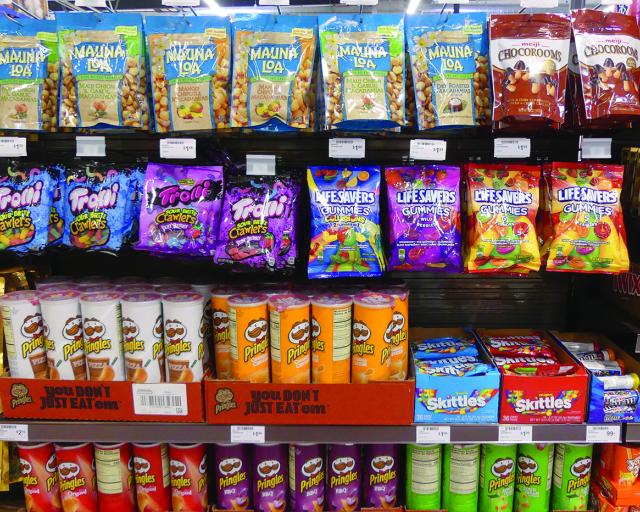 While the core components of the systems have not changed, recent years have brought new finish colors, shelving-back panel types and shelving accessories, along with new and less expensive lighting kits.
For example: "Replacing the typical pegboard back panels with slatwall allows our clients to cross-merchandise much more easily because of the accessories available for slatwall," Stirle says. "The retailer can now hang clothing at one end of the store on the same type of shelves that are displaying canned-food products at the other end of the store." Plus, adding under-shelf lighting is more widely available due to the lower cost of LED lighting.
Further, the custom finishes now available allow retailers to include company branding in the shelving purchase. "The days of only being able to answer the color question with 'grocery store beige' have now been replaced with, 'Sure, you can have red and black shelving to match your logo,'" Stirle notes.
"Personally, I do not see the shelving itself changing much in the grocery industry, nor does it really need to," he says. "What I do see changing is the way products are displayed on the shelving throughout the store. Technology will definitely play a big role in this area.
The use of club cards and other tracking sources will allow the retailer to be able to offer specials, brand promotion and other types of direct marketing to the customers while they are shopping. The use of TV screens, shelf lights and electronic signage placed on or near the shelves will be used to direct consumers to their products of choice, based on the data collected from the tracking sources."
Going Digital
As the market for ESLs picks up speed, the technology driving these devices has also evolved, with customer and in-store associate features to improve sales and margins, and free up labor, says Paul Milner, marketing director at Displaydata, a U.K.-based company with an office in Atlanta. 
The research confirmed that "improving pricing and promotional strategy" is the top strategic priority for nearly half of respondents, with 65% of retailers not able to implement all of the price changes and promotions that they want.
"Managed centrally, Displaydata's ESLs allow retailers to control and change in-store pricing and promotions with speed, consistency and accuracy," Milner says. "This consistency helps retailers avoid price errors and associated queues at customer service desks."
Reducing waste is also a strategic focus for grocers, Milner notes, adding that by using ESLs and dynamic pricing, retailers can strategically price perishable items throughout the day, encouraging shoppers to purchase those items before they spoil.
"We provide our ESL solutions to Kaufland, one of Europe's biggest grocers, operating in seven countries with 1,270 stores and over 48,000 employees," he observes. "Kaufland strived to find a more agile way to promote offers, react to competitors' changes, and increase the frequency of price markdowns to protect margins and reduce waste."
After Kaufland implemented Displaydata's ESLs, operational costs associated with paper-based labeling were reduced, and the grocer transformed how it operates its fruit and vegetable areas, as well as improving service.
"Displaydata's ESLs also add value for the customers," Milner notes, "with more detailed product information available on each label, such as nutritional values and source of origin, while the assurance of price accuracy builds trust, boosts loyalty and upholds the reputation of Kaufland."
Creating a digitally connected environment gives retailers the opportunity to meet many evolving consumer expectations. "As ecommerce sales continue to grow," he concludes, "moving the store from an analog to a digital environment will help retailers to better blend their virtual and physical experiences and find new ways to ensure the store remains a fresh, engaging and rewarding place to visit."