Study Lays Out Best Practices for Higher HBC, GM Sales in Grocery Stores
Get great content like this right in your inbox.
Subscribe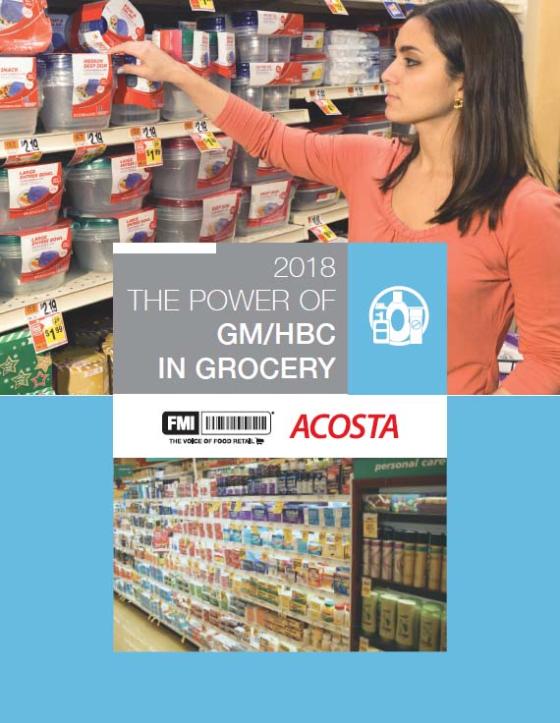 More frequent promotions, eye-catching end cap displays and cross-merchandising are among the ways that grocers can grow their health and beauty care and general merchandise  business, according to the second annual "Power of GM and HBC in Grocery" report from CPG sales and marketing agency Acosta and Food Marketing Institute (FMI), which comes at a time when shoppers are spending the majority of their money on health and beauty care and general merchandise in channels other than grocery.
"In an industry that's rapidly changing, we want to consider how GM/HBC categories will transform to create new experiences for customers and a profit center for food retailers," noted Peter Collins, director of industry relations and development at Arlington, Va.-based FMI.   "Fundamentally, Acosta is helping us take the mystery out of what's hindering the success of GM/HBC products in traditional grocery."

"It may come as no surprise that ecommerce continues to be a major challenge for traditional retailers, but the other key trend we are seeing is not as predictable — Millennials represent a larger opportunity for in-store purchases, with higher reported buying rates in grocery stores than any other generation," said John Clevenger, managing director and SVP, strategic advisors at Jacksonville, Fla.-based Acosta. "To be successful in increasing GM/HBC revenue, retailers need to create disruption in-store— more than 50 percent of shoppers shop the perimeter of the store weekly, compared to about 20 percent who shop HBC and GM each week."
Having uncovered consistencies among top retailers in category growth, Acosta and FMI's report presents these retailers' strategies to boost revenue and tips for growth in the following categories:
Top categories for higher HBC sales were cold/allergy/sinus tablets (11 percent), vitamins (9.8 percent) and toothpaste (5.8 percent)

Top categories for higher GM sales were culinary (32.3 percent), office products (14.2 percent) and foil pans (12.5 percent)
To spur GM/HBC growth, grocers should:
Promote more often, but not necessarily at deeper discounts; instead, leverage promotions to create awareness

Remain competitive through pricing, matching other channels and beating other grocers

With HBC grouped together in one location, focus on driving traffic to the department by promoting often for awareness, deploying prominent "consumer solution" end caps and providing front-page feature support

With GM products placed throughout the store, focus on bringing the department to the traffic by cross-merchandising with complementary items, creating secondary locations and capitalizing on seasonal themes.
The report was completed using analysis and custom research conducted by Acosta's strategic advisors, in collaboration with FMI.